On Wednesday, September 10, Elizabeth II surpassed her great-great-grandmother Queen Victoria to become the longest-reigning monarch in British history—and that's a ton of history! The 89-year-old Elizabeth set the record at 5:30 p.m. (BST) by having reigned for 23,226 days, 16 hours, and approximately 30 minutes.
Around here, Elizabeth is best known as a true-blue dog lover, the owner of countless corgis, "dorgis," and dogs of many other breeds. She comes by her devoted dogginess naturally—her family tree boasts many of British history's most dog-happy royals. Dog save the queen and the canine-crazy House of Windsor!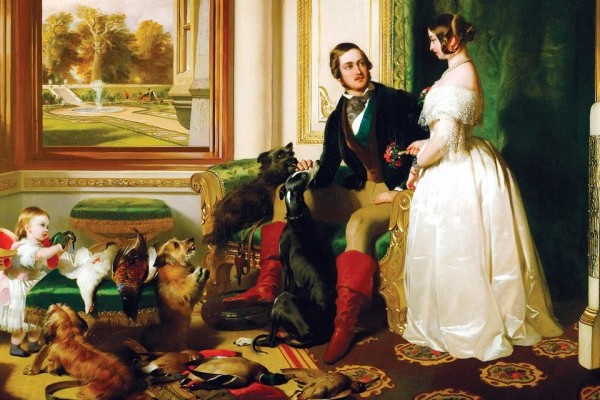 Sir Edwin Landseer's famous painting "Windsor Castle in Modern Times" depicts a young Queen Victoria and her beloved husband Prince Albert. The scene is the castle's Green Drawing Room. The young prince has spent the day shooting. He has kenneled his hunting dogs and returns to his family circle with a bounty of game birds, proudly arranged on the carpet to the delight of his wife and daughter. Completing this picture of domestic bliss are the housedogs who greet the master: Victoria's terriers and Albert's beloved Greyhound, Eos.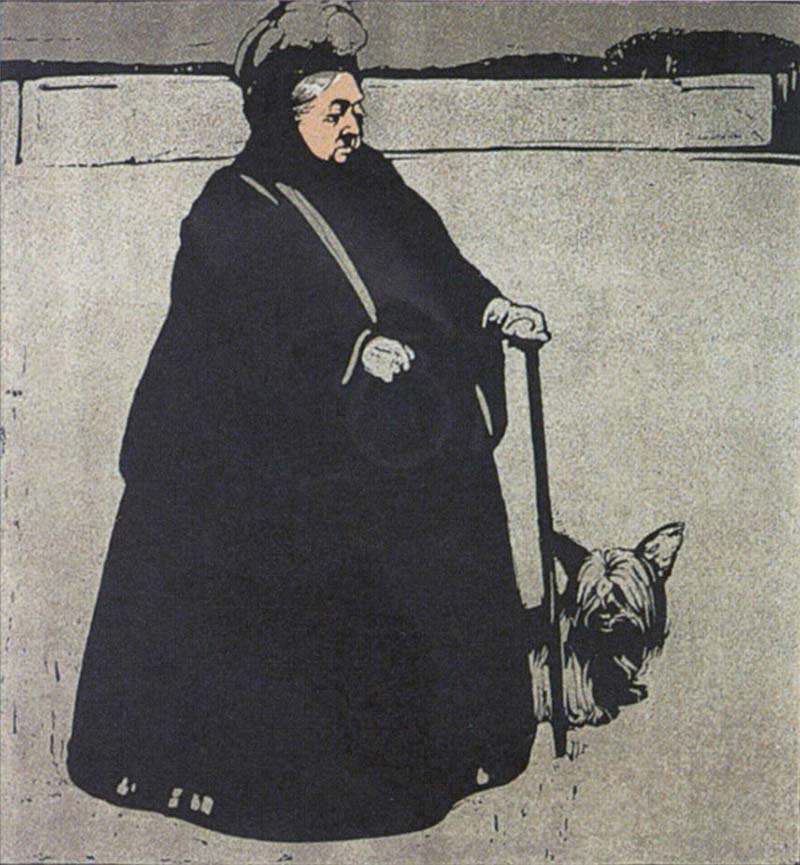 Albert died in 1861, at age 42. The still-young Victoria never remarried and wore black mourning clothes for the rest of her life. The emotional void left by the death of her beloved husband was filled by her passion for all things doggy. During her 40-year widowhood, she bred and owned countless dogs of 15 breeds. Among her favorites was a Skye Terrier named Islay, and Turi, the Pomeranian who stood vigil at the queen's deathbed in 1901.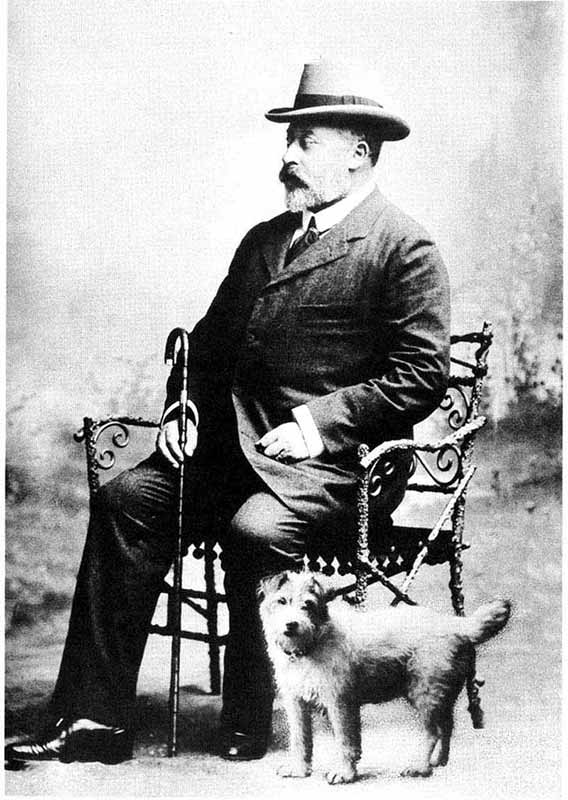 Upon Victoria's passing, her son Edward VII ascended to the throne. Edward had little in common with his mother. He was a bit of a rogue; she was painfully correct. Where he was stout and jolly, she was pinched and dour. Edward was a hedonist. For Victoria, "We are not amused" was not just a catchphrase, it was a way of life. Yet, the playboy son and repressive mother did agree on something: dogs. Like his mother, Edward was responsible for the popularization or further development of several breeds. But his favorite was a Wire Fox Terrier named Caesar.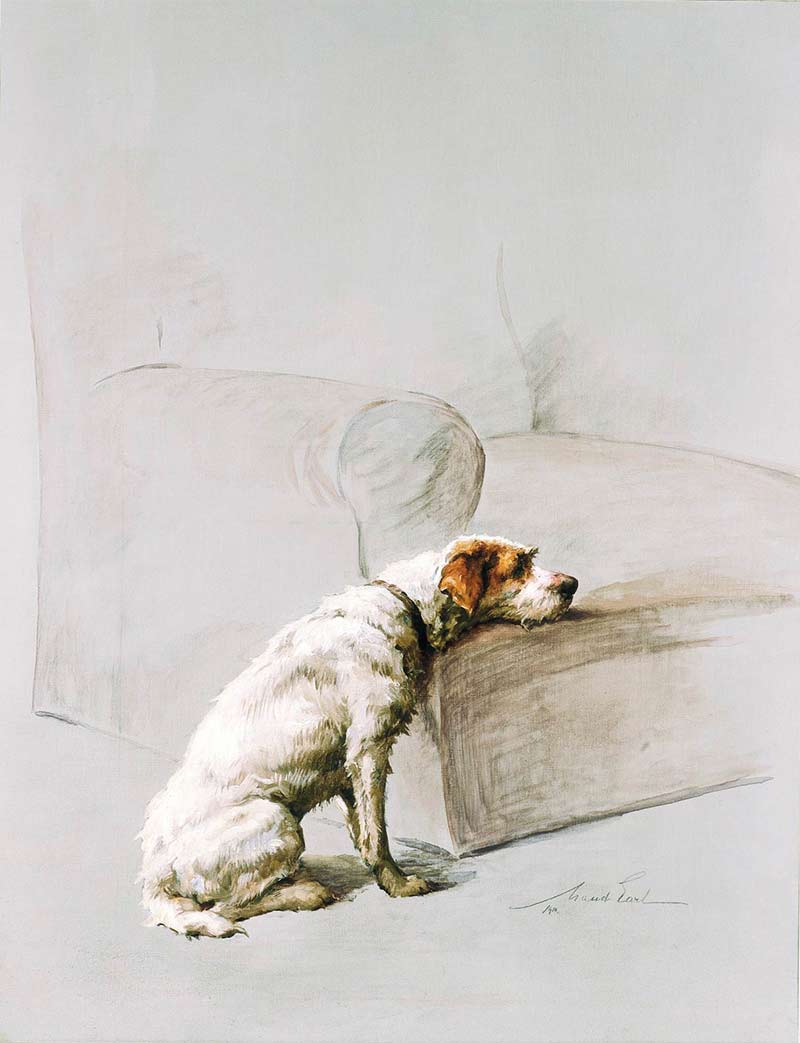 The sudden passing at age 60 of their beloved Edward shocked and saddened the British people. "Silent Sorrow," painted by Maud Earl in 1910, depicts Caesar, King Edward VII's favorite dog, mourning his master. After the king's death, the widowed Queen Alexandra gave Caesar to noblewoman-turned-actress Lillie Langtry. Considering Edward's many dalliances with the ravishing "Jersey Lily," the gift was a remarkably graceful gesture from a long-suffering wife.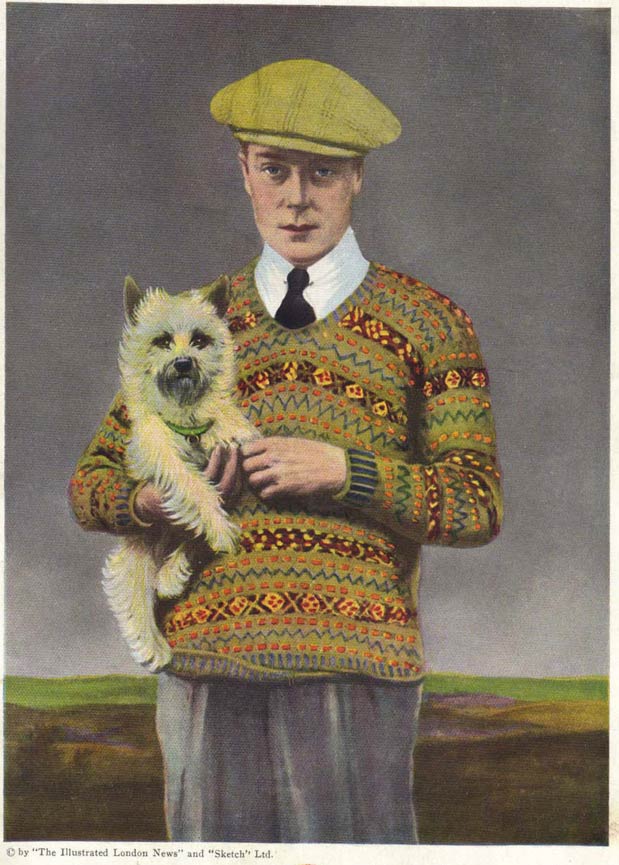 If you know something about British history, or if you've seen "The King's Speech," you know that Edward VIII abdicated the throne in 1936 to marry the American divorcée Wallis Simpson. He was succeeded by his brother, and Elizabeth II's father, George VI. Edward and Mrs. Simpson, known as the Duke and Duchess of Windsor, were lifelong dog fanciers who took a special interest in Pugs. This 1925 painting of the Duke (then the Prince of Wales) and his favorite Cairn Terrier is by John St. Helier Lander.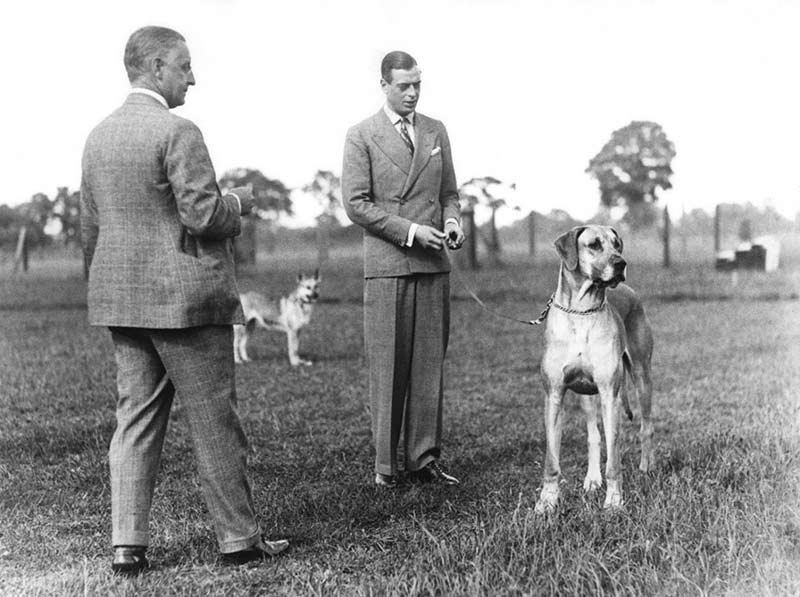 Prince George, Duke of Kent, waits for ring time with his champion Great Dane, Midas, at an English dog show. The playboy prince was killed in 1942 while on active duty during World War II, but the family's love of dogs lives on in his niece Elizabeth II.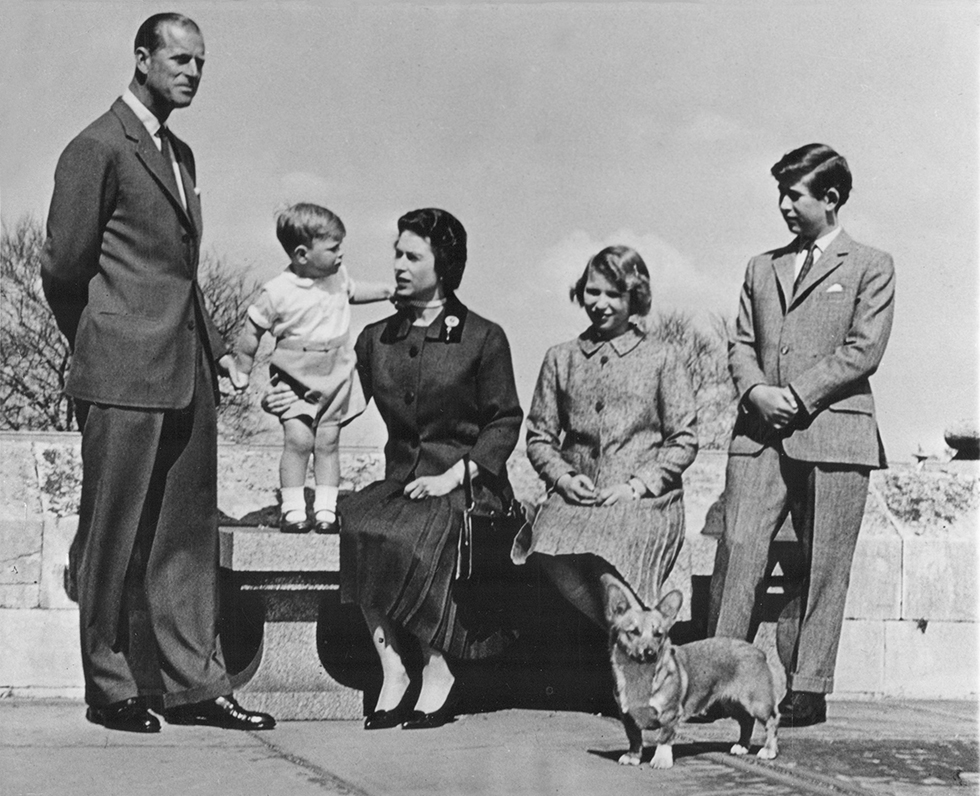 Just a typical English family: Circa 1962 are Prince Phillip, Prince Andrew, the Queen, Princess Anne, Prince Charles, and the inevitable corgi. From the Daily Mail: "While she has a reputation for being rather firm and fierce in other matters, the Queen is ridiculously soppy over her corgis and thinks of every teeny detail that could make their lives even more luxurious — such as special rubber-soled booties (designed by the man who invented knife-proof vests for the police) to protect their paws from all that smart royal gravel, and their Christmas stockings (filled with crackers, cakes and a strictly non-squeaking toy)."
Photos: AKC Gazette archive. If you love vintage dog pictures, visit the AKC Gazette on Facebook and browse the Internet's finest archive of classic canine photography.
https://www.akc.org/wp-admin/admin-ajax.php
Get Your Free AKC eBook
Tips for Responsible Dog Owners
This e-book is a great resource for anyone who's considering dog ownership or already owns a dog. Download for tips on how to be the best dog owner you can be.