Butch had a tough life. Right up until his last few weeks.
The Boston Terrier had been abandoned by his owner over two years ago and lived on the streets of Pinson, Alabama, eating whatever food he could find and withstanding freezing temperatures. It all caught up with him recently when he was found in a backyard struggling to breathe.
Alicia Buzbee and her daughter Kansas Humphrey, the two people who found Butch, took him to the Birmingham Boston Terrier Rescue, where a veterinarian came back with a poor prognosis—he was suffering from a leaking trachea and a swollen heart, AL.com reported. Buzbee and Humphrey opted to schedule a euthanasia to end the dog's suffering. But not before giving him the best few days any dog could ask for.
First, a party. Butch got to play with his new "family" and friends. And no more garbage meals that he'd have to scavenge for. The dog had a feast of hamburgers and pie.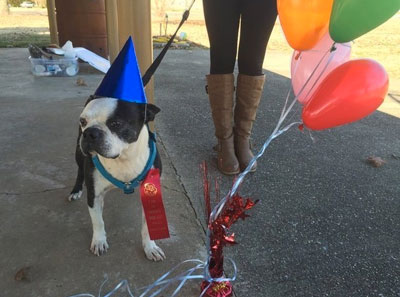 He even got to take part in Thanksgiving and meet Santa—one last time (and possibly his first).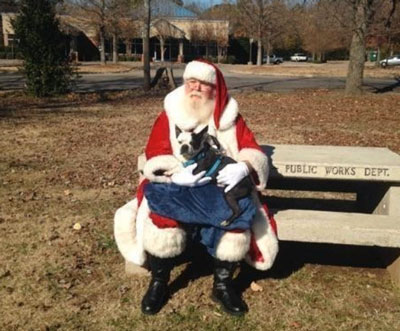 But most importantly, he got love.
"Before he goes, I want him to look into my eyes, and I want to look into his eyes, and I want to whisper, I love you. I love you. I love you," Buzbee said to AL.com. "I want him to hear those words and to see those faces of the people who love him."
The dog was showing so much improvement in his new situation that the euthanasia was canceled. But then he had a relapse. This time, X-rays showed he had no lung capacity. Nothing could be done.
Donna Farmer, president of Birmingham Boston Terrier Rescue, told AL.com that treating Butch wasn't a matter of money; that they knew the dog was "physically suffering."
We wish this story ended with a miraculous turnaround—that Butch was able to recover and become a great family pet. Maybe even an agility star.
But he passed away Saturday. He had his new family by his side—the ones he barely got to know but who had already fallen in love with him.
https://www.akc.org/wp-admin/admin-ajax.php
Get Your Free AKC eBook
Tips for Responsible Dog Owners
This e-book is a great resource for anyone who's considering dog ownership or already owns a dog. Download for tips on how to be the best dog owner you can be.