Members of the P Litter puppies (Labrador Retrievers) move about on their first day of training at the center. The P Litter (TSA/Penn Vet Working Dog Center) was whelped by a foster family and began their training at 8 weeks of age. Each member of this litter is named after a victim of the 9/11 attacks. Photo courtesy Penn Vet/John Donges
The need is there, but the financial resources, detailed record keeping, and organizational commitment await plenty of discussion and subsequent fine-tuning.
No one denies that numerous government agencies require more U.S.-bred detection dogs, yet where will strong candidates be found, and who will pay for funding for such a complex program?
According to a presentation, "A Plan for Producing a Large Number of Healthy, High-Quality Puppies Purpose-Bred for Scent Detection Work: An Approach Capable of Surviving Government Whims," delivered at a U.S. Detection Dog Conference Feb. 28-March 1 in Raleigh, N.C., since 1968, various branches of the U.S. government have launched, then disbanded, at least four breeding programs specifically tailored to meet agencies' needs. Each operated for about one decade and then was forced to disband because of funding cuts.
The conference attracted about 40 attendees, including one dozen speakers, who reported on a wide array of challenges surrounding the dog-supply need and why the future focus should be directed toward healthy, high-quality, purpose-bred domestic breeding for government agencies.
The Penn Vet Working Dog Center is one source of information, research and data, as well as a breeder of detection dogs. The center has raised Belgian Malinois, German Shepherd Dogs, Golden Retrievers, Labrador Retrievers, Nova Scotia Duck Tolling Retrievers, German Wirehaired Pointers and English Springer Spaniels, According to Executive Director Dr. Cindy Otto, the shepherd breeds and Labrador Retrievers are most needed. "Our breeding is primarily Labs. We will continue to bring in dogs that are donated from top working-dog breeders and will consider other breeds that meet our performance and health requirements, but we are not actively seeking any other breeds.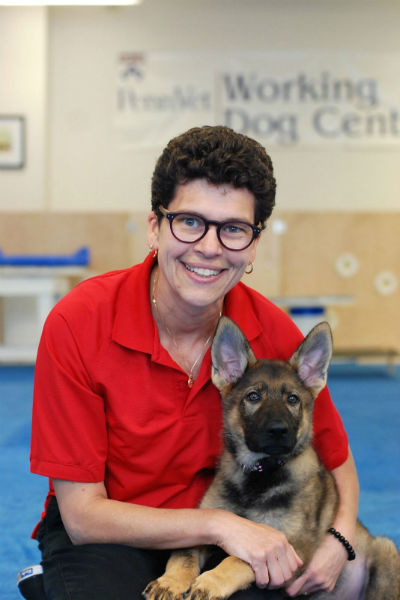 Dr. Cynthia M Otto, founder and executive director of the Penn Vet Working Dog Center spends some hands-on time with Rookie, a puppy in training. Rookie was donated to the PVWDC by KDs K9 and is working as a Dual Purpose Law Enforcement K9 on the Lower Merion Pennsylvania Police Department. Rookie is trained in Patrol and Explosive Detection and is named after a Law Enforcement K9 who deployed to the World Trade Center after the 9/11 attacks. Photo courtesy Penn Vet/John Donges
"We are chiefly focused on the health parameters of good hips/elbows/eyes and the absence of breed- specific disease. We believe that behavior has a strong genetic component, and we target dogs that have the motivation to do the work, with a stable temperament," Otto explains. "All our breeding females are active working dogs (explosive detection, search and rescue, and human-remains detection)."
Otto emphasizes, however, that most detection dogs purchased by law-enforcement agencies — from city to federal — are imports purchased from vendors. Other sources are individual breeders or kennels, especially those specializing in hunting dogs.
Penn Vet Working Dog Center began operation on Sept. 11, 2012, placing an emphasis on training, breeding, care, and research, and partners with the Department of Homeland Security. The chief focus was explosive-detection canines. The program uses data originally gathered by the Transportation Security Administration (TSA) Breeding Program that was terminated in 2012 for lack of funding.
Five litters delivered at Penn since 2014 are descendants of TSA, Canine Companions for Independence, and Penn Vet parents. The last litter, whelped this spring, produced eight Dutch Shepherds. Penn Vet litters are whelped in a foster family's house, says Otto, who is usually involved in the delivery.
There is an extensive application and training regimen for law-enforcement agencies that purchase a dog through the center.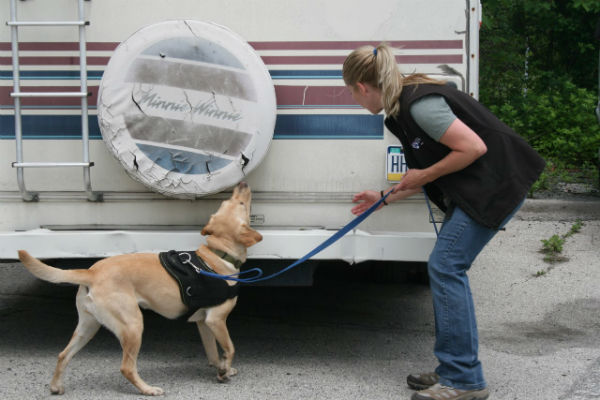 Pearl (Labrador Retriever) is one of nine puppies in the P Litter (TSA/Penn Vet Working Dog Center breeding) and is an Explosive Detection K9 in Nevada. While training at the cemter she searches a vehicle for explosive material. Pearl was named after Richard A. Pearlman, a victim of the attacks of 9/11. Her handler is Penn Vet Working Dog Center trainer Danielle Berger. Photo by Annemarie DeAngelo.
Local law-enforcement agencies that are new to Penn Vet are invited to tour the premises, meet personnel, and ask questions. For distant agencies, a get-acquainted phone Q&A discussion is conducted.
"We ask how they plan on using the dog, where the dog will live, and if they have a breed preference," Otto explains. "If the agency has a selected handler, it will send the individual here so we can determine what dog is a good match for that person and the department."
If the agency decides to obtain a dog from Penn Vet, the cost is $10,000 for a dual-purpose police dog, and another $6,000 for patrol- and scent-school costs. The handler must train on the premises for at least one week before the dog can be transitioned to the officer. "This gives us the opportunity to pass on our methods of training, allows time for the handler to work with the dog's trainer, and we demonstrate the importance of fitness, something most departments do not focus on," adds Otto.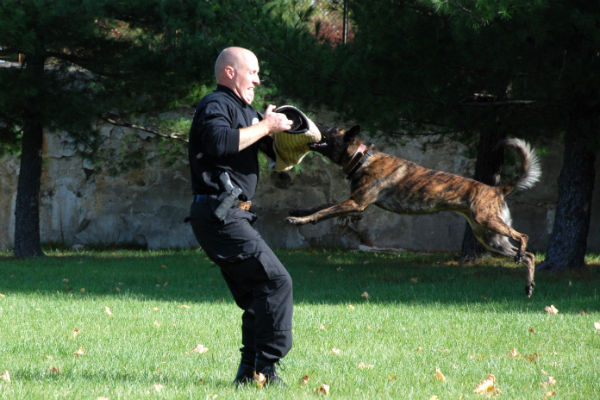 Kai is a Dutch Shepherd that graduated from the Penn Vet Working Dog Center (donated by Vrijheid Kennel) as a Dual Purpose Law Enforcement K9 and is a member of the SEPTA (South Eastern Pennsylvania Transit Authority) Police Department. She is trained in Patrol and Explosive Detection and is named after Kaiser, a search-and-rescue dog who deployed to the World Trade Center after the attacks of 9/11. This photo was taken during training and is a great example of her commitment to criminal apprehension. Photo courtesy Penn Vet/John Donges
Penn Vet's breeding program is funded through donations, foundations, and grants.
The American Kennel Club (AKC) sponsored the late February-early March U.S. Detection Dog Conference and related research, and the organization will become more deeply involved in the future. AKC Director Dr. Carmen Battaglia says a follow-up session will most likely be conducted this fall. In addition, the AKC is sponsoring the compilation of a new digital library for information and research papers about detection dogs to be available this summer.
"The AKC is in a unique position to assist us," Battaglia emphasizes. "With the largest and most professional network of purebred breeders in the world, it can leverage those interested to help make a real difference in breeding the dogs needed to protect our nation."
AKC's Perspectives Conference Summation, edited by directors Battaglia, Jim Dok, Lee Arnold, and AKC Vice Chairman Carl Ashby, reflects the paucity of domestic working-dog detection breeding. "Today, more than 80 percent of working/detector dogs in the U.S. are imported from Eastern Europe, even though there are an estimated 73 million dogs in the U.S., of which 10 million are purebred," the report says.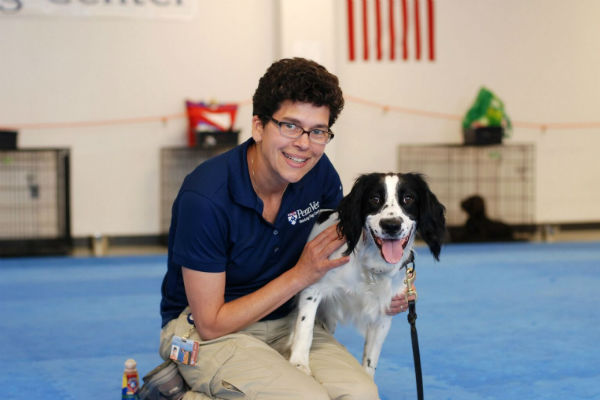 Otto holds McBaine, a canine sponsored by Saint Germain Catering and is part of the Ovarian Cancer Detection Research program at the Penn Vet Working Dog Center. McBaine is named after a search-and-rescue dog that served as a control dog in the center's longitudinal study following the health of the working dogs who deployed after 9/11. Photo courtesy Penn Vet/John Donges
"The primary difference between the domestic supply of dogs and those procured in Europe is that the European-bred and trained working lines have a proven history of pedigrees from dogs selected for working traits. These traits are defined by the influence of competitive dog sports and the training requirements needed to participate at regional and national events. Good examples are French Ring Sport and Schutzhund."
Conversely, one of the primary difficulties in deploying sports dogs as breeding stock, the report issued at the conference emphasizes, is a lack of emphasis on detection abilities as part of the selection process.
In early 2016, two U.S. Senate hearings addressed security issues at our airports and borders. Two roadblocks to increased domestic breeding and training quickly became apparent: (1) government regulation requiring breeders to become authorized vendors before they can sell or donate dogs to the government; (2) lack of an organized effort to help breeders and citizens who are interested in meeting this need.
At the North Carolina conference, Otto encouraged the AKC's involvement. Since then the AKC's board discussed the challenge and agreed an AKC initiative should be developed. A four-man committee (those noted above on the Perspectives summation) was appointed to work with a board committee to gain insight into the overall problem. Subsequent visits have been made to the Penn Vet Working Dog Center and the TSA military and contracting office at Lackland Air Force Base, Texas. In addition, meetings have been conducted with several breed clubs, breeders, and kennel owners to gauge their interest in the development of a national breeders program.
The authors of "A Plan for Producing a Large Number of Healthy, High-Quality Puppies Purpose-Bred for Scent Detection Work" — Otto, Dr. Liz Hare, Penn Vet Working Dog Center; Scott Thomas, U.S. Dept. of Homeland Security; Dr. Eldin Leighton, Canine Genetics Services, LLC — note that managing a geographically dispersed breeding colony will require access to an online, easily accessible record-keeping system costing multimillions.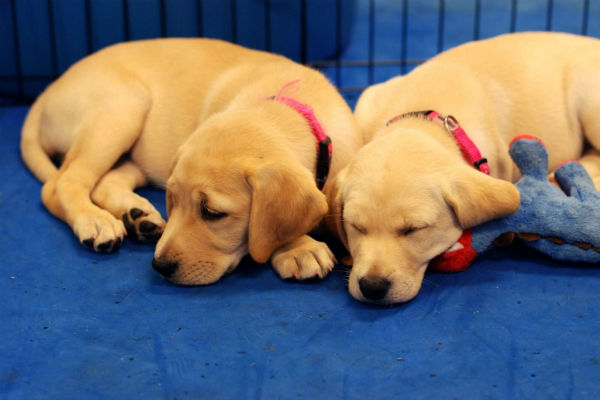 Members of the P Litter puppies (Labrador Retrievers) take a break during their first day of training. The P Litter (TSA/PVWDC) was the first litter of puppies whelped and raised by the Penn Vet Working Dog Center. Photo courtesy Penn Vet/John Donges
Their presentation says that "currently 14-month-old dogs with little or no medical history" can be bought for approximately $6,000 by the government, although this does not factor the cost of personnel traveling or screening the dog. Sometimes the age and European background of the dog is uncertain, as well.
The Penn Vet Working Dog Center estimates its cost would be approximately $36,000 to produce an American-bred dog with documented background and history, properly socialized, and available for training at 14 months of age.
The authors emphasize, "If the U.S., the AKC, and stakeholders are serious about increasing the number of American-bred dogs used for work in the U.S. government, then changes in the procurement process must occur. Dog suppliers must be adequately paid to cover the true cost of production, plus allow for a reasonable profit."
A basic tenet of the plan is to maintain ownership of the breeding stock in the hands of private breeders and organizations, which will help ensure the long-term survival of genetically advanced breeding stock, especially when government funding is limited for purchasing dogs.
The authors propose the creation of a Detector Dog Center of Excellence to coordinate a plan, which would double as the canine supplier for the complex U.S. government purchase orders. The center, they envision, would be affiliated with U.S. veterinary schools, such as those at the University of Pennsylvania and Auburn University, both of which have education programs focused on working dogs.
Should this plan gain traction with the multiple agencies involved, it will definitely give new meaning to the phrase, "Made in America."
https://www.akc.org/wp-admin/admin-ajax.php
Get Your Free AKC eBook
The Five Commands Every Dog Should Know
Do you want a well behaved dog but don't know where to begin? The Basic five commands e-book is a great place to start and will give your dog a strong foundation for future training.