From the April 2016 AKC Gazette
We're all looking for ways to make life easier—notice how popular Pinterest ideas and YouTube videos for "lifehacks" have become? Living with Field Spaniels has taught me to create some easy shortcuts as a dog owner as far as general care and maintenance, and at shows and trials it is not uncommon to see dog people ogling each other's setups and unique vehicle configurations to get ideas.
I am seldom without clips and carabiners to make management and organization of leads and collars a breeze, and holders for poop bags and treats are commonplace. As we rethink ways to help us in dogs, necessity is the mother of invention. We create solutions to keep our furry friends cooler, warmer, safer, healthier, cleaner, less smelly and hairy, and more stylish. We make training and showing more efficient and find ways to make home and kennel more pleasant and livable.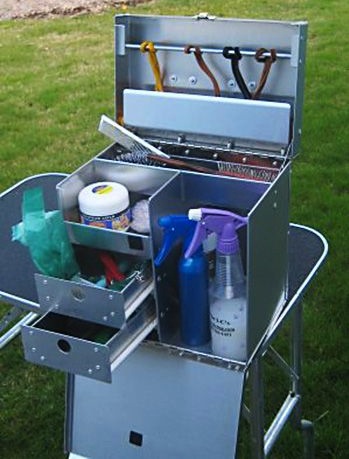 Around the rings, I envy the efficient ways we move and tote our dog show gear—from nice dollies and carts to repurposed containers, bags, and cases. Even the most low-maintenance dog or activity can benefit from planning ahead and utilizing prepared supplies and equipment. We learn from and help each other, too. A generous member at my old club distributed carpet samples that helped my car crates stop rattling and served to cushion, protect, and keep things clean in their various uses.
I have marveled at the custom decks dog folks have built for the interior of their cars and vans, using everything from countertop material to reused old drawers to create space underneath the crates that we haul dogs in. Not only is this smart for saving space, it helps us to train and travel on-the-go with the necessary equipment.
Converting end-tables and cabinetry into stylish home crates that double as furniture is the stuff of intrigue. I am jealous of folks with sewing talent who create fabulous dog gear, as well as the industrious types who up-cycle pallet skids and other things to make amazing dog bedding and furniture.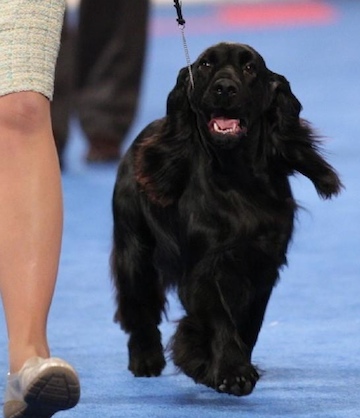 We may have moved away from using heavy old tack-boxes and crates in favor of lightweight yet durable containment, but we are always improving materials and usage to suit our endeavors. Those old wooden carriers for the scent articles used in the Utility obedience classes make adorable trinket shelves and awards displays now!
We live in a world of interactive toys and dog puzzles, mechanisms to slow down a dog's eating (for this you can cheaply add a billiard ball, rock, or other obstacle to his dish, or spread his meals out in a muffin tin or on a cookie sheet), gear to protect and aid canine healing and rehabilitation, and various tools to make life easier.
Beside the usual tricks of stuffing Kongs and making food-puzzle balls to stimulate our dogs, this summer try freezing some big treats in rubber tubs or plastic buckets for amazing outdoor "busy toys" that will also hydrate. I toss in treats, durable toys, and even a splash of broth to create an enticing big, icy "pupsicle." We can find on the Internet numerous treat and bait recipes that are healthy and low-cost and easy to bake or freeze.
As a carryover from the world of agility, I have found that PVC is an indispensable material for building and organizing things. A tall locker cabinet with tension rods became a great collar display and storage spot for training equipment.
Dog people are masters at packing and storage solutions. Home-improvement stores, hardware stores, and lumberyards are our havens. Craft shops and grocery stores offer solutions as well, and I tend to scour thrift shops for ideas and items that will be put to use for canine comfort.
I find that cheap polar-fleece remnants make for lots of hacks—they make easy washable bedding, they make great tug-toys when cut into strips and braided, and they are great for car and hotel travel.
Squeegees, rubber gloves, and lint brushes make for great hair-cleanup. Binder clips are useful for many things beyond paper. And who among us has not used a leash for something other than leading a dog?
Plastic-bottle toys and waterers can be safely created; you can find 101 things to do with a box; and apple cider vinegar, cornmeal, dryer sheets, old towels, garbage bags, and pillowcases all get put to good use. My vehicle and bags are always host to loop-leashes, dog treats, and plastic bags that can be handy in emergencies.
Our Field Spaniels (and other drop-eared breeds) are known for their messy food and water habits, so we use everything from having them wear hair scrunchies and snoods to anchoring deep water bowls with cement blocks to aid with those issues.
What "doghacks" help you on the road and in the kennel? We are always on the lookout to improve this grand life with dogs.
The next time you come up with a creative canine hack or notice something new at the shows, e-mail me, and we'll share in a future column!
—S.R.
Shannon Rodgers writes the Field Spaniel Society of America breed column for the AKC Gazette. Her column appears in the January, April, July, and October issues.
https://www.akc.org/wp-admin/admin-ajax.php
Get Your Free AKC eBook
Tips for Responsible Dog Owners
This e-book is a great resource for anyone who's considering dog ownership or already owns a dog. Download for tips on how to be the best dog owner you can be.