Dog owners often find themselves choosing between a home that's decorated for their own comfort and style, and one that can withstand life with dogs. How many of us throw an old blanket on our beautiful sofa, so the dog can watch TV with us, and then pull it off when company comes? Or have given up on patchwork quilts in the bedroom because, well, dog toenails? Or make do with indoor/outdoor washable throw rugs? The question of balancing style and practicality often comes up when you are remodeling or renovating, or decorating a new home. One of the more important decisions you'll make will involve flooring.
The choice is easier in rooms that naturally get a lot of wear and tear, such as kitchens, mudrooms, and bathrooms. But what about rooms where you dream of having some plush carpeting under your feet, but hesitate because you have dogs? There actually are some advantages to carpet. Unlike hard-surface floors, dogs won't slip and slide on it, especially puppies that have not yet found their grown-up balance. Unlike hardwood, laminate, vinyl, or tile, carpets won't accumulate scratches and scuff marks, so there's no more worrying about damage from pets' paws and claws. Carpeting is also noise-muffling, which is especially nice in upstairs rooms or apartments. You can choose the color and style you want, and your dog will appreciate having a soft, warm place to snooze.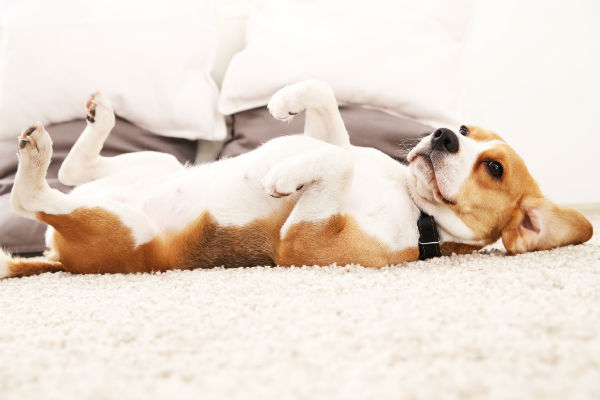 Once you've decided that carpeting is right for you, select one that can withstand the usual dirt and occasional accidents that come with living with dogs. You'll want:
In Partnership with

• Material that repels spills, from your morning coffee to the wine your dog's tail just swept off the coffee table.
• Superior stain resistance. Life happens, but it doesn't have to live permanently on your carpet.
• A carpet that stands up to heavy traffic and wear-and-tear.
• A serious warranty, just in case.
You don't have to just dream of a carpeted bedroom, family room, or living room anymore because there is carpeting that is tough enough for life with dogs and stylish enough for any home. Relax, it's…Lees carpet could have been manufactured with dog owners in mind. These carpets feature Ultra25 4X protection, which repels liquids up to four times longer than other carpets, giving you more time to wipe up spills. It's also stain resistant, and, if stains do get the better of you, Relax, it's…Lees has a 25-year no exclusions stain warranty, which covers all stains, including pet stains. Also, the carpet's double-density backing can take a lot of wear and tear, whether you have three kids and a Shih Tzu or a gang of Labrador Retrievers.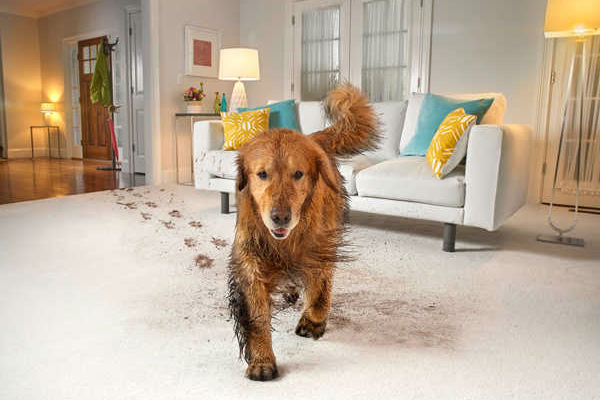 Accidents do happen, no matter how well trained your dog is. But Relax, it's…Lees carpet is up to the task. There are also some steps you can take to keep your carpet in great shape.
• Dry your dog's paws when he comes inside. That will help prevent dirt from embedding in the carpet. He may not like it, but if you're consistent, he'll learn that he can't come in until you wipe his paws.
• Wipe up spills as quickly as possible. While Relax, it's…Lees carpet repels liquid much longer than others, the sooner you clean up a spill, the less likely it will turn into a stain.
• If you do have stains, there are many pet-safe cleaning solutions you can use on carpet. You can even make your own. Here are some useful tips for cleaning stains.
We all make some compromises when we share our home with a dog, whether that means never leaving food on the counter, making room in the bed, or designating one armchair as the dog's chair. But you don't have to compromise when it comes to flooring. Your family can enjoy the comfort of a soft carpet, and you won't have to gate off a room for fear of what your canine companion will do to the carpeting. He can come in and enjoy family life with you!
Sponsored by Carpet One Floor & Home
https://www.akc.org/wp-admin/admin-ajax.php
Get Your Free AKC eBook
The All Purpose Grooming Tool kit