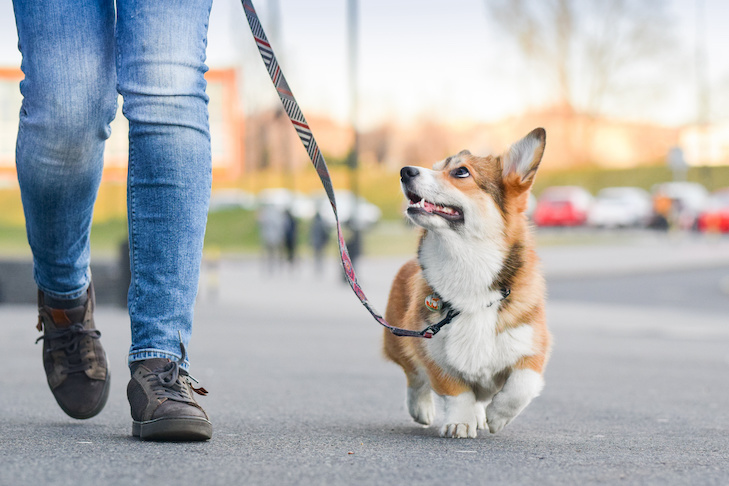 AKC is a participant in affiliate advertising programs designed to provide a means for sites to earn advertising fees by advertising and linking to akc.org. If you purchase a product through this article, we may receive a portion of the sale.
Whether you're planning to rent or buy an apartment or home, it's important to find a dog-friendly neighborhood that suits your style. If you're one of the more than 100 million Americans who live with a dog (or two, or three…), locating the right area can make house hunting a daunting task.
Groomers, general practice veterinarians (as well as emergency clinics), and pet stores are essentials found in most communities. But, if you're specifically looking for a neighborhood that easily accommodates your canine companion, here's what you should keep an eye out for.
Sidewalks
While it's easy to dismiss sidewalks as a "nice-to-have" feature, if you're a dog owner, put this at the top of your must-have list. Wide, well-paved, brightly lit sidewalks are essential for enjoyable walks around the neighborhood, especially in those predawn or late evening hours.
In Partnership with

Garbage Cans
If you live in a suburb, it's not a good idea to throw your dog's poop bag in your neighbor's trash bin. But if you reside in a city, the presence of public garbage cans may set you and your pup up for a more pleasant walk that doesn't include carting "goodies" home for disposal. If you see a fully decked-out doggy station, complete with disposable bags and a garbage pail, you know you've hit the jackpot.
Dog-Friendly Restaurants
Many food establishments are opening their doors to four-legged customers. A lot of restaurants have patio seating with room for pups, and you might even find dog-friendly menu items. Some neighborhoods have even upped their game by offering dedicated doggy food trucks!
Other Dogs
Perhaps the best indicator of a dog-friendly neighborhood is the presence of other dogs. Check out your desired neighborhood early in the morning (before lots of people have left for work). If you see owners out for a walk with happy dogs, you'll fit right in with your pup.
Aside from the number of dogs, take a look at the breeds, along with their overall well-being. A neighborhood with a variety of breeds speaks to a general dog-savvy population. Happy, healthy dogs with largely balanced temperaments can signal that playdates will be plentiful.
Yards
If you're unable to visit a neighborhood outside of traditional work hours, check out front yards and backyards of homes in the area as best you can (we're not suggesting you trespass!). If you see dog toys, well-maintained fences, and doggy doors, those are good signs.
Treats and Water Bowls
If your neighborhood is dog-friendly, you'll see dog bowls filled with clean, fresh water outside shops and businesses. And don't be surprised to see dog treats at cash registers. Additionally, parks will often have multi-tiered water fountains, with a separate spout just for pups that's lower to the ground.
Transit and Cabs
If you typically drive everywhere, you might overlook the role of transit in your search. But in an urban area, pet-friendly transportation can mean day trips to nearby beaches, farmer's markets, breed get-togethers, and more. Check with the local transit authority for rules and applicable bylaws. Some cities, like New York City, allow any dog on the subway that can fit in a bag/carrier (prompting some large-breed owners to become very creative).
Choosing a dog-friendly neighborhood doesn't have to be stressful. Do a little research before your move, and relax. Even if your new home doesn't feature all seven of the things listed above, your pup will be content as long as you're there!
Related article: How to Make Your Balcony Safe and Dog-Friendly
https://www.akc.org/wp-admin/admin-ajax.php
Get Your Free AKC eBook
Dog Park Etiquette
If you're an urban or suburban dog owner, you're likely familiar with the local dog park. It's a canine oasis. The "Dog Park Etiquette" E-book outlines what you should consider before you bring your dog to the dog park.