When we think of caring for our dogs' health, our thoughts might turn instinctively toward healthy foods, exercise, and vet visits, but grooming is just as important to your dog's well-being. Although some dog owners prefer to groom their own dogs, a skilled professional not only makes your dog look great, he or she also offers services that contribute to your dog's care, like nail trimming, ear cleaning and teeth cleaning.
The first step in discovering your dream groomer is research: ask trusted friends and family for their recommendations and search online, using tools such as AKC GroomerFinder, to find professional groomers in your area.
Once you've narrowed your options, there is no substitute for having an in-person conversation with your groomer-to-be. The answers they give and the way they discuss your concerns can tell you a lot about the people with whom you are entrusting your precious pup.
No need for interrogation lights and a good-cop/bad-cop routine. Just a few fair questions should be enough for you to feel comfortable putting your dog into another's care.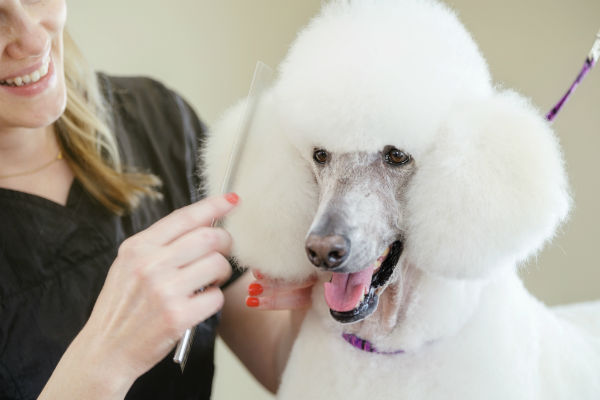 Questions to Ask a Dog Groomer
1. May I see your facility?
How does it look? How does it smell? You'll want to see a well-ventilated salon, clean workstations, sturdy tables, and tubs, as well as pet-friendly products. Ask yourself, is this a place I'm comfortable leaving my dog?
2. Besides brushing, shampoo and haircut, what services do you provide?
According to Mindy Dinwiddie, owner of Classy Canine in Litchfield, Michigan, you'll want to understand what services a groomer or grooming salon offers. "Groomers have the proper tools and knowledge for removing mats, trimming nails and cleaning ears. Professional groomers can make you aware of ear infections, tooth decay, and skin infections."
3. May I stay and watch while you groom my dog?
Your own nerves can make your dog more anxious, but it's not unreasonable to want to observe, at least the first time. It's also a good opportunity to observe your dog's behavior for future visits.
4. Do you have experience with my dog's breed?
Some breeds have particular grooming needs, so Dinwiddie points out that you may want seek out a groomer who has experience with your specific breed. Ask whether he or she knows what the breed standard is and whether they can perform the correct hair cut for your breed.
5. What kind of training do you have?
Training can vary. Some groomers learn on the job through apprenticeships or mentoring programs. Others attend classes at a pet grooming school. You'll want to get a sense of the groomer's experience, training, and knowledge. Don't shy away from asking any questions you have about your dog's care.
Khris Berry, co-founder of See Spot Grooming & Daycare and an AKC Canine Good Citizen Evaluator, adds, "Many professional groomers are investing their own time and money to attend enrichment programs on a voluntary basis—this is typically the sign of a professional who is looking to improve their skills and their clients' experience."
6. Are you or is your business an AKC S.A.F.E. Groomer/Salon?
Participation in AKC S.A.F.E. Grooming or other voluntary continuing education programs is a good sign that the groomer is committed to providing the best and safest services. An AKC S.A.F.E groomer or salon, for example, is committed to following the Safety Oath, using best practices in the health and safety of pets in their care.
7. How will my dog be housed?
Your dog's safety when outside your care is an important concern. You'll want to know how your dog will be housed when not on the grooming table. Per the AKC S.A.F.E. Grooming program requirements, pets not being groomed must be secured in a crate or in a secure designated play area (with owner's consent). Your dog should have a crate to himself, with clean padding, plenty of air ,and in view of salon personnel.
8. Do you have a first aid kit?
Of course, you hope it won't be needed, but just in case. The first aid kit should also be in plain view. You also want to know if a staff member familiar with first aid is always present.
9. Do you carry liability insurance?
While we don't often think to ask this, knowing that your groomer has liability insurance can give you peace of mind that, if for any reason your dog is injured while under the groomer's care, any medical expenses you incur as a result should be covered.
10. What do you do in case of an emergency?
Since the weather is out of our control, find out if your groomer has an emergency or disaster plan in place for a fire, hurricane, tornado, or other emergencies. How will he or she communicate with you in event of an evacuation to let you know where your dog is located?
11. How much will my dog's grooming cost? (Are there hidden fees?)
It shouldn't be your first concern, but it's a question you want to ask upfront to avoid any sticker shock. The cost of a dog grooming can vary by dog size and coat type, as well as what services are included in standard bath or groom. Some dogs also take longer to groom than others. A professional groomer will be able to quote you a rate once they assess your dog's individual needs.
So, whether you have a breed that needs minimal grooming, like a Boxer, Beagle or Weimaraner or one with dense or long coat, such as a Golden Retriever or Portuguese Water Dog, which needs more frequent attention, remember that grooming is part of your dog's regular care and the choice of a groomer is an important one.
Finding a Skilled Groomer
If you're lucky enough to live in New York City, consider using the grooming services offered by AKC Canine Retreat. AKC S.A.F.E. groomers are skilled in everything from the perfect cut for your dog's breed to teeth cleaning, nail trimming, hand scissoring, de-matting, and more. Their groomers have all completed the AKC Safety in the Salon course and will take good care of your pup.
A skilled groomer is your partner in keeping your dog looking and feeling his best. Do your homework, ask the right questions and educate yourself on the skills, training, and environment that the groomer provides. It could be the start of a beautiful relationship!
https://www.akc.org/wp-admin/admin-ajax.php
Get Your Free AKC eBook
The All Purpose Grooming Tool kit