Finding a quality Golden Retriever puppy can be a daunting task. Experienced Golden owners will agree on the two most important elements in searching for a pup: a reputable breeder, and a quality pedigree. Good breeders understand the importance of pedigree. They select their breeding stock using dogs with parents, grandparents, and other ancestors who possess good health, temperament, and ability who are most likely to pass on those same traits to their pups. In doing so, they have established a track record of producing quality pups. Thus the route to finding the puppy of your dreams lies with the right breeder and a good pedigree.
It's important not to confuse the pedigree with the puppy's registration papers. Registration papers simply identify the parents and other ancestors of the pup. They are not a guarantee of the above-named qualities. Indeed, even titles in a pedigree do not reflect health or temperament. Only a good breeder can provide that information, often with the inclusion of supporting paperwork.
Careful breeder selection is as important for the companion Golden as for the working dog. Breeders in all of the working venues usually have pups who are "pet quality," or they can refer you to another reputable breeder. However, finding your breeder depends on your area(s) of interest for your Golden, such as obedience, conformation (dog shows), agility, hunting, hunt tests, or field trials. Breeders who participate in your sport of choice will breed females with proven performance records (and the necessary health clearances) and have pedigrees with overachieving parents, and breed their girls to accomplished males with titled ancestors. One outstanding female without working titles in her pedigree is not likely to produce consistently.
Breeder participation in the sporting venue is key. A breeder may have a female with fancy titles and breed her to a popular stud dog, but if he or she does not personally compete in that venue, they may not understand dog work or know how to select pups with those special qualities.
Pups bred from working parents should inherit the soundness, attitude, and trainability needed to reach the top of their game. However, while the field-bred dog could cross over and excel at obedience or agility, the same could not be expected if reversed, as the obedience and agility dog may not have the marking ability or water attitude necessary for solid performance in the field. Thus breeder participation is even more relevant to selecting a pup who suits your individual goals.
Finally, on your path to success with your new pup, do as your breeder does. It's important to socialize your pup and expose him to a variety of situations to develop confidence and a good working attitude. That is as true of the companion pup as for the working dog. If your pup is to succeed at his job, ask your breeder what skills will be needed for the life ahead. Early exposure (at the appropriate age) to agility equipment, obedience routines, swimming, gunfire, and so on—all will build enthusiasm for the work ahead. Your breeder can lead you down that path.
Which leads us to one last note on the best breeders: They are always happy to help their new owners succeed in their Golden journey.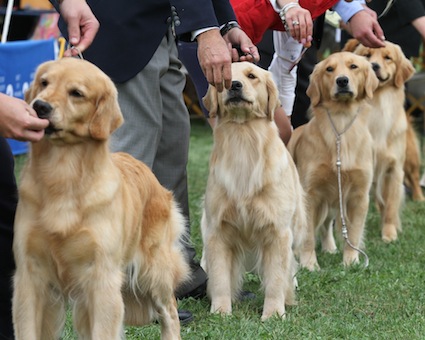 https://www.akc.org/wp-admin/admin-ajax.php
Get Your Free AKC eBook
The Five Commands Every Dog Should Know
Do you want a well behaved dog but don't know where to begin? The Basic five commands e-book is a great place to start and will give your dog a strong foundation for future training.