Dedicated to the Schipperke breed, professional breeder and handler Krista Nuovo-Roe of DeLamer Schipperkes has been involved with dogs since she was a child. Since then she has grown into a serious competitor who has worked extremely hard to produce champion dogs.
While Nuovo-Roe began working with a different, much larger type of breed, the moment she laid eyes on the Schipperke, it was love at first sight.
Recently celebrating 25 years of breeding and showing, Nuovo-Roe sat down with us to talk about her life inside and outside the ring.
AKC: How did your love of dogs and the dog show world come about?
Krista Nuovo-Roe: After my parents purchased an Alaskan Malamute, they joined a local Malamute club on Long Island. Through the club they became involved in showing, as well as sledding and backpacking, and these activities became something fun we'd do as a family. When I was eight years old, I ran a one-dog team, and I won a couple of trophies; it was a lot for an eight-year-old kid.
How did you transition from showing Alaskan Malamutes to Schipperkes?
In 1984, I was showing my parent's Malamute, and this particular show happened to be extremely crowded. Our dog had an altercation with another dog, and I wound up getting my middle finger crushed. I spent a week in the hospital, and it took two surgeries to repair my finger. It was then my mom suggested I work with a smaller breed, and I said 'Schipperkes.' I wanted that big dog in a small package. They have a lot of the same features of the Malamute; they're double-coated, are a hearty breed, but I can run all my dogs together, not like the Malamutes. That's how my journey with Schipperkes began.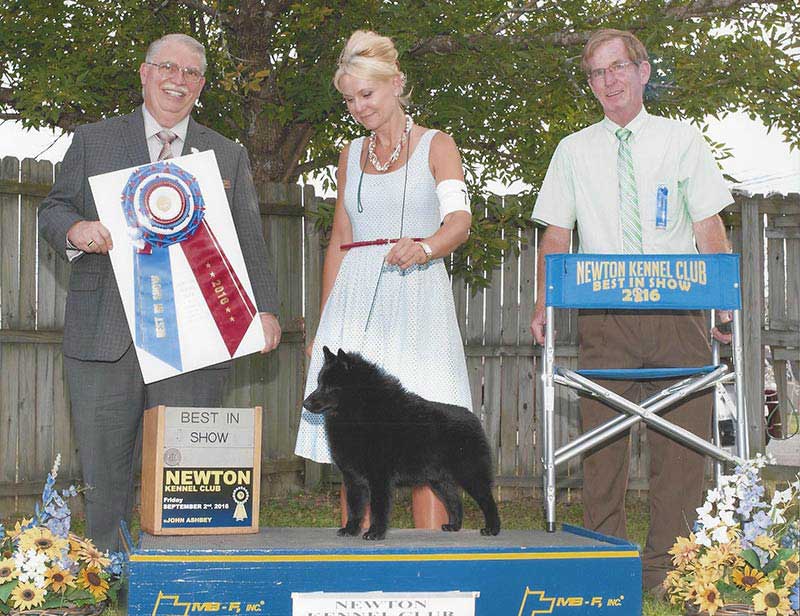 What was it about the Schipperke that first caught your eye?
I've always loved dogs of all breeds. I was at a show with my father, and I wanted to see the Schipperkes, so he hoisted me up on his shoulders to get a better look, and I remember thinking they were so cute. I went home and told my mom this is the dog I want.
Have you considered showing another type of breed?
After I recovered from the surgeries, I handled dogs for teachers in school. I started off with two clients, showing a Siberian Husky and a Labrador Retriever. I went to the dog shows with one of the special ed teachers and started showing in junior showmanship when I was 15 years old. I won the world series of junior showmanship in the late '80s and flew out to Beverly Hills to compete.
I also bred and showed Akitas for a bit, but they weren't my passion; I am truly a Schipperke breeder.
How many Schipperkes do you currently have at your kennel?
I keep around 15 dogs and show multiple ones at once. Currently, I'm showing a bitch that is number one in the country, and I just started to take out a male of mine who took a Best In Show this year. He's my 8th all- breed Best In Show winner that I bred. I'm very proud of that; I've produced the largest amount of dogs to receive Best in Show of any Schipperke breeder.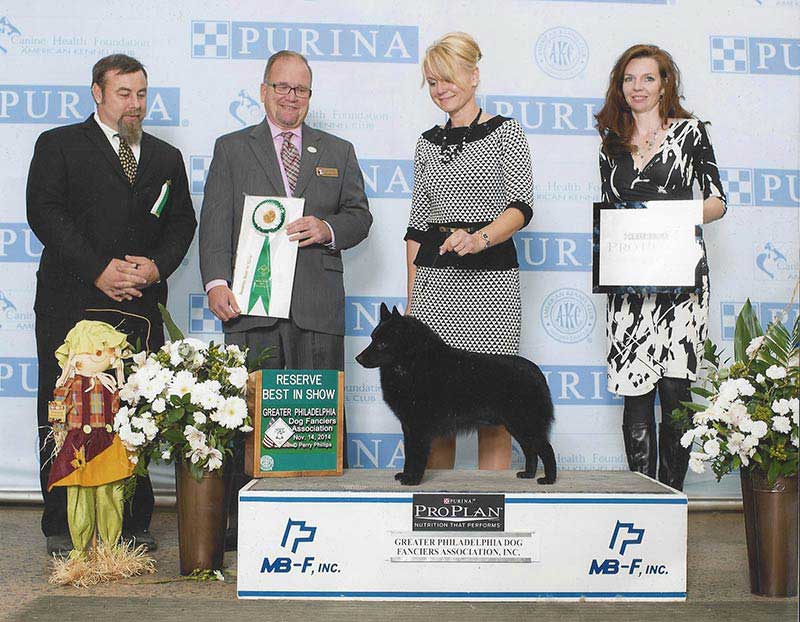 What are you most proud of in your years as a breeder/handler?
In addition to attending every Schipperke Club of America national show for the last 28 years, I'm very proud of my bitch Flame (BIS BISS CH De Lamer's Fire Island Fox), still the only female to place at Westminster in this breed. She's my first Best In Show Schipperke and my first national specialty breed winner that I bred. I won the national with her mother in 1994, but she is the first one that I bred that I won the nationals with. I've bred a lot of winners in many different categories.
How did it feel to be recognized by the American Kennel Club as the top breeder of all non-sporting dogs in the U.S. in 2012?
I was speechless. I thought it was wonderful just to be up for consideration. I was not yet 40 years old, and I believe I am still the youngest person to date to be given this award. I've had many special wins, but this one sticks out in my mind.
What's life like as a breeder/handler?
It's a lot of hard work. As much as there's excitement and rewards for successful breeding, there's also heartache. There are litters that don't come or puppies that fail to survive, or even that show dog that has so much promise and it doesn't win. These are living animals that are demanding of your time, but I don't mind because I love it. I have a well-balanced life, and that requires great kennel help, which I'm fortunate to have.
Describe what you love most about breeding Schipperkes?
Besides loving these dogs, I have a switch in my head that I can't turn off. I'm constantly planning my next breeding, two, three years out, and I have a vision that doesn't stop. I know there is no perfect dog, but I have a vision of a perfect Schipperke. When I have a combination in my head, it's exciting to see what I'm getting. I really love having the puppies, raising them, and watching them grow up. Not all become show dogs, and it's important to me to have them go to good homes. I know I have to let some go, otherwise, I'd have no room to breed and keep my best generation.
https://www.akc.org/wp-admin/admin-ajax.php
Get Your Free AKC eBook
Selecting a Puppy
How do you know what breed is right for your family? How do you find a reputable breeder? What questions should you ask a breeder? Download this e-book for guidance on these questions and other important factors to consider when looking for a puppy.