Are you ready to discover what makes your dog unique? An AKC-Certified Pedigree is your purbred dog's official family tree that allows you to trace your favorite pal's ancestry.
A pedigree provides you with information you may not have otherwise known. It will show you if your dog has champions in its bloodline. This means that at least one of its parents or grandparents earned an AKC Championship title. You might see a CH (Conformation Champion), FC (Field Champion) or MACH (Master Agility Champion) affixed to the front of one of your dog's ancestor's names.
You will also find out if your dog has foreign ancestors. Wouldn't it be neat to find out that your dog comes from Italy or Australia? In addition, a pedigree will tell you the AKC registered names that complete your dog's family, as well as their coloring and achievements.
This official document also shows any recorded health certifications, such as OFA, which will enable you to be more informed about your dog's health history. All the information in a pedigree is compiled from the AKC's Stud Book records, which date back to 1875.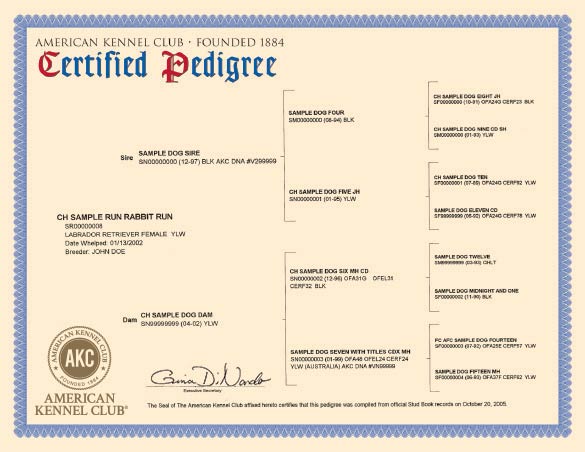 A certified pedigree is a great way to display your dog's personal and family accomplishments. It features a gold, embossed AKC seal and is printed on beautiful watermarked heavy stock paper that is suitable for framing.
Why wait to explore your dog's ancestry? After all, his or her family story is the path that leads to your canine companion. You can purchase your dog's AKC-Certified Pedigree in the AKC Store.
https://www.akc.org/wp-admin/admin-ajax.php
Get Your Free AKC eBook
The Five Commands Every Dog Should Know
Do you want a well behaved dog but don't know where to begin? The Basic five commands e-book is a great place to start and will give your dog a strong foundation for future training.