Each month, the American Kennel Club (AKC) profiles breeders to hear how they got started and learn about their breeding program and experience with AKC Marketplace. We recently spoke with Karen Hanson of Labyrinth Brittanys in Maidens, Va. Karen began breeding Brittanys when she was a teenager, and today she is an AKC Breeder of Merit who has produced top-winning dogs in the ring and in the field.
AKC: How did you get started breeding?
It's scary to think that I've been a breeder for almost 40 years! Long story short, I grew up in the military, and we had horses. I got Brittanys because they were the only breed I thought was athletic enough to run with the multiple horses I rode every day. I still love horses, but I dearly love my Brittanys.
AKC: What is the most important thing to know about your breed?
This is a breed that deeply loves people. They love having a job. A Brittany is happiest when he is doing things with his people, be it as a hunter, a running buddy, therapy dog, whatever. A bored Brittany is a bad Brittany. Brittanys are very versatile. They make great hunters. They are outstanding obedience dogs. They are outstanding therapy dogs. This is a breed of dog that really can do everything.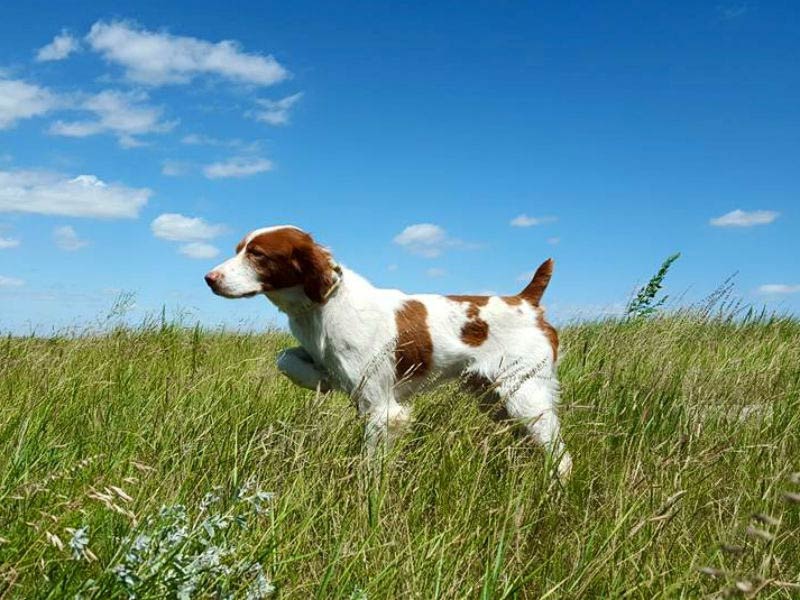 AKC: What is your favorite question to ask puppy buyers?
I believe in open-ended questions. I have an article that I send to everyone who inquires about a puppy called, "What You Should Look for in a Breeder." It outlines what I would look for: a breeder who actually proves her dogs in conformation, field trials, hunt tests, etc.; who does more than the required health testing; who readily invites puppy buyers to the facility; who offers lifetime support and will take a puppy back any time, for any reason. At the end, I invite people to tell me why I should sell them a dog. I get very honest answers back and often develop lifetime friendships with the people lucky enough to get one of our dogs!
AKC: How has AKC Marketplace helped you find puppy buyers?
I think the AKC Marketplace is a great tool for puppy buyers to screen quality breeders. Some breeds have very few breeders, and it's hard for a buyer to know where to get some of those endangered breeds. For me, it's a way to educate people, even if they don't buy a dog from me. I breed one or two litters a year, but if I don't have a puppy for a buyer, I bet I can send them to another breeder of whom I think highly. I feel that if buyers utilize the tools that are readily available to them, they absolutely can and should get a fabulous new family member when they buy a dog using the AKC Marketplace.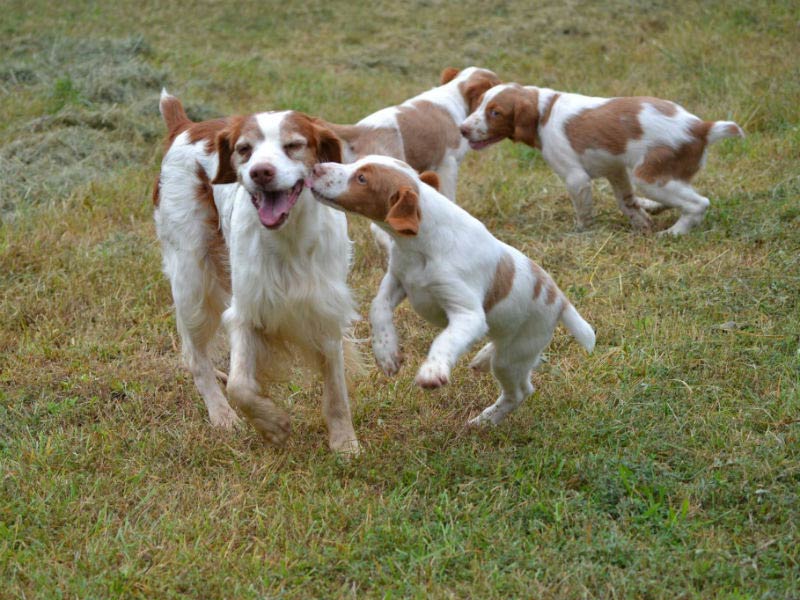 AKC: What are top qualities you look for in potential owners?
I want someone who is going to do things with her dog: hunting, hiking, running, showing, obedience, field trials, therapy. I want owners who will include the new dog in their family. Brittanys do not make good kennel dogs; they need to be in the mix of things. I need puppy buyers who are open and willing to use me as a resource for the life of the dog, and most importantly, I require all my puppy owners to keep me informed of any problems they may encounter with their dog. As a breeder, I am responsible for every puppy I produce and, should there ever be an issue, I have to know about it. I also absolutely require that should an owner ever not be able to care for his dog, that the dog comes back to me. It doesn't happen very often, but it gives me great peace of mind to know that no dog that I produce will ever end up in a shelter (which is why all the dogs I produce are microchipped prior to going to their new homes).
AKC: What is your best advice to novice breeders?
The best advice I can give is twofold. I would suggest that you first find a great mentor! There are many of us old-timers in every breed. Go to one you admire and ask for advice. Offer to do some drudge work in exchange for some great lessons. Hands-on learning is the best learning. Ask questions: ask why the mentor does or has done what she did. Ask what worked, but more importantly, ask what didn't work and why. Join the parent club for your breed. Join your local kennel club. None of us is an island. We do better when we all do better. Learn as much as you can from as many great breeders as you can and then buy the absolute best bitch that you can and prepare the best that you can. There are great YouTube videos from the Eukanuba/AKC Breeder-to-Breeder Symposium . . . great breeders like Bill Shelton, Pat Trotter, and Doug Johnson. Be open to learning from the best!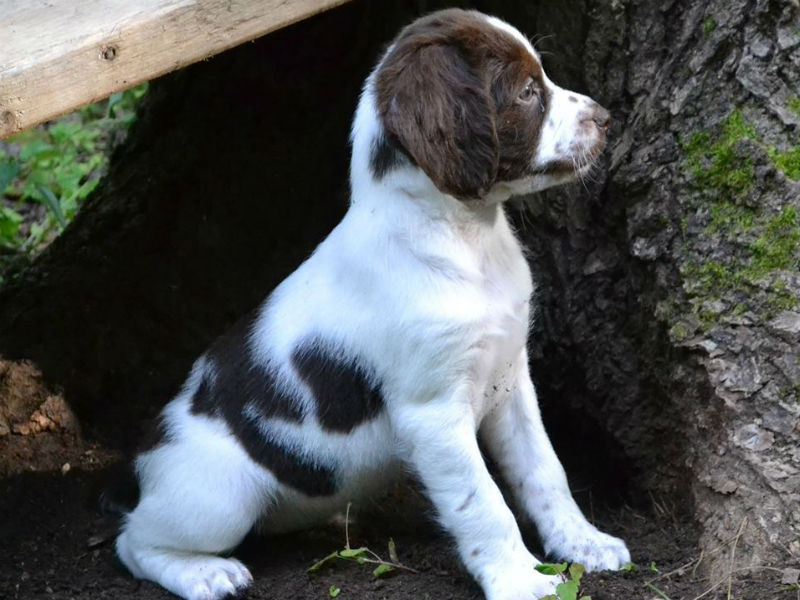 AKC: Do your dogs participate in AKC sports?
Absolutely! I'm very proud to have two great dogs right now in the top 10 show in my breed, Slick and Zip. We also compete in hunt tests, field trials, occasionally in obedience and rally . . . I believe very strongly that you need to prove what your dogs can do. The Brittany, a dual-purpose breed, must not only look good, but have great bird sense, as well. Both Slick and Zip have field placements, and both have Reserve Best in Shows. While I completely understand that people may not have the ability to actively field trial a dog, it is well within most people's ability to go out and put a hunting title on a dog to prove that the dog is a bird dog. With Brittanys, it is still very possible for owner-handlers to compete side by side with pro handlers. The Brittany community is very welcoming to new members and especially to young people.
AKC: What is your favorite thing about being a breeder?
I dearly love planning great litters. I have breedings in my head generations in advance, sometimes. I dream about the important aspects of a pedigree, the temperament of the parents, bird sense, conformation, longevity, and health. It can be incredibly satisfying to see the product of your dreams take its first breath and grow to be the great dog that you envisioned.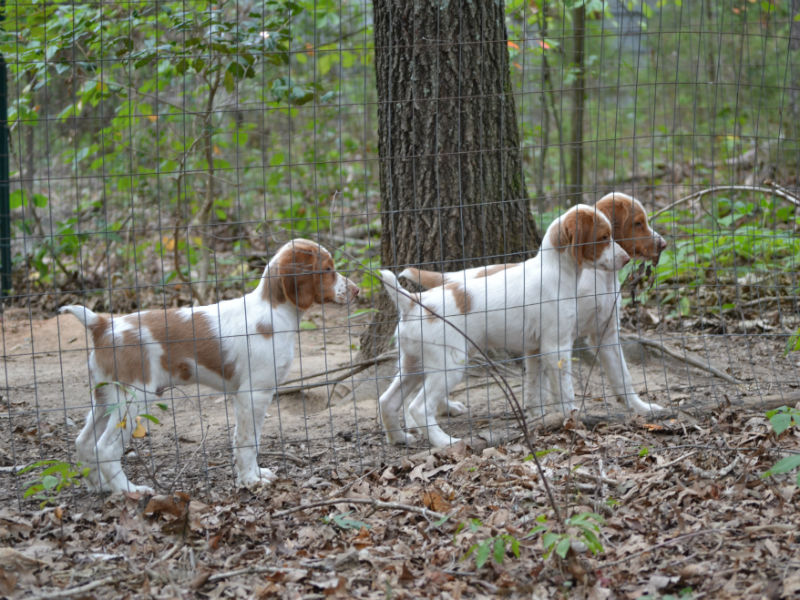 AKC: Do you have a favorite breeding story?
My favorite breeding stories involve people — usually new people. My absolute favorite is about Jamie and Benelli. I met Jamie when I helped him pick out a really nice male from a friend's litter. Jamie learned a lot from this dog, and we finished his championship in the show ring, and he had field placements, as well. Jamie bought his next dog from me. He was so worried about "getting it right" that he sweated through his shirt! Jamie was a sponge, learning from me and anyone that he could. He worked very hard. Benelli finished her championship with breed wins from the classes; she was Best in Futurity and fourth in the Futurity Gun Dog Stake. She has her derby points in the field and is a Senior Hunter and Grand Champion. She has just had her first litter of puppies, and I will be grading them next week. My favorite thing is to get a great dog in the hands of a great owner and then help him produce the next great generation.
To learn more about Labyrinth Brittanys and meet Karen's dogs, click here.
https://www.akc.org/wp-admin/admin-ajax.php
Get Your Free AKC eBook
Does Your Dog Have What it Takes to be a Therapy Dog?
My dog is great with people, I want her to be a therapy dog. Where do I start? If you have asked this question then this e-book is for you. Download to learn more about Animal Assisted Therapy and how to get started.