Junior Report: Michelle Ahmann
I started in AKC events with my homely little pug, Smudge when I was 9 years old. He was the best dog in the whole world and there will never be another like him. I was determined to do things with him that most people generally would not do with a pug. I showed him in obedience and agility mostly. Once he was older I started showing him in rally obedience once AKC introduced the event and he actually did very well in that and was in the top 5 pugs in the country for rally obedience in 2005! He also came to school with me once a week when I was in third, fourth, and fifth grade. It is because of him that my love for purebred dogs started really young.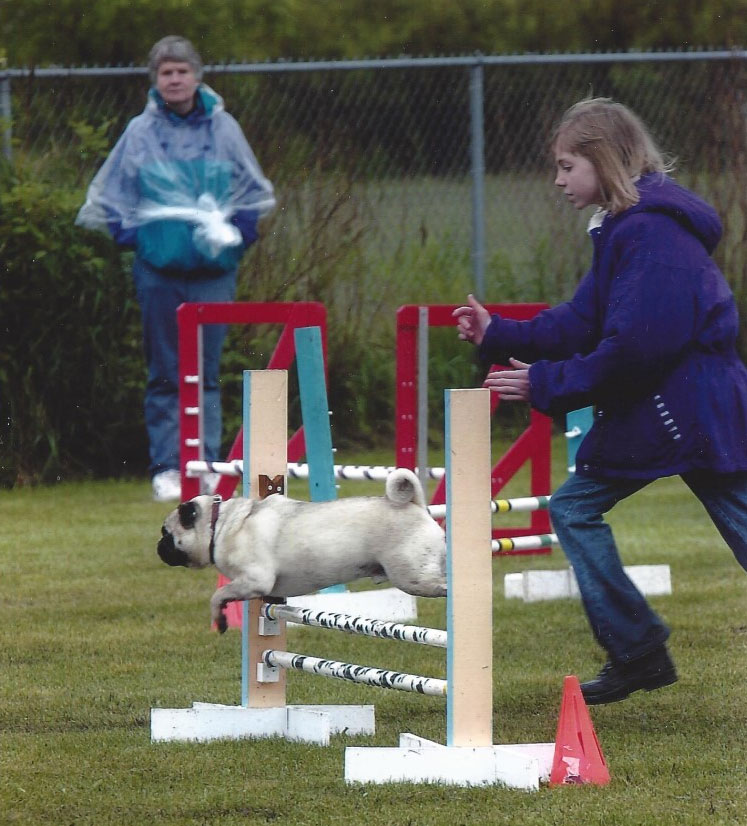 I started showing English Cockers in juniors when I was 11 years old and rapidly got wrapped up into the fun world of AKC conformation. I showed the same dog in juniors from when I was 12 through aging out at 18. His name was Patrick and he was a blue roan ECS. He was truly a magnificent dog that gave his whole heart to me ever single time we showed and I could never ask more from him. At the end of our career we were so in-tune with each other that I could shift my weight and he would respond with what I wanted - although he was an ECS so he definitely did things on his terms too! As I got more involved with showing I continued to branch out into obedience, agility, rally obedience, a little hunt testing and tracking. I am very lucky to have had the pleasure to work with many different breeds in the different venues.
I proceeded to go to college at the University of Wisconsin with the help from AKC and ECSCA scholarships. I focused my education on animal science with a focus on veterinary medicine. During my time at Madison I got my first Irish Setter, Cabernet. I continued to show in AKC events with him when I was able to get away from school on the weekends and during the summer. My love for Irish setters has grown and they are truly "my breed" now.
After undergrad it was a natural progression to veterinary school at Purdue University where I graduated in 2015. I continued to show my now 2 Irish setters on the rather few weekends I had free. I do credit both setters for staying sane through vet school as it is a rather intense event. The dogs were always there for me though as a release to go for a walk or to class or to a show, most of all they were there to remind me why I was in vet school in the first place.
After graduation I started working at Veterinary Village in Lomira, WI and have continued to work with and show my Irish Setters. I am very lucky to get a chance to work at this clinic because we do a lot of reproduction which naturally means I get to work with breeders everyday. I love working with breeders and doing reproductive medicine. It is a real pleasure to work with such beautiful, well conditioned animals, owned by people who put so much of their heart and soul into them.