Like many young people who have become involved in dog showing, I first heard about it from others.  In my case, I learned a lot about it when I was in sixth grade and did a project for one of my teachers, who enjoyed raising and showing dogs.   That's when I knew that it was what I wanted to do, and my teacher gave me guidance on how to get involved.  Training is important, because it's about training both the handler and the dog.  It requires focus and consistency, and is a productive way to develop a bond of love and respect with your dog, while having fun.  The best place to start is by finding a local club with training classes in your area of interest.  Books and information on-line are also helpful, but it's been very helpful to me to be part of an organization and to go to shows with mentors and friends, who are interested in helping younger people learn about junior handling.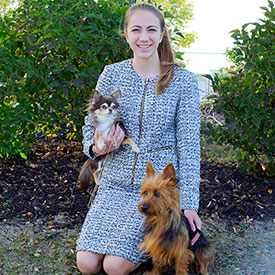 I  started in junior showmanship with a wonderful Pembroke Welsh Corgi and learned how to train my long coat Chihuahua, Sunny, at the age of 12.  In January 2014, I was very fortunate to get a smart and beautiful Australian terrier, named Judy.   Consistent, focused training takes time and is a lot of work, but it's not possible without taking classes and having good instructors.  The AKC junior program offers a wide scope of events that you can do with your dog, which opened up new opportunities for me with Judy.   After training her in basic obedience and helping her earn a Canine Good Citizen title, it has been fun to learn about agility. Two of my instructors are former Junior handlers in agility, and they have encouraged and promoted other young people to get involved in the sport.  Recently, I have started competing in agility and have put a Novice Agility and Novice Agility Jumpers titles on Judy. It's a super fun venue for competition, and is completely different than conformation. It's a very athletic sport that requires a close connection between the handler and the dog.  Judy loves it and gets excited about practicing, even when we're working on the weaves and the teeter that I have set up in our backyard.
In the future, I would like to learn more about other forms of training and competition. The AKC has really well organized events and it's great way to compete and get involved, not only through your local club, but also through state organizations, like the Minnesota Agility Club, which welcomes junior handlers as competitors and also offers volunteer opportunities at their shows.  I would highly encourage anyone who loves dogs to learn more about the sport and to get involved.   It's a fun and rewarding experience that helps build a close bond with your dog, and also teaches you how to communicate with others in all aspects of life, and to win or lose with dignity and grace.