Summer is vacation time and it's even better when our canine buddies can come along. After all, dogs love vacations, too. So, whether you're preparing for a long car ride, camping and hiking, a wide sandy beach, or a visit with old friends, here's some gear that will make traveling with your dog a lot easier.
Car Travel With Dogs
A lot like traveling with kids, a long car trip with dogs has its own challenges, from safety and access to important supplies (like favorite toys and treats) to keeping the car from looking like a landfill.
In Partnership with

Long car trips, with stops at the beach, the park, or the hotel pool, may mean extra mess in the car. Protect your car seats with this seat cover. Rubber backing and seat anchors keep it in place. It's waterproof, tough as nails, and machine washable.
Dogs under 20 pounds will feel secure in this sturdy booster seat. It attaches to the seat, has a comfy washable lining and collapses for easy storage.
Safety first! This adjustable seat belt is compatible with most vehicles and is easy to use. Your dog can comfortably sit, lie down, or stand safely and without distracting the driver.
High Road Wag'nRide Car Organizer
 
Long car trips are a recipe for both human and canine messes: belongings all over the car and you can't find the one thing you need to find. This doggie organizer holds water, a bowl, leash and collar, food, toys, and pretty much everything you'll need for the road. Easy access, heavy duty, and easy to wipe clean.
Camping & Hiking
The great outdoors, beautiful vistas, challenging hikes, the smell of food cooking on a campfire, and the company of your canine buddy. Pack some smart equipment and you'll both be happy.
Travel Dog Bowl for Dog Food, Water, and Other Pet Supplies
 
It's lightweight, collapsible, and made of FDA-approved silicone, so you can feed and water your dog safely and easily.
One Tigris Dog Pack Saddle Bag
 
Everyone can carry their their own gear when camping, even the dog, with this cotton canvas backpack. It has two large zippered pouches and a front pocket.
Microfiber Camp and Travel Towel
 
There's a good chance that camping with your dog involves mud, sand, and almost definitely water. This lightweight, absorbent towel is large enough for almost any dog and comes in its own storage bag.
Your dog will get a good night's sleep on this large, soft, and comfy travel bed. Machine washable and comes in its own stuff sack.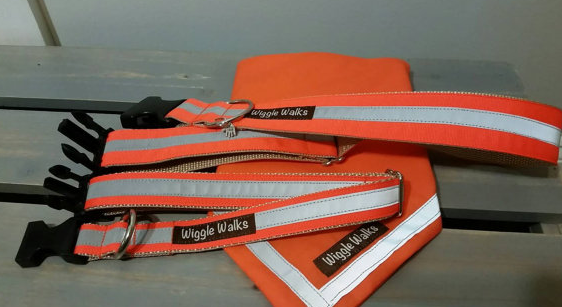 The woods can be dark and deep and your dog may be inclined to wander. This heavy duty collar with reflective strips make it easier to spot him.
We hope you won't need this, but if you do, it has everything you need for an accident or emergency until you can get to a vet. The well-organized zippered case even includes a canine first aid manual.
On The Beach With Your Dog
Riding the waves, digging in the sand, a game of Frisbee on the beach, chasing birds along the waterline –for some dogs the beach is paradise. Pack wisely with some of this gear and you'll both enjoy your beach vacation.
Gulpy Portable Water Dispenser
 
It can get hot out there, so make sure your dog has plenty of water with this lightweight squeeze bottle and drinking tray. It holds 20 ounces and comes in bright summer colors.
Outward Hound Ripstop Life Jacket
 
Even the strongest swimmer can tire in the water or get caught in the waves. Protect him with this hi-visability life jacket, with easy grab handles and quick-release buckles.
If your dog has short or light hair and white or pink skin, yes, he needs sun protection. In fact, you might want to use it on any dog exposed to long days in the sun. It's non-greasy and FDA compliant.
According to dogs, the most important thing you can bring to the beach is a good toy. This water skimmer flying disc is not only fun to catch on land, but it also skims and floats in water. High visibility colors make it easy for your dog to spot.
A Few More Summer Vacation Essentials For Your Dog
No matter where you travel, these are some handy items that might make vacation with your dog easier and more enjoyable for all.
Let's say you're staying with friends or in a hotel and need the crate you left at home because it's too big and too heavy. This sturdy, folding crate is compact for travel and comfortable and secure for your dog.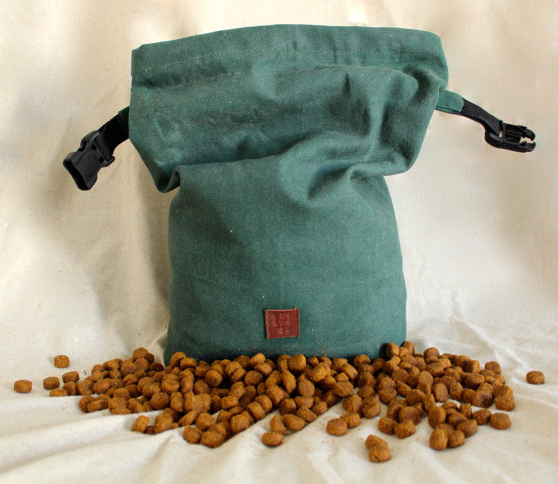 Keep his food fresh and dry with this rugged, water repellent waxed canvas bag. Comes in either a 10-cup or 15-cup size.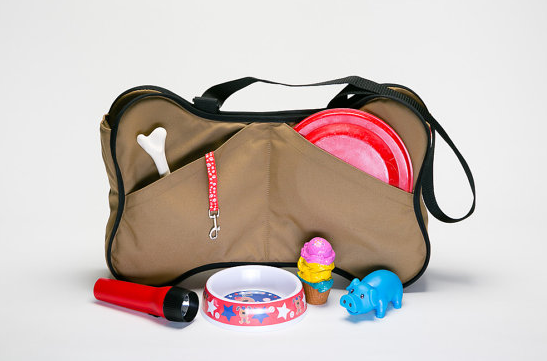 Lightweight and durable, this heavy-duty nylon travel bag keeps all your dog's supplies organized and in easy reach.
What's a vacation without some treats? This resealable package is easy to store and is filled with nutritious ingredients and bite-sized peanut deliciousness.
https://www.akc.org/wp-admin/admin-ajax.php
Get Your Free AKC eBook
Dog Park Etiquette
If you're an urban or suburban dog owner, you're likely familiar with the local dog park. It's a canine oasis. The "Dog Park Etiquette" E-book outlines what you should consider before you bring your dog to the dog park.