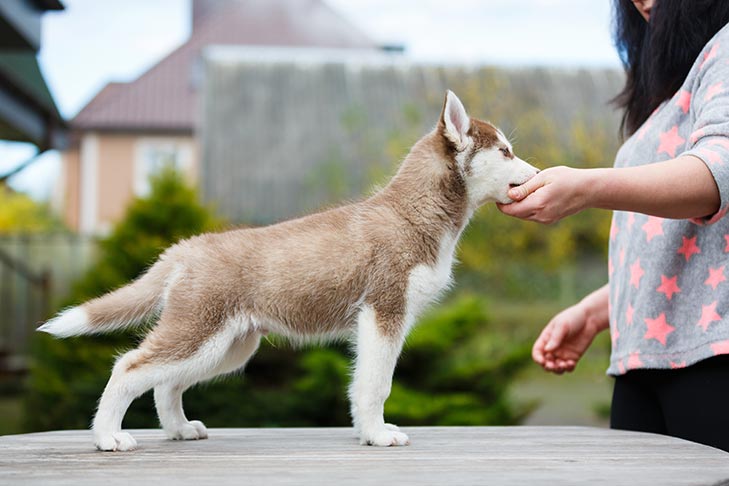 Janice M. writes, "My yellow Labrador Retriever pup is about 5 months old. Anytime I try to reward/pet him on the head or scratch behind his ears, he turns his head to chew on my hand. He does this with my husband and our 5-year-old. Our 5-year-old doesn't like to pet him because of the puppy's chewing. Why is he doing this? He has plenty of toys and chews in the house and yard."
Mouthing and chewing in puppies is a completely normal, albeit annoying, thing. They begin doing this from an early age to explore their environment and learn bite inhibition through the feedback of their littermates. Mouthing is also part of normal play behavior for puppies and dogs. When you reach towards your puppy to pet him, that's very exciting for him. He responds out of excitement by mouthing (chewing) your hand.
It's also possible that your puppy's ears are sensitive and he may not be comfortable with that type of touching. It's important to pay attention to his body language to see what he is telling you. If you think sensitivity is the reason for this behavior, take him to your veterinarian to have his ears checked for signs of infection. If excitement over your attention is causing your puppy to mouth and bite your hands, be sure to provide enrichment and play through food puzzle toys, training, exercise, and games with toys.
There are a few ways to teach your puppy to relax when you pet him and to not bite your hands. Get some yummy treats ready and sit down with him in a quiet place. Try to train during a time of day when he is naturally more relaxed, not when he is ready for play or exercise.
The "Collar Grab Game" teaches your puppy that he gets rewarded for staying calm when being touched. If at any time during the game he gets excited and mouths your hand, stand up for a minute, then start again. Ask your puppy to sit in front of you and give him a treat for sitting. Then begin to reach your hand towards his collar — but not all the way. Move your hand back, then give him a treat. Repeat this a few times and watch to see what your puppy is doing. Is he turning to bite your hand, or is focusing on the food and sitting? Keep practicing over a few days until you can reach forward and hold his collar or pet his head without him turning his head to mouth. Be sure to practice this with both hands.
Here are some toys that are good for dogs that like to chew:
---
Our dogs are cherished members of the family, sharing our lives and providing unconditional love. But dog owners know that our canine partners have different perspectives on life than we do.
If you have ever asked, "Why does my dog do that?" then this feature is for you. The AKC GoodDog! Helpline training team will answer your questions about dog behavior and offer training advice to help you and your pup have the best relationship possible. The AKC GoodDog! Helpline is a seven-day-a-week telephone support service staffed by professional dog trainers. For more information on the service and how to enroll, go to www.akcgooddoghelpline.org.
https://www.akc.org/wp-admin/admin-ajax.php
Get Your Free AKC eBook
Tooth Brushing Basics
Did you know that having a regular tooth brushing routine can have a major impact on your dog's health? Download this e-book to learn more.