Everyone knows that opening gifts is fun. And Santa certainly won't forget your best four-legged friend! But is it all right to let your canine family members open packages? Could it give them the idea that it's okay to tear into any paper or box they encounter? Is it even safe?
The answer is a combination of common sense and knowing your dog. If he likes to consume paper after tearing it up, then you should probably open the gift for him. A little paper won't hurt a dog. (My sneaky, opportunistic dog has stolen and eaten a lot over the years.) But it would be safer to not allow him to eat it.
On the other hand, many dogs love to shred and tear paper and boxes. It can be a good outlet to burn excess energy, so under close supervision it would be fine to let Rover go at it (as long as you don't mind the clean-up after his party!).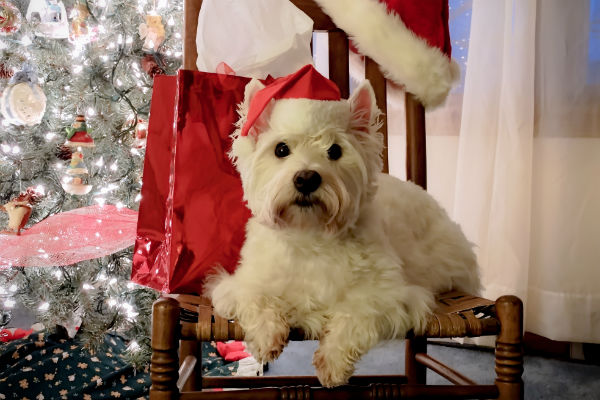 Remove any ribbons or decorations from the gift before presenting it to your dog. If the paper is foil, do not let him have it. Again, consuming a little shred of ordinary paper won't hurt him, but other items that are often attached to gifts could be harmful. A trip to the animal emergency hospital will not add to the happiness of your holidays. Watch closely when he is opening his gift and step in if he starts eating the wrapping.
Will he get the idea that tearing into packages is always going to be okay? Yes, he may. To him, a package is a package, so if you leave one within reach at any time of the year, he could decide to help himself. But if you use common sense regularly in living with your dog, he should still be able to join the fun.
This is where good dog management comes in. Even the best-behaved dog does not know that Aunt Mary's birthday gift on the coffee table in June is different from the one you let him open at Christmas. You should always keep things that you do not want your dog to have out of his reach. If you are unable to supervise him while a party is going on, he should be in his crate chewing on a special treat.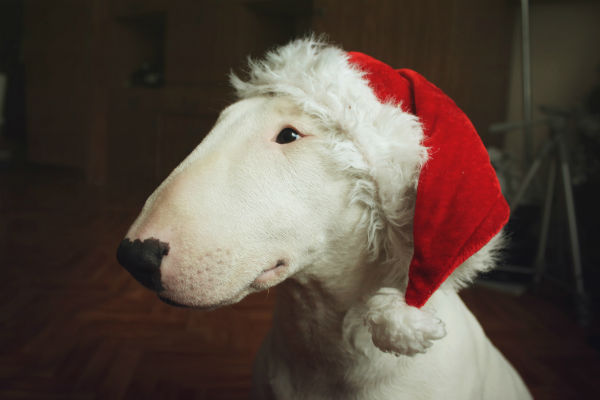 If your dog is the resource guarding type, it would be better to open his gift yourself. You don't want a spat during the festivities! Or have some tasty treats handy so you can make a trade when it's time to pick up the shredded paper or if he gets carried away and starts consuming wrapping. Once he gets to the gift, he will probably forget all about the wrapping anyway!
For more tips on how to keep your dog safe this holiday season, check out our article here. And if you're a little late on the holiday shopping, or just feel like treating yourself (and your dog), we have perfect products for you both on the AKC Shop!
https://www.akc.org/wp-admin/admin-ajax.php
Get Your Free AKC eBook
Training with Treats
Training your dog simply requires an investment of time, patience and of course a reward. Download this e-book to learn strategies that will make your treat training more effective.