Training your dog during COVID-19 can be difficult without access to normal training classes. That's why we're here to help you virtually. The AKC GoodDog! Helpline (GDH) is a live telephone subscription service that offers training advice to new puppy owners.
The helpline trainers have been giving helpful advice to new puppy owners for more than four years, and many satisfied owners have learned that good training goes well beyond puppyhood. For the happiest, most well-adjusted dogs, learning never ends, and the AKC helpline is a great value because the one-time cost for a subscription is good for the life of your dog.
Catherine Magyera chose a package that included the AKC GoodDog! Helpline when registering her dog, Catch.
"The service has been a great source of advice as we raised our headstrong and very smart Sheltie pup," she said. "A lot of [the advice] has been about manners and socialization, but [the helpline] has also been helpful in training fun tricks."
The AKC GoodDog! Helpline trainers have many years of experience training dogs — as dog sport and show dog competitors and as family companions. They use positive, reward-based training methods, helping puppy owners with house-training, basic manners, leash walking, and ways to help multiple pets get along with each other.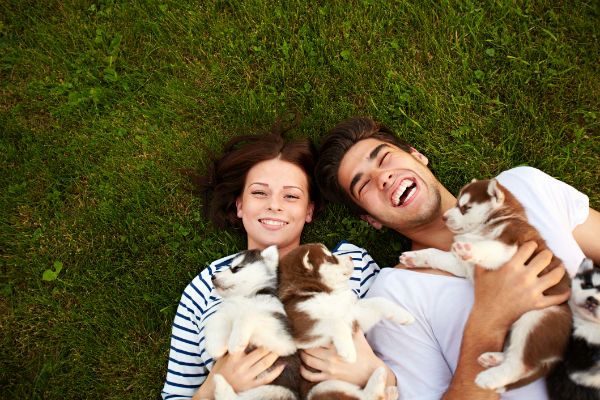 Sometimes in-person help is needed. In these cases, the trainers will find training clubs and schools in your area. Many GDH customers take their puppies to training classes and continue to get advice from GDH trainers at the same time.
"I anticipate using this the most as we go through puppyhood, but I can also see myself using it beyond, as well, for things like manners and trick training. Hopefully, our dog won't have any behavioral issues, but I'm sure it would be helpful for that, too," Magyera said.
All dogs are eligible for the service, and owners can subscribe at a discounted price when they register their puppy.
The helpline is open seven days a week: 9 a.m. to 9 p.m. Eastern Standard Time (EST) Monday – Friday and noon to 6 p.m. EST Saturdays and Sundays.
To learn more about the AKC GoodDog! Helpline, meet the trainers, and get enrollment information to pass along to your puppy buyers, visit www.akcgooddoghelpline.org.
Need some help training your dog? While you may not be able to attend in-person training classes during COVID-19, we are here to help you virtually through AKC GoodDog! Helpline. This live telephone service connects you with a professional trainer who will offer unlimited, individualized advice on everything from behavioral issues to CGC prep to getting started in dog sports.
https://www.akc.org/wp-admin/admin-ajax.php
Get Your Free AKC eBook
Canine Good Citizen (CGC)
This program is recognized as the gold standard for dog behavior. In CGC, dogs who pass the 10 step CGC test can earn a certificate and/or the official AKC CGC title.