When a Puli named "Preston," won Best in Show at the AKC National Championship, he had one handler, one breeder, and several thousand co-owners. Preston became every Puli person's dog the moment Dr. Anthony DiNardo pointed to him as his choice to win it all. It was a watershed moment for a dog breed that had never won the ultimate honor at a U.S. national championship in the 80 years since the Puli was recognized.
It has been a long journey. The Puli was first brought into the United States in 1935 as part of an experiment with the U.S. Department of Agriculture. Researchers at facility in Maryland were looking for a dog that wouldn't kill the stock it was entrusted to protect, and they just might have found it had World War II not broken out. Funding was pulled, and an official report never written. The four Pulik involved in the research were auctioned off and became the foundation dogs for several American Puli kennels. AKC recognition came a year later, and in 1937, Louis Kiss, the owner of one of those kennels, registered the first American-born litter.
While the breed wasn't unheard of, knowledge of it was limited, even among other fanciers. The Puli was regarded as a rare breed and would remain so for decades. Owners and breeders made up a small community that followed the gains made in their breed with pride and a sense of accomplishment, but achievements came in spurts often separated by many years.
The first Puli to be shown at an AKC show was Louis Kiss' bitch, Torokvesz Sarika, the only Puli entry at Newark Kennel Club's dog show on Dec. 6, 1936. It would be another 12 years before a Puli would become the breed's first champion, a dog named Ch. Magyar's Bundasz. In 1949, the incomparable Alva Rosenberg became the first judge to place a Puli in the Working Group. His choice for a Group 4 was Ch. Czigany Tanczos, CD (Suzy), and Puli owners delighted at the breakthrough. It would have to carry us, because over one-quarter of a century passed before the breed was awarded a similar group placement at the 1975 Westminster Kennel Club Dog Show. That honor was earned by Ch. Kallopusztai Apor.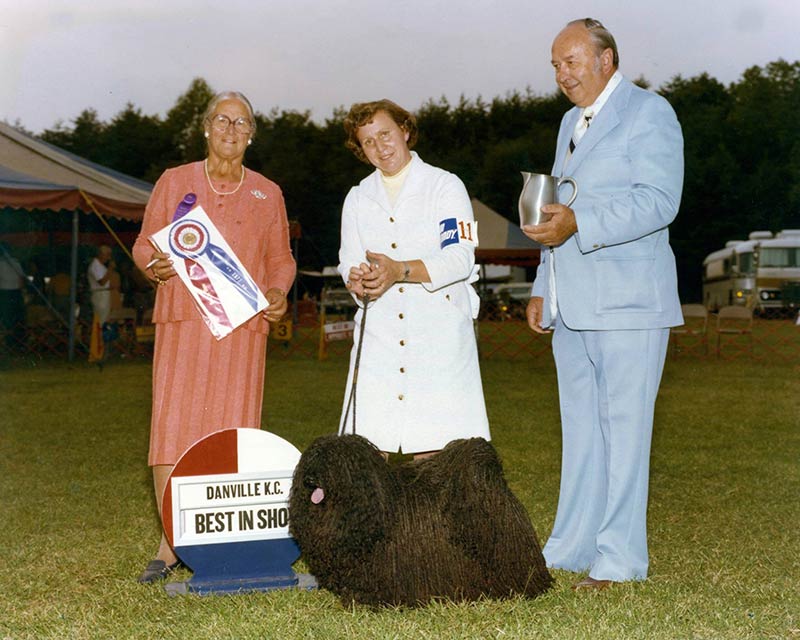 More Pulik were being entered at dog shows, but many breed winners didn't stay for group judging because placements were rare, and winning the group seemed all but impossible. This changed when Ch. Cedwood's Anthony Gray, or "Coco," became the first Puli to win the Working Group, and when a gray, brushed out bitch named Ch. Skysyl Question Being Is It ("Monday") won the breed's first Best in Show in 1968, it was a coming of age for the breed.
In as much as the breed made strides within the fancy, it puts things into perspective to note that the first corded Puli to win a Best in Show came 35 years after AKC acceptance. The dog was Ch. Pulikountry's Apro, CD, a male owned by Lois McManus. Given that a corded coat is the breed's calling card, this may seem surprising to us today, but to be fair, it wasn't entirely due to judging preferences. American Puli owners in the early days had very little access to information and historical documents, let alone other breed owners from the country of origin. Hungary was ravaged by occupation and war, and contact with Hungarians was restricted by the Soviet regime. A corded coat was unfamiliar to those early owners, and consequently, Pulik were brushed and combed out because that's what was done with heavily coated dogs at the time. Eventually, Hungarians who made their way to the United States brought with them insights — and sometimes their dogs, — which helped change how the breed was presented. One such person was Les Benis, author and eventual AKC judge.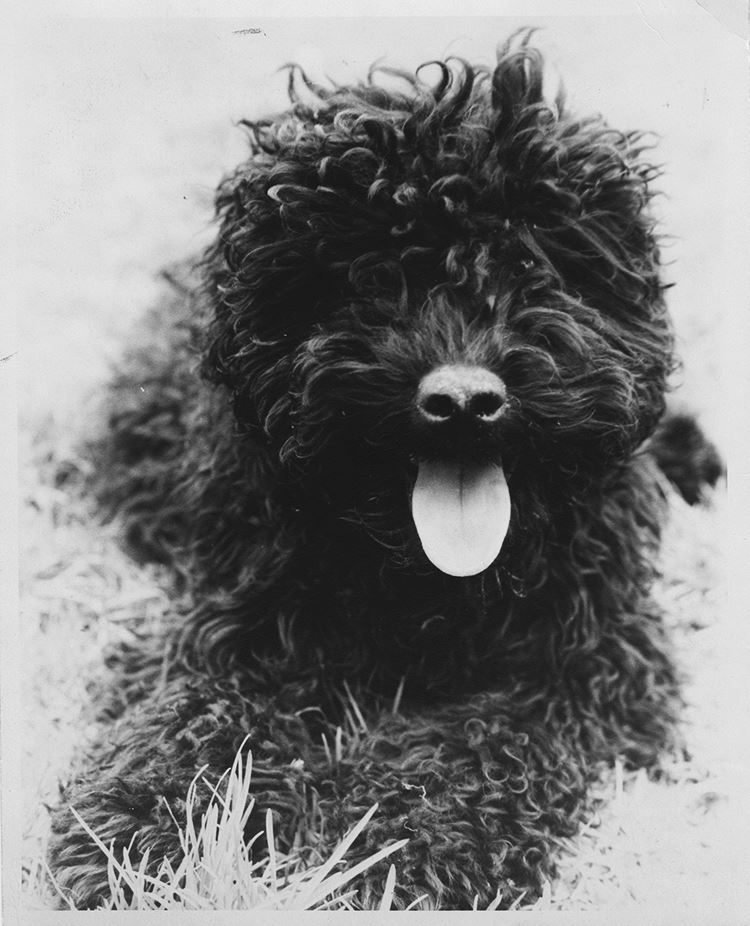 Following Apro's win, corded Pulik fared well in subsequent years. When over 8,000 dogs competed at the AKC's historic Centennial Show in 1984, a Puli named, Ch. Jatekos Bika of Pebbletree placed in group; in 1989, CH Wallbanger Kermit J. Bounce, handled by Ann Bowley, became the first Puli to win a Group I at Westminster, something early Puli fanciers never thought they'd ever see happen. In fact, the feat would be repeated at Westminster in 2009 and 2010 by Ch. Cordmaker Field Of Dreams owned by Sue Huebner & Jackie Beaudoin.
While strides were being made inside the dog show world, the general public was left wanting, and glimpses of the breed were few and far between. Nicholas Roosevelt, the U.S. ambassador to Hungary for two years, came home with a pair of Pulik in 1933. Fourteen years later in 1947, Life Magazine ran a photo of a Puli belonging to a Metropolitan Opera singer dubbed, "The Queen of American Carmens." Writer, Harlan Ellison, wrote about his Puli in his 1975 Hugo-winning novelette, "The Deathbird," and in 1994, a member of the British grunge band, "Bush" put his Puli on an album cover insert. Three years after that, an episode of the Drew Carey show included a Puli, and in 2001, Anheuser-Busch made a Puli the star attraction in a popular Budweiser beer commercial, "No Dogs Allowed." The breed got a lot of attention in 2011 when Facebook CEO, Mark Zuckerberg, purchased a white Puli he named, "Beast," and novelist T.C. Boyle, included a Puli in his 2015 book, "The Harder They Come." Most recently, a pair of Pulik starred in a heart-tugging Dr. Pepper commercial dubbed, "Mop Dog."
The breed has come a long way since the days when Puli enthusiasts couldn't buy a T-shirt, mug, or bumper sticker featuring a Puli because those things didn't exit. "No demand for it," they were told, and that was if the vendor even knew what a Puli was. The breed is still uncommon, and with an average of 109.6 Pulik registered per year since 2011, ownership remains a small fraternity. Happily, people have become a bit more sophisticated about dog breeds than they once were, though Puli owners still wince inwardly when asked, "which end eats." Nevertheless, Preston's historic win will help educate the public about a breed of dog that owners have known to be a highly intelligent, athletic dog with a wicked sense of humor. Those of us who live with the breed nod knowingly at the tongue-in-cheek suggestion that a Puli is a dog that can follow you into a revolving door and come out ahead of you, an updated version, perhaps, of the old Hungarian maxim, "It's not a dog, it's a Puli."
It took 80 years after AKC recognition for a Puli to win Best in Show at a U.S. national championship. Preston did it by beating 5,000 dogs at the largest dog show in North America. He stood on the proverbial shoulders of great Pulik and dedicated people who broke barriers before him, but it was Preston who toppled a remaining milestone.
GCHB CH Cordmaker Mister Blue Sky — Preston — was bred by one person, Sue Huebner, and handled by one person, Linda Pitts. On paper, E. Charles, Jackie Beaudoin, Linda Pitts, Penny Kelly, and Sue Huebner own him. In the hearts of Puli owners worldwide, however, Preston belongs to all of us — Puli Nation — as he wears the crown of the ultimate winner.
https://www.akc.org/wp-admin/admin-ajax.php
Get Your Free AKC eBook
Selecting a Puppy
How do you know what breed is right for your family? How do you find a reputable breeder? What questions should you ask a breeder? Download this e-book for guidance on these questions and other important factors to consider when looking for a puppy.