At 16, Sarah Trachtenbroit is already an active competitor in multiple dog sports. Hailing from Basking Ridge, New Jersey, she participates in Agility, Diving Dogs, and Fast CAT, and shows in the breed ring. Trachtenbroit's dogs include her Nova Scotia Duck Tolling Retriever Ruby (registered name Hawks Nest Rain On Me TKA VHMP DS DM BCAT), as well as her family's rescued pets: Tux, a Labrador Retriever–Border Collie mix, and Cody, a mixed-breed pup.
The Benefits of Social Media
Trachtenbroit is no stranger to animal sports. The rising high school junior, an aspiring vet student, also rides and shows horses. She competes with both the United States Equestrian Federation and Interscholastic Equestrian Association.
Learning about dog sports online ignited Trachtenbroit's passion. "I got involved by watching videos and researching lots of different sports," she explains. "It all began from jumping my dog over the jumps at the stable I ride at!" After that Trachtenbroit began taking lessons, then entered her first Dock Diving and Agility trials.
She credits her progress in these sports and her confidence entering the ring to her digital community. "It really helped to have my trainer by my side! I also made friends and reached out on social media, where I made my first connections." The connections that Trachtenbroit made virtually have played a huge role in getting her involved. "I actually competed in my first ever dog event (Conformation) with a friend's dog that I knew through Instagram," she notes.
Loving the Challenge
Trachtenbroit and her dogs have tried multiple dog sports, and Agility is her favorite. As a Junior Handler, she really appreciates how welcoming the agility community has been; she has found the sport rewarding. "I have put in endless hours into Ruby's Agility training and no matter how many we practice for, there are new challenges to face every course," Trachtenbroit says. She also notes that "Ruby being a less common breed draws people in, and I love sharing information on my breed!"
Agility's excitement and fast pace inspire her. "I am very competitive, and always having that next challenge to train for is the best motivation," she notes. Trachtenbroit enjoys watching fellow competitors, saying, "There are so many talented handlers to look up to, and one day I hope to join them on the podium." She has met many peers at trials, too. "My favorite part of showing is the connections I've made, with both friends and animals," Trachtenbroit explains.
Successes and Challenges
Trachtenbroit's proudest moments in the ring include Ruby's first Qs in Agility. "It is such a challenging sport and was my dream for years before even starting to compete in sports," she says. These wins were especially meaningful because, apart from some trainer guidance, Trachtenbroit has trained Ruby by herself.
"I also am so proud of her earning fourth place at NADD [North America Diving Dogs] regionals and two nationals invites her first ever year competing," she says. "I never thought I would have a diving dog and it is such a fun, laid back sport that I have grown to really enjoy."
"My biggest challenge has been fear periods so far," she reveals. "Ruby experienced a very tough period after her second heat where she suddenly was afraid of all the contact equipment she once loved." Although this experience felt overwhelming, working through it was impactful for Ruby and Trachtenbroit. "It taught me about patience, especially being a competitive person," she says. "I often want to race to the top, but dog sports have taught me a lot about how good things come with time and slow work."
By slowing down and working through the fear together, the pair emerged from this period more confident and successful. "We are now back on track and even better at communicating with each other," Trachtenbroit says. Helping Ruby to overcome her fear has had a profound impact. "Dog sports have created a new understanding in how to communicate and be patient," she adds. "Training dogs comes with challenges and forces creativity. I've been able to apply the creativity and patience I've had with Ruby to many things in my life."
Finding Mentorship
Trachtenbroit credits her parents with being her and Ruby's biggest supporters. "They allowed me to get my own dog for sports, and take me to all my classes, seminars, and trials. I would not be able to do any of this without their support." Ruby's breeder has been another fantastic support and mentor. "It can be so scary entering a breed community and sport world with no one around you. She has introduced me to so many people and given me many amazing opportunities." Her trainer's guidance has also been invaluable to her success. "Having someone educated on many different sports by my side has helped me feel so much more confident at events," she explains, "and I greatly appreciate her guidance and kindness."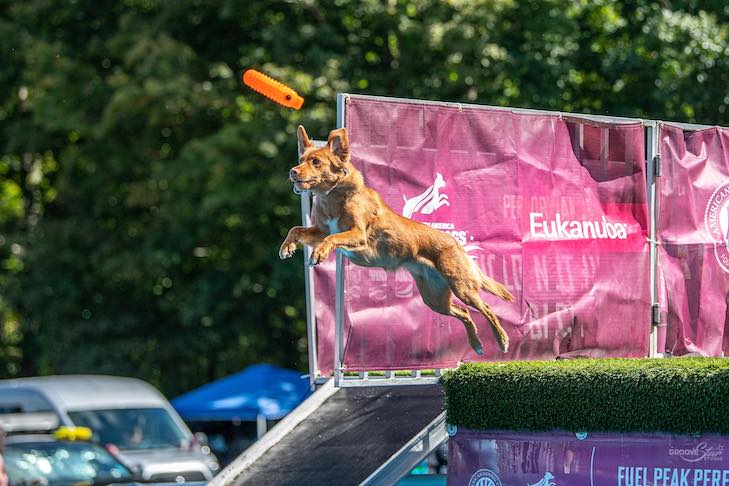 "Entering the dog sport world as a Junior Handler is so much fun but can be very scary," Trachtenbroit says. "Reaching out and saying hello or complimenting a run can make a huge difference in our day." Something as simple as "adults being friendly has made me feel so much more welcome as a fellow competitor." Trachtenbroit also encourages adults to be forthcoming with sharing any tips with Junior Handlers. "Any knowledge you can provide for free (like how to enter, qualifying specifics, etc.) can really help someone who is new or doesn't have a ton of connections," she says.
For kids or teens looking to get involved in dog sports, Trachtenbroit advises that they put themselves out there and ask for support, reiterating that "making mistakes is all part of learning." Building connections are important. "There is always someone willing to help. Many handlers are willing to loan a dog and mentor you," Trachtenbroit encourages. For peers interested in getting involved, she recommends that kids and teens go to shows. "It's a lot less scary competing with a dog once you know the environment!" she says.
What's Next?
"I plan to spend the rest of my life competing with my dogs." Trachtenbroit says. "I would love to be able to share what I've learned through dog sports to pet owners to help give all dogs such fun and enriching lives." In the meantime, Trachtenbroit and Ruby plan to do a lot more competing and developing their relationship as teammates. She hopes to qualify for Dock Diving Nationals again this year and run at the Junior Agility Competition this winter.
Related article: New AKC Pilot Program Allows Junior Handlers to Show Dogs They Dont Own
https://www.akc.org/wp-admin/admin-ajax.php
Get Your Free AKC eBook
The Five Commands Every Dog Should Know
Do you want a well behaved dog but don't know where to begin? The Basic five commands e-book is a great place to start and will give your dog a strong foundation for future training.