Despite being small in stature, the muscular build of the Staffordshire Bull Terrier makes them powerful athletes. Sweet-natured and protective, Staffies love to please their owners, and can do well with other dogs with early socialization and consistent training.
As a dog owner, you might be looking for something fun you can do together. If your dog loves the water, can swim, and is at least six months old, why not try Diving Dogs, one of the fastest-growing dog sports?
This is what Pam Dural was thinking when she introduced her now 5-year-old Staffie, The Fig, to Dock Diving. "Anything that's all-out speed and excitement is what she loves," Dural says.
You can see the two of them competing in AKC's Diving Dogs Challenge on ESPN2, which airs on April 9, 2023. "I just want her to show [people] what a great breed and overall dog she is and give it her best. That's all you can ask."
A Unique Start and a Unique Name
The Fig was born on July 30, 2017. Her first moments proved why she was named after Figgy, a contestant on the reality show, "Survivor."
"She was basically born dead," Dural says. "They had to work on her for about 10 minutes to revive her, giving her mouth-to-mouth, pumping her chest, and she came around."
As she grew up, the name Figgy seemed "too easy-going" for a dog that gives 110 percent to everything she does. They started to call her The Fig "because there's nobody else like her."
Dural's Staffordshire Bull Terrier Journey
The Fig is not Dural's first Staffordshire Bull Terrier: she has owned Staffies for over 25 years. "They're an all-purpose dog," she says. "They can basically do anything."
She first became intrigued with Staffies when she saw them at a dog show in the 90s. "I said 'that's going to be my next breed.'"
In fact, The Fig looks very similar to her first Staffie. Since then, Dural has bred several litters including Grand Champion and Agility dogs.
Now that Dural is retired, she spends a lot of time driving The Fig to regional and national competitions of all kinds. "It's something I've wanted to do since I was a kid. I've always wanted to show dogs. You meet a ton of people, everywhere I go I know somebody, so it's kind of fun to travel around the country."
How The Fig Got into Diving Dogs
The Fig was always drawn to water, and it all started with a bit of fun in the backyard. She learned to turn the hose on by herself and loved to spray herself in the face with it.
Then, Dural got her a kiddie pool, which she would jump in and out of repeatedly. "She just loved the water, especially when it was warm in the summertime," Dural says. She heard about a dock diving facility only a few hours away, so considering how much The Fig enjoyed water, she decided they should give it a try. "It took about two minutes to get her to jump off the dock," Dural recalls.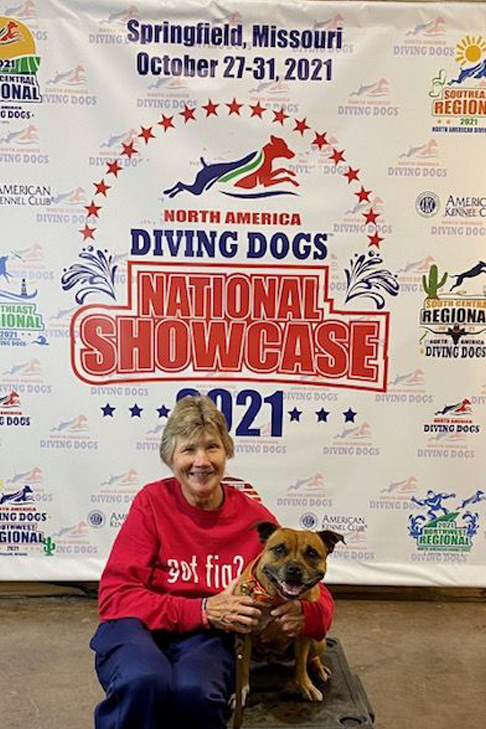 Dural said that Agility and Obedience were "too controlling" for her free-spirited dog. "But dock diving has just been the one thing that she absolutely loves," Dural says. "She went up from the Novice Star to Senior Dogs to a Master Star, and now she's in Elite Distance Jumping."
Preparing for Competitions
Between May and September, The Fig competes twice a month, and in the winter, travels south for regional competitions. What keeps her fit year-round? Getting lots of exercise and eating high-protein food. "She's basically just one big muscle," Dural says.
On a typical day, The Fig starts her morning with a two-mile jog, running alongside Dural who uses an electric scooter to give her a good run. Weather permitting, they go uphill and downhill, catching speed with short sprints.
In the afternoon, The Fig walks a mile and a half with Dural's husband. Her third and final outing for the day is when she goes for a walk after dinner. "The Fig does have an off switch. She knows after her walk in the evening that the day is done. She'll just sit on the couch next to you and watch TV."
Doing it All in Dock Diving
For 2023, The Fig ranked second in Distance Jumping with 22 jumps and a season average of 18 feet. She's qualified in all three Dock Diving disciplines: Distance Jumping, Air Retrieve, and Hydro Dash. Most of The Fig's jumps are in the Master's class, and her longest Air Retrieve distance is 11 feet.
The Fig's strongest showing is in Distance Jumping, leaping anywhere from 16 to 17-and-a-half feet. Her personal best is 18 feet 11 inches, which is in the Elite category for the Lap Division.
She also excels at Hydro Dash, which is a timed event. "She's probably one of the top five dogs in the country in the Lapdog Division and does it in about 17.6 to 17.8 [seconds]. Her personal best is 17.04 [seconds], which is pretty quick for a small dog."
Two years ago, The Fig took first place in Air Retrieve in the Junior Division. "She's a 'left arm,' which means she's 16 inches and jumps with smaller dogs," Dural says.
The following year, The Fig qualified for Nationals in Distance, Air Retrieve, and Hydro Dash. "She made it to the finals in all three disciplines and placed in all three national championships."
This year, The Fig is already qualified to go to regionals after taking first place in Distance, Air Retrieve, and Hydro Dash. "She loves people and gets along with other dogs. But when she's at a dock diving event, she's just all business: 'just let me at it.'"
Small Dogs, Big Personalities
Staffies are "a big dog in a small body," Dural says. They need regular exercise to stay in good condition. Staffies can be great companions to outdoor enthusiasts who love hiking, canoeing, kayaking, and paddleboarding.
But if you're new to owning a dog, Dural says they may not be the best breed. "It does take some time and training," Dural explains. She recommends carefully researching the breed beforehand. "For somebody that knows dogs and is willing to put the time in, they're probably one of the best breeds."
And The Fig is truly one of a kind. "She's just so high-energy and will do anything you ask her to do. She just loves life and wakes up with a smile on her face and is ready to go."
https://www.akc.org/wp-admin/admin-ajax.php
Get Your Free AKC eBook
AKC S.T.A.R. Puppy
Take your puppy to training classes and earn the AKC S.T.A.R. Puppy distinction. Learn the foundation for basic obedience skills such as sit, down, and come.