It's been said that every dog-owner relationship is unique. Well, welcome to Chester and Steve Garcia's world, which can best be summed up: better late than never.
Westminster 2018 will be the pair's first trip to America's most iconic dog show, February 10-13, 2018, in New York City. And amazingly, they are the only entry competing in both conformation and agility, which have 2,882 and 330 entries, respectively. Not bad for a dog that didn't begin a competition career until age 5.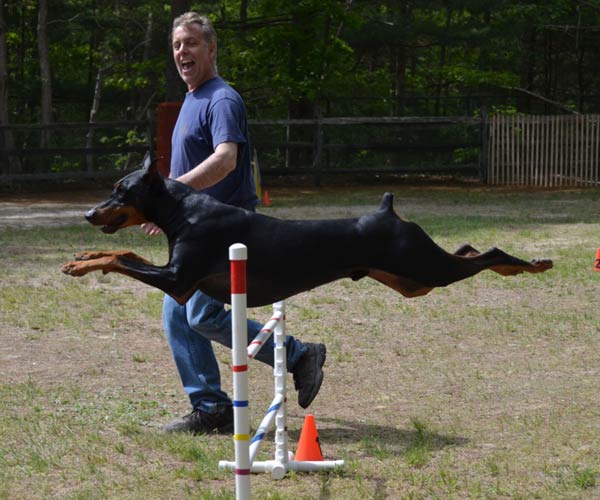 Chester and exuberant owner Steve Garcia vie in their first agility trial – Dacli – Dog Agility Club of Long Island (N.Y.) – with many more to follow.
Chester, a 90-pound Doberman Pinscher, and Garcia, New York City Department of Education Citywide Program Director, are savoring every minute of American Kennel Club dog sports and longing for more – both in and out of the competition ring.
"Westminster has been a longtime dream," says Garcia. "It really didn't hit me until I received my exhibitor ticket in the mail the other day (late January). I just want to enjoy the experience with Chester, and I know the memories will last forever.
"Chester is a very loyal, faithful, and loving family dog that follows us everywhere. In that respect, he is taking us to Westminster!"
Chester is the first Doberman for Garcia, 58, and his wife, Karin. They purchased him as a puppy from Estelle Corr (Kalora Dobermans) in Farmingville, New York, after doing extensive homework to determine the right breed for them. "We had a 3-year-old granddaughter, Sienna, at the time, and wanted a puppy to grow up with her."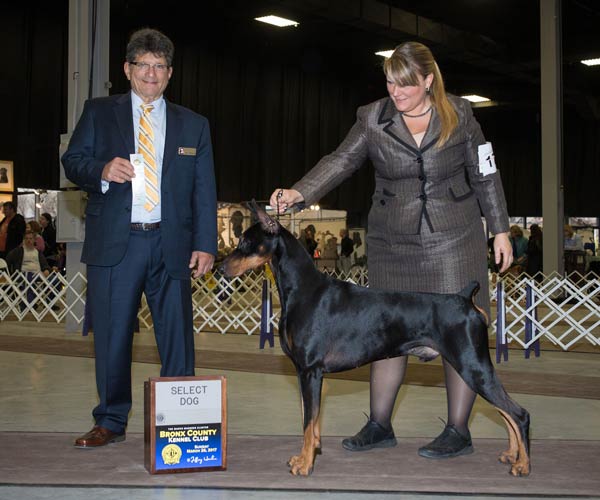 At the Bronx County Kennel Club Dog Show in Edison, N.J., in March 2017, Chester received a four-point major toward his Grand Championship title, with handler Valerie McGraw. The judge is Philip K. Frellich. Photo by Jeffrey Hanlin.
Garcia praises Corr for her sound advice on Doberman dynamics, and helping guide him through the ins and outs of conformation. "She has given us another reason to enjoy Chester," he says.
Chester's story in conformation and agility has many parallels to the "Cinderella" classic tale.
Part of his early socialization came in basic puppy obedience in Massapequa, New York, where the family lives. As Garcia and his daughter, Brittany, 15, saw Chester progressing nicely and having fun, they changed their plans to end his training at that stage.
"I clearly remember a few days later, this little puppy looking up at me, seeming to say, 'OK, what's next? Is there something else we can do?' It was then I decided to look into a dog-training school and continue with basic obedience more formally."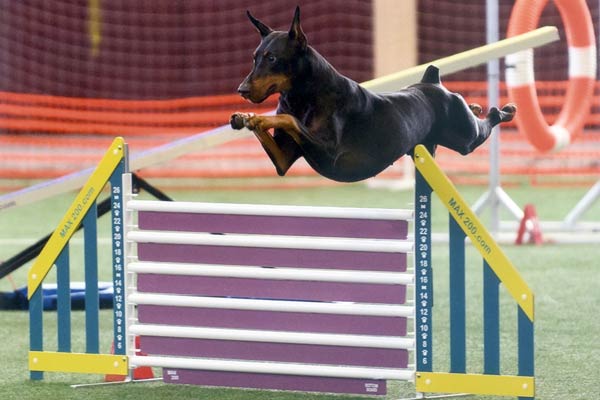 The versatile Dobie clears a 24-inch hurdle during an agility trial August 2017 in Metuchen, N.J. Photo by Rich Knecht.
That decision took them to Doggie U K9 Academy in Bay Shore, New York, where they completed another obedience class and also discovered agility. "Every time we went to the obedience session, there was an agility class in another room as we walked by. I was amazed how well-trained the dogs were and how they seemed to be enjoying themselves," Garcia recalls, "never considering that was something for Chester and me. On the last day of obedience as we were leaving the building, Chester began pulling me toward the agility room, where there was a class in session. He looked at me with those big Dobie eyes, as if to ask, 'Can I try it, please?'"
It wasn't long before the pair found themselves moving fluidly through a puppy agility course. "We did it for fun, and to keep Chester active and motivated, never with any intention of competing," Garcia emphasizes.
Well, you guessed it! Eventually, Garcia was encouraged to enter a trial. "They really had to twist my arm. To me, the sport sounded stressful, but everyone involved was supportive and helpful. Agility became a passion, and then I found myself asking what else can we do together."
And that question was soon answered.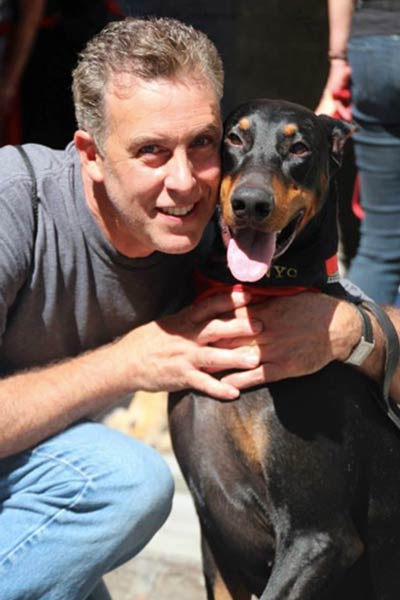 After walking up 5th Ave. with 35 of his Doberman buddies – Doberman Gang of NYC – in the Steuben Day Parade September 2015, Chester and Garcia take a break. Photo by Yukiko Ogawa.
En route to see a relative in upstate New York in late 2016, the Garcias stopped to enter an agility trial in Middletown, New York, where they met a veterinarian with a female Dobie. The veterinarian asked Garcia if Chester had been shown in conformation, to which he responded no. She quickly reached out to Corr, Chester's breeder, who had not seen the dog for several years. Corr arranged to meet Chester and the Garcias in November 2016, where she "stacked" Chester in stunning fashion. Chester was a natural for the show ring in conformation. "That convinced us there might be another new sport for our guy," Garcia continues.
After a series of health examinations, 5-year-old Chester entered the conformation ring for the first time in January 2017. He was shown by a professional handler, and within eight months he had earned a Grand Championship. At Westminster 2018, he will be handled by Valerie McGraw, of Warners, New York, who has shown him since March 2017.
And this versatile dog isn't limited to agility and conformation.
Scent work became their next new passion. One night each week, Chester and Garcia travel 45 minutes each way from home for a one-hour class at Blue Ribbon Dog Training School in Bohemia, New York. "It's refreshing," says Garcia, "because here Chester is the one leading the search, as opposed to agility where I'm the one up ahead giving cues and signals. It's a terrific sport for aging dogs, which means when he is ready to retire from agility we will probably be entering more scent trials."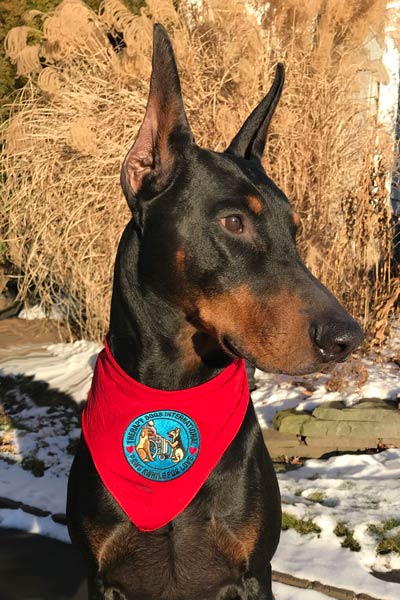 There's no question Chester is proud of his Therapy Dogs International bandana.
Thus far, all of Team Chester's competitions have been limited to the Northeast, but somehow you know that is about to expand in the not too distant future.
While Chester owns many titles, Garcia takes special pride recalling the day his buddy passed the Doberman Working Aptitude Evaluation test in May 2017. That established his eligibility to receive a Register of Merit Award, a prestigious Doberman Pinscher title. Chester was presented with this Award at the Doberman Pinscher Club of America National Specialty Show in October 2017. "It embodies three characteristics – conformation, temperament, and trainability," Garcia explains.
And that's not all.
In their spare time following Westminster 2018, Chester, already a certified therapy dog (through Therapy Dogs International), and Garcia will begin visits to an adolescent group. Also on their radar to visit are hospices, veterans' hospitals, and special-needs kids' groups. At each site, Garcia will hand out collectible Chester trading cards.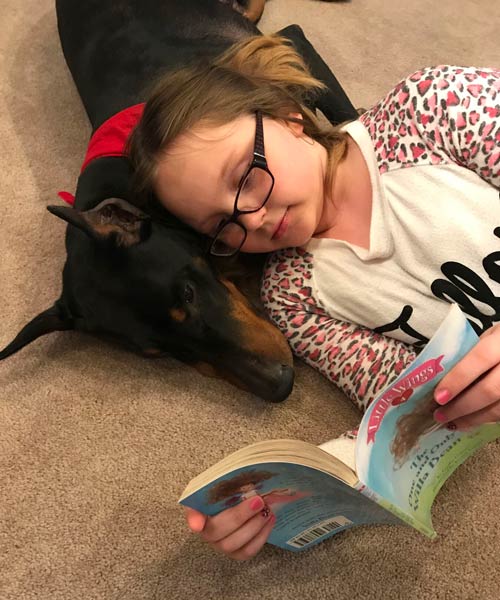 Garcia's granddaughter, Sienna, reads to Chester, who is practicing for a therapy program with kids.
Garcia is also exploring the prospect of signing up Chester for Tail Waggin' Tutors, a popular library program where children read to dogs.
This Doberman ambassador's world also includes Garcia's wife, Karin, an Integrated Energy Therapy (IET) practitioner. She hosts a women's meditation group bi-monthly in their home. Chester greets the guests, and serves up his own version of paws-on therapy, lying down next to each person, and supporting that individual through meditation. "It is not uncommon to find Chester on his back meditating right along with the rest of the group," Garcia laughs.
The psychological balance this dog has provided Garcia is off the charts, he concludes. "The enjoyment I receive from his activities outweighs everything else. It is an absolute stress relief. When I'm away at a dog trial, my focus is totally on him. It gives me time to clear my head. I can spend hours at a trial waiting for my turn that will take 30 seconds. It's time spent with him that matters. I have never been a competitive person but working this closely with Chester has given that a whole new meaning. Every time he achieves, I smile. I am smiling a lot these days. What can be better than that?"