Along the Appalachian National Scenic Trail at Buzzard Rock, in Virginia, Rhetta overlooks an area she and owner Will Ransom passed through. This section of the trail gives hikers some of the best views of the highest peaks in the state. To reach this point, it is a moderate steady climb through woods and high meadows.
"Once you have had a wonderful dog, a life without one, is a life diminished." –author Dean Koontz
For 31-year-old Will Ransom, of tiny Unadilla, Ga., traversing the Appalachian National Scenic Trail has been a bucket-list fixture for years. And rest assured, Ransom's dream wasn't going to happen without his versatile Velcro partner, Rhetta, a 6-year-old Australian Cattle Dog that mirrored her name by herding cows on his parents' 20-acre farm and earned her American Kennel Club conformation championship with Will's brother, Joshua Ransom, 34.
As you read this, the pair is nearing the halfway mark on the 2,190-mile trail that extends through 14 states along the crests and valleys of the Appalachian Mountain Range, from the southern terminus of Springer Mountain, Ga., to the northern tip at Mount Katahdin, Maine.
While Ransom is determined to complete the journey, odds are against it. According to the Appalachian National Scenic Trail website, only about one-in-four "thru-hikers" make it. And get this: The total elevation gain of hiking the entire distance is equivalent to climbing Mount Everest 16 times.
The 6-foot, 175-pound Ransom worked the last decade as a UPS supervisor, but quit earlier this year to embark on the challenging trip with Rhetta in late April.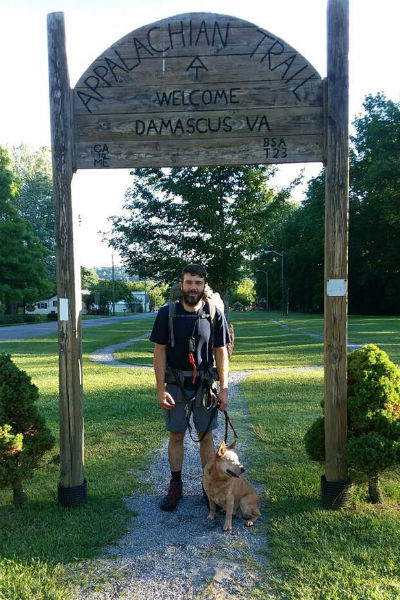 Ransom and Rhetta arrive in Damascus, Va., a famous trail town where thru-hikers gather and home to the Trail Days Festival. This is near the 500-mile mark from the beginning of the trail in Georgia.
There are, however, two places on the lengthy trail where dogs are not allowed — Great Smoky Mountains National Park, along the border of Tennessee and North Carolina, and Baxter State Park in Maine. At the entry point to the Smokies, Jack Ransom, Will's father, met him and the dog, restocked Will with food, and brought Rhetta home to Unadilla.
"Will was so eager to see Rhetta that he pushed through the Smoky section, about 70 miles and difficult hiking, in three days," says Joshua, who regularly updates Will's fan club of his progress on Facebook. "It takes the average hiker five days or more, but he moved quickly in order to be reunited with Rhetta. He had never been away from the dog overnight more than once or twice." Jack Ransom returned Rhetta, along with food supplies, to Will when he completed the Smoky trek.
Gorgeous scenery, occasional inclement weather and a catalog of physical challenges have greeted the pair along the the Appalachian Trail (A.T.), which attracts an estimated 3 million visitors annually, of whom approximately 3,000 attempt to thru-hike.
While Ransom totes 50 pounds or less daily ("I've quickly learned to travel light," he says), the 43-pound Rhetta moves along unencumbered.
"I started out with a two-person tent," Ransom explains, "but I am down to a one-person one now. There is plenty of room for both of us, and she sleeps on the bottom two feet of my pad."
Ransom has been slowed by "excruciatingly painful" shin splints. He stopped at an emergency room off the trail in early June, where X-rays revealed no fracture, but tendonitis. He was administered a steroid injection and told to rest for two weeks.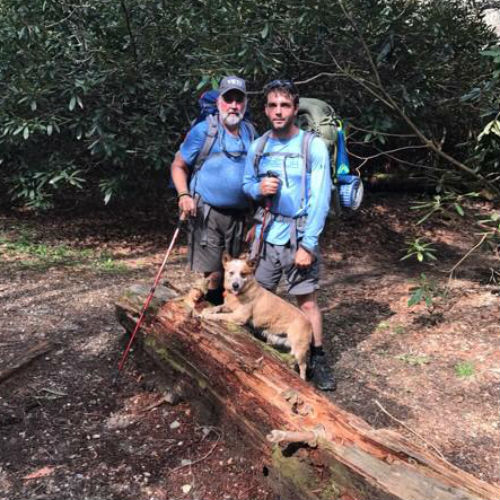 Ransom and his father, Jack Ransom, of Unadilla, Ga., hiked a Georgia section of the trail, along with a friend of his father. Jack Ransom organizes and manages all of his son's food and supply mailings on the 2,190-mile, months-long hike.
"That was a sobering wake-up call, physically and mentally," he admits. "I needed the rest, yet it taught me to enjoy the journey and not push it. This is a once-in-a-lifetime experience that I definitely want to finish." After a few days, he and Rhetta were chomping at the bit to get moving again.
During the hostel break, Rhetta's trail-alerting tendencies weren't put to rest. Whenever someone neared Ransom's gear, she sounded off, signaling that individual to back off. "While the majority of those out here are totally honest, there are a few unsavory ones, too," Ransom explains. "Dogs can sense those."
Rhetta has been a source of conversation with hikers they've encountered, some with dogs, most without. Many are intrigued by her character and ask a lot of questions about the breed. "When they learn we are thru-hikers, they inquire about her background," Ransom adds.
"I let them know the breed is tenacious, resilient, and independent thinking and is a worker by nature. She is the perfect complement to my lifestyle, but this is not the breed for everyone, particularly the couch potato."
Pre-hike, Rhetta underwent a thorough veterinary checkup focusing on immunizations and overall condition. She was deemed to be in A1 shape. To help him address any potential issues, Ransom carries a veterinary first-aid kit in his backpack.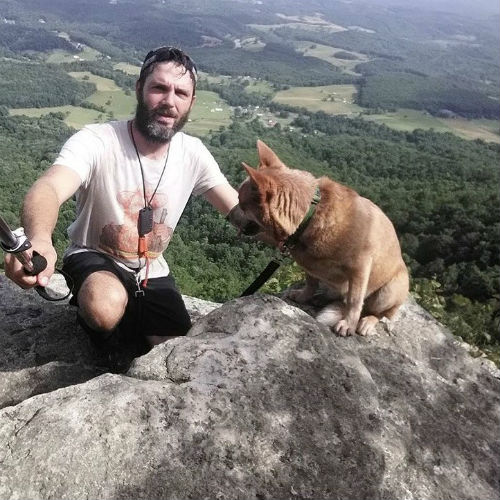 Here the two take a trail break near Pearisburg, Va. The A.T. runs through the outskirts of Pearisburg, and hikers often stop in town for a day or two of rest.
But injury can strike quickly, prioritizing the need for communication with the outside world. "I started with a small battery pack and solar panel for my cellphone, but switched to a larger battery pack, which allows me to maintain a charge longer. There are numerous spots where we are in a dead zone. At those points, we depend on other hikers should Rhetta or I get injured. It's kinda like a fraternity out here in that everyone has each other's back."
Asked if maintaining a consistent pace becomes more mental than physical, Ransom replies, "At the outset it was definitely more mental. A lot of people think it is glamorous, but nature can be very challenging, between lightning storms, rain, heat, etc."
Rocks are the chief natural challenge. When they're wet, there is the chance of slipping and twisting an ankle or injuring another body part. For Rhetta, a sharp corner can tear a pad or rip a toenail. She is wary of that, too, and Ransom senses it in her body language. Once when Ransom leaped atop a boulder, Rhetta followed but turned her body in midair to brace for a stop upon landing.
Ransom's daily goal is to rise and break camp by sunrise and stop between 4-5 p.m., which allows plenty of time to set up his tent, eat, and relax before darkness. Rhetta eats once daily — in the evening — but receives a "people food" handout periodically.
The plucky team takes several water and rest breaks and averages about 15 miles per day, with the longest day so far covering 34 miles. Virtually all that time, Rhetta is attached to Ransom on a leash that allows for 5-to-6 feet of maneuvering. "Hydration and rest are critical," Ransom emphasizes, "and will be more so during the hot summer months."
McAfee Knob in Virginia is one of the most photographed spots on the A.T. At 3,197-foot elevation, it is located on Catawba Mountain and named for a Scotch-Irish 18th-century settler.
What has he learned about his four-legged partner thus far?
"Her scenting and hearing abilities are off the charts. You just never know what you might encounter out here. She alerts at any noise she deems unusual or potentially dangerous." The trail website notes many animals live along the route, with bears, snakes, and wild boars posing the greatest threat. To a lesser degree, you may encounter foxes, raccoons, and other small animals, which present a biting and subsequent rabies risk.
Ransom and Rhetta saw their first black bear in late June, about 30 feet away, in tall grass along the trail. "I continued to walk toward him," Ransom recalls, "and he ran off. In most cases, they don't want to interact with humans." The hiker carries a knife for protection, he confesses.
There is a subculture for thru-hikers, resulting in trail names, or pseudonyms. Ransom's tag is "Ever Changing," and Rhetta goes by "Foxy Lady" in the logbooks at trail shelters.
The Rhetta and Will partnership wasn't always written in the stars. Joshua's now nearly 14-year-old Australian Cattle Dog, Clutch, sired Rhetta. "As Clutch was aging, it became clear we wanted something to carry on from him. Initially, Rhetta was supposed to be my dog. It didn't take long for me to realize that Rhetta had no affinity for me. She chose Will as her person. When I realized the relationship they were building, I signed her over to him, on the condition she get her AKC championship."
She did so quickly, finishing in style with a five-point major at a large Australian Cattle Dog Club of America regional specialty and added a herding-instinct certificate the same weekend.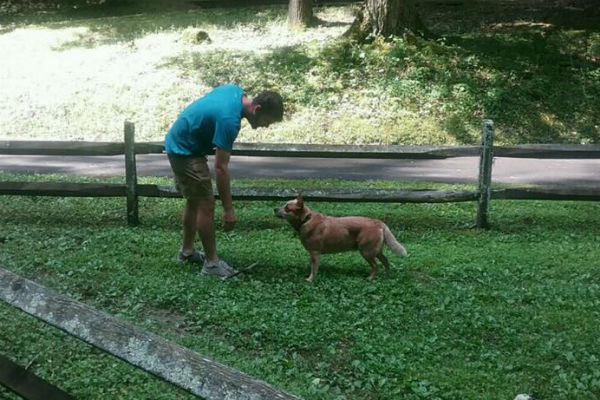 Rhetta and Ransom play fetch on a day off at Hurricane Campground in Virginia. Fetch is Rhetta's reason for living!
"She's more than a show dog. She's Will's best friend. He accommodates her in whatever his plans are," Joshua says.
"It would have been much easier to make this trip without Rhetta," says Will. "The added responsibility, expense, supplies, and prioritizing her welfare at all times are huge. And it can cut into the number of miles one travels daily. But we're a team in life and on this adventure together. If I had left her at home, I would have been a basket case the entire journey."
This story has a lot longer to run and lot more distance to cover. This team faces many more challenges on its long trek. "It's how we handle those challenges that will define us in the end," concludes Will.
https://www.akc.org/wp-admin/admin-ajax.php
Get Your Free AKC eBook
Emergency First Aid for Dogs
Even the most responsible pet owner can't always protect their pet from a sudden accident or illness. Getting your pet immediate medical attention can be the difference between life and death. Download this e-book to learn more about what to do in an emergency situation.