A video of a three-year-old girl dashing through the snow on a sled pulled by a two-dog team of Siberian Huskies has gone viral on social media.
What on the surface seems to be a sweet video is actually a sneak peek into the life of a multigenerational mushing legacy.
Featured in the video is Nichole, the youngest daughter of Blake and Jen Freking, who breed and train Siberian Huskies for sled racing out of their kennel, Manitou Crossing Kennels, in Finland, Minnesota. The couple has another daughter, Elena, who is 5, and they take pride in involving their girls in socializing and the beginning stages of training their racing dogs.
Jen Freking, who also works as a veterinarian at Ely Veterinary Clinic in Ely, Minnesota, was introduced to the sport of mushing as a young girl herself. She ran her first race at only 9 years old, and in 1996, she was named the European Trail Club's Most Promising Junior Musher. While she was preparing for the junior Iditarod in 1998, Blake, who participated in another winter dog sport called skijoring, became interested in learning more about mushing and introduced himself. Ten years later, as a married couple, they raced the Iditarod together.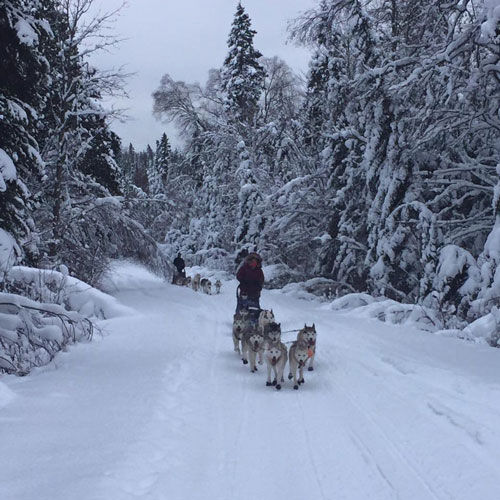 The Frekings now have a kennel of about 60 Siberian Huskies that they breed for strength, drive, and health. Three handlers work with the family to help them care for, train, and race the dogs.
The dogs fit into one of several categories: racing dogs, which are trained vigorously to compete in long-distance races; "junior varsity" dogs, the adolescent pups who follow a more moderate training regimen and newly retired dogs who help instill confidence in the pack; the senior dogs, who no longer train; and the puppies, who undergo socialization with the assistance of Elena and Nichole.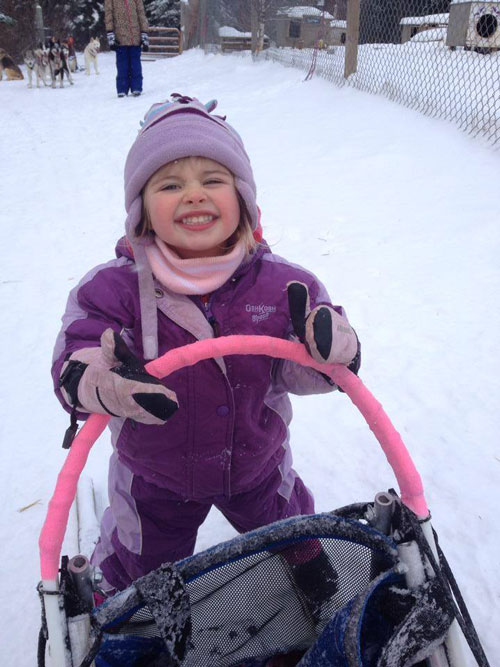 "The girls are really helpful with getting the puppies used to be handled," Blake explains. "During races, they are touched by a lot of people. In the Iditarod, for instance, there are about 70 veterinarians along the route doing checkups. Getting them confident while being handled is really important."
Working with the dogs also gives the girls a sense of responsibility and respect for animals, Blake says, which he believes to be important for their development.
"There's a lot to be learned about life from animals," he says.
Teaching Elena and Nichole to ride the sled is something that comes natural to a mushing family.
"It's not something we push on them," says Blake, "They have to want to do it." They start with a straight, flat trail, and the parents ride behind and in front of the child to monitor the run. The girls are also taught how to use the mechanics of the sled before getting on.
"In the video you'll hear Jen tell Nichole 'Use your drag a little.' That's the brake that allows us to monitor the speed of the sled," Blake explains.When the girls begin racing they'll participate in what's called a "cub run," which includes a team of two dogs for a three-mile distance. Meanwhile, three of the Frekings' teams are competing this weekend in the Gunflint Mail Run Sled Dog Race, which is a 100-mile distance with teams of 12 dogs. Next will be the John Beargrease Sled Dog Marathon, which Blake's team won in 2004. In this race, teams of up to 14 dogs will cover almost 400 miles. Following that event, Blake will travel to Siberia to act as a race marshal for a Russian event.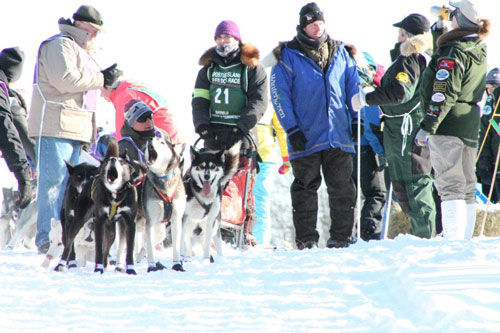 As for the girls and their future in mushing?
"It's whatever they want," Blake says. "I want them to be passionate and confident and be able to tackle anything they feel they want to attempt, whether it's with dogs or anything else."
Interested in becoming a handler for sled dog? Blake invites people to contact him to learn about their facilities. No experience is necessary, in fact, amateurs are preferred.

https://www.akc.org/wp-admin/admin-ajax.php
Get Your Free AKC eBook
Tips for Responsible Dog Owners
This e-book is a great resource for anyone who's considering dog ownership or already owns a dog. Download for tips on how to be the best dog owner you can be.