Priscilla Hill-Wampler points the way as Teddy clears a hurdle at the Masters Agility at Westminster in New York City. Photo by Kerrin Winter Churchill, Westminster Kennel Club.
Priscilla Hill-Wampler's life has been accented with twists and turns since age two, and she's comfortable with that.
A world-class figure skater and coach for several decades, her lifestyle was altered markedly by the diagnosis of Graves' disease in 2005, an autoimmune disorder that causes the thyroid to overproduce and over-secrete thyroid hormones. Bottom line: it affects a number of body systems, significantly influencing one's well-being.
She bounced in and out of remission for several years, but eventually her dad's death, coupled with the continued battle against Graves' disease and the intensity of coaching at the Olympic and World Championship level took its toll.
"I needed to get healthy if I was going to be able to help kids," says the 55-year-old Newark, Del., resident. "I love coaching, but I was struggling physically, so I decided to step away from the all-consuming stress at that level."
At the time, she was coaching Johnny Weir, her most decorated student. Weir won a gold medal at the 2001 World Junior Figure Skating Championships and three U.S. National championships, 2004, 2005 and 2006. Hill-Wampler was named the 2004 U.S. Figure Skating Association Coach of the Year for her work with him.
"I could coach on a daily basis, but I would go home and not be able to do anything. Once my sharp focus on skating was done for the day, I had nothing left in me. I finally blacked out while driving to the rink. The residents at the hospital where I was taken figured it out. It turned out I had 15 of 18 symptoms for Graves."
She chose not to have her thyroid removed and has controlled the disease through medication.
Her close friends suggested that while she pushed the pause button on coaching that she should explore something that held her interest, but that she couldn't pursue because of her busy skating schedule. And voila! "When I was younger I dreamed of being a veterinarian. Now, this was the chance to find my passion with dogs," she explains.
Fast forward to 2012, when she and her mother, Jean Hill, were in a pet store purchasing food for her dogs. "My mom started asking me what a Morky was," Hill-Wampler recalls. "She had been looking at the puppies, and there was a Morky (Maltese/Yorkshire Terrier mix) that caught her eye. Long story short, it was her birthday, and after a little playtime with this dog, I got it for her, and we named him Teddy."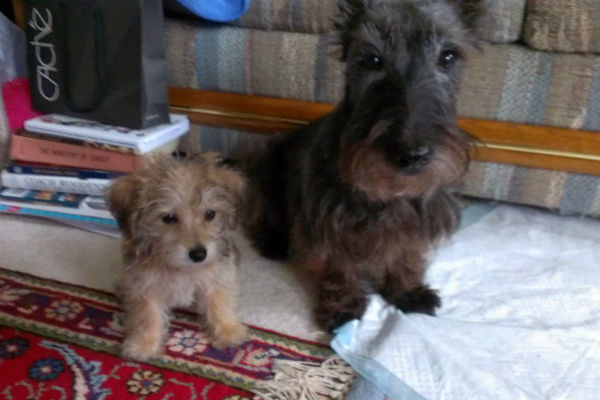 Hill-Wampler quickly signed Teddy up for puppy obedience classes at the Academy of Dog Training and Agility in Newark. "He was a natural," she adds. "And that's when we saw the agility classes in other rings. I was immediately intrigued. It wasn't long before we enrolled and quickly discovered that we couldn't get enough of it!
"I love to compete, and I love to work with dogs. Agility is challenging, and it scratches those itches perfectly."
She stopped coaching about three months after purchasing Teddy. And it wasn't long before the two began competing in two-to-four trials monthly. Last February, they hit the big time when they were invited to the Masters Agility Championship at Westminster, at the Piers in New York City.
The Masters experience was daunting for Teddy, however. "Once we got through the first run, and he qualified in the eight-inch division, I thought we were OK. By the second run, the crowd built up, but he seemed fine. It never dawned on me that he might experience the deer-in-the-headlights syndrome I saw in some of my competitive figure skaters."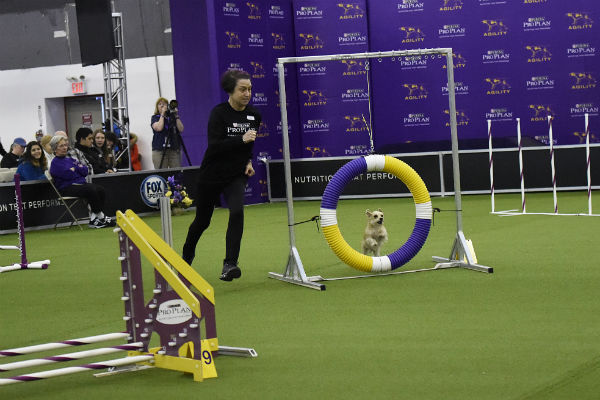 As they were warming up before the second run, the crowd noise ramped up, cheering for the dogs in the ring. Teddy just stopped and didn't move. When the arena quieted, he moved, and moments later when the clamor picked up, he stopped again. It was kind of like "push-button Teddy."
"He totally lost focus," she laments, "and went off course. After that, I tried to help him finish strong. I felt horrible for him because he didn't understand, and I couldn't make him understand what had happened. Hopefully, this was a major learning experience for him. Teddy and I are a team. It's awesome to see him love what we are doing."
The 4-year-old All-American entry, weighing in at 6 and one-half pounds, has already earned a MACH 2. Team Hill-Wampler has two other agility mates, LittleMan and Shimmy, Sealyham Terrier brother and sister.
LittleMan was born with a liver shunt. After he was sold as a pet, his owners eventually wanted no part of his health issues and continued veterinary care. They agreed to return him to the breeder. Hill-Wampler established a Go Fund Me account to get corrective surgery when she was told he had only three weeks to live.
The surgery was performed, and he recovered nicely. Six months later, LittleMan underwent an ultrasound in preparation for a second operation, and it showed he was sufficiently healed. He has been running agility (four-inch division) for 1 and one-half years and is entered in the AKC Agility Invitational Dec. 16-18 in Orlando.
Hill-Wampler likes to compare her experience as a competitive pairs skater with her work in agility. "It was so much fun trying to create lifts and moves as a pairs team," she enthuses. "Getting the timing and the placement into and out of moves was hard work, but rewarding." Three decades later, she sees many similarities in the two sports, such as running lines and timing, knowing when to go where your dog goes, remembering courses like programs, warming up, what to eat before competing, different surfaces and venues, when to rest, establishing training limits, and dealing with injuries.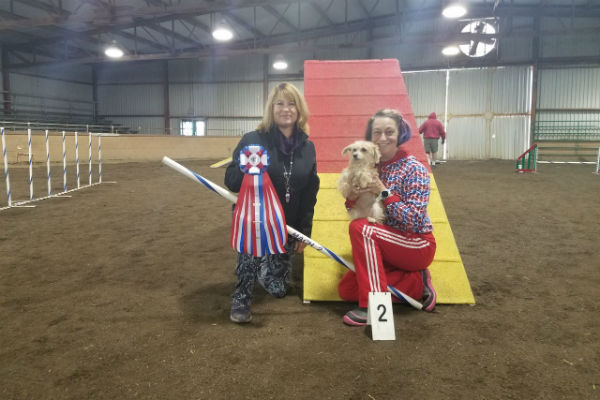 Hill-Wampler's foray into the dog world also includes a turn at grooming, under the tutelage of Sarah Hawks, of Landenberg, Pa., a grooming judge and longtime breeder-owner of Sealyhams, and Jarod Lane, a champion groomer.
"The more I learned about grooming, the more I related it to compulsory figures. It is a finely honed skill that requires an incredible amount of practice to master the techniques and to develop artistic vision for shapes and lines," she explains. She is a certified Sporting Group and Terrier Group groomer with the National Dog Grooming Association of America and needs to finish a practical exam for a similar designation with the Non-Sporting Group.
Scheduling, she laughs, is one of her biggest challenges today. Shows, grooming tests, and coaching skates part-time leave her very little time to relax. She and her husband, Jon, a commercial airline pilot, purchased a recreational vehicle last year, to accommodate her travel challenges. Because of his busy schedule, he seldom attends agility trials. Instead, Hill-Wampler's mom accompanies her and helps with multiple chores in preparing the dogs for each competition.
The ambitious woman's colorfully fluid career, while star-studded at times, has traversed a slippery slope that has left her switching gears, yet always managing to find a meaningful course. With their earthiness and panache, dogs became her consuming passion and a seamless transition, providing an energetic jump-start and refreshing new challenge, at the perfect juncture.