Moderator Laura Reeves points to an audience member ready to ask a question at a Del Monte Kennel Club Friday Night Forum in Carmel, Calif., last month. Panelists are, from left, Pat Trotter, Dorothy Macdonald, and Kimberly Meredith-Cavanna. Photo by Cook Dog Show Photography.
 
Bridging the gap is defined as connecting two things — or individuals — to make the difference between them smaller.
That was the genesis of enterprising Southern Oregon breeder-handler Laura Reeves' founding of Friday Night Forums and Saturday Night Symposiums at several all-breed conformation shows on the West Coast since late last year.
All panelists, and Reeves, have donated their time to help ensure the success of the events, which offer a rich toolbox of basics to everyone attending.
"There is a chasm between judges and exhibitors," Reeves says. "These seminars are designed to establish a common ground for talking points. Engaging in this sort of direct dialogue empowers exhibitors, some of whom feel disenfranchised because they are intimidated by the judges. I often say folks think these judges were 'hatched from an egg.' Newer folks, particularly, don't have a good way to understand the depth of knowledge and history many of our judges represent."
"The subject matter is targeted to breeders, owners, handlers, judges, and others involved in purebred dogs, and specifically, in this case, conformation dog shows," says Reeves. "Certainly, the general public is welcome, but that is not the target audience. But designing these types of events to draw the public is absolutely an option. It simply involves a slight change of subject matter."
The initial Friday Night Forum was held in conjunction with the Salmon Run Cluster last November in Central Point, Ore. It was sponsored by Championship Breeders, the original sponsor of Pure Dog Talk. Pure Dog Talk, a popular podcast hosted by Reeves and tackling a wide mix of subjects with expert guests, has sponsored all events this year. Reeves, however, is searching for a major backer for 2018 events.
Before launching the concept, she conferred with American Kennel Club officials. At the forum, the only caveat is that exhibitors and judges cannot discuss any dogs being judged at that show.
Discussions of dog sports other than confirmation may be included in future forums and symposiums.There's room for agility, rally, obedience, and just about any other aspect of competition, Reeves emphasizes.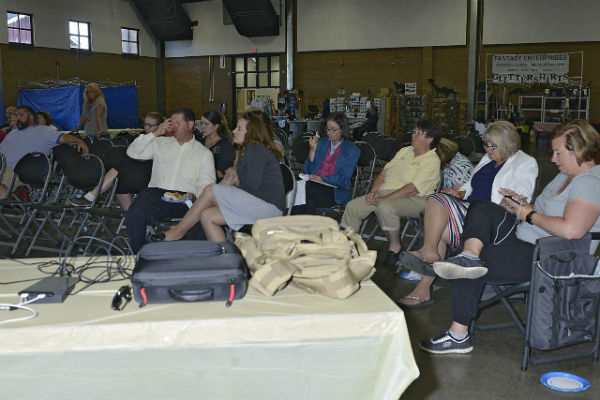 The audience at a July symposium, "Generic Dogs & Common Faults," in Puyallup, Wash., takes notes and eyes the panelists' responses. Photo by Randy Roberts.
The host club usually selects the topics, with Reeves gathering the panelists. The idea is to feature a subject that needs to be addressed and will attract a responsive audience. Here are titles of past forums: "Showmanship: What Is It and How Important Is It to Your Success?" Central Point, Ore., November 2016; "Generic Dogs & Common Faults," Puyallup, Wash., July 2017; "Judge/Exhibitor Relationship," Carmel, Calif., July 2017. Crowds have varied from 30 to 60, but live-stream videos of the Puyallup and Carmel sessions have drawn 9,600 and 5,500 views. Another session, "The Winning Edge . . . Condition, Grooming, and Presentation," is scheduled for the Oregon show in November.
Asked what takeaways for improvement she learned from this year's events, Reeves replies, "The symposiums are best designed for four-day shows. Anything shorter than that, people simply don't have the time. And heaven knows, there are enough four-day competitions for this concept to just take off."
While all of the gatherings have been conducted at West Coast events, positive Facebook feedback she's received from viewers in other areas of the country suggests that the concept could work in a broader geographic area.
The process begins with a phone call, e-mail, or text from a club member — preferably four months in advance of a show — to Reeves, inquiring about the process for conducting a seminar. The advance time is suggested so that seminar details can be included in the premium lists sent to exhibitors. "I bring the moderation and organization," Reeves offers, "and the ability to conduct the streaming video and podcast. But the subject matter is open to discussion with the club. We often start with a general topic, and fine-tune it as we progress. And key is finding the right mix of respected panelists to tackle the subject."
The potential for these gatherings is enormous, says AKC Judge Kimberly Meredith-Cavanna, of Pleasant Hill, Calif., a Carmel forum panelist. "Here just a few ideas: interview show chairs/club members of successful clusters for advice on partnering with other clubs, financial challenges, organizing a judging panel (and not over- or under-hire), setting up, and scheduling; how to hire a professional handler; co-ownerships (possibly one of the biggest nightmares in the sport); and interviews with AKC board members."
Incorporating the general public into the mix is a challenge, i.e. finding the right subject to attract an audience, scheduling at a convenient time of the day, etc., Meredith-Cavanna concedes. Performance events, particularly sports such as agility, obedience, barn hunt, and now trick, have huge symposium potential. "Clubs need to understand how to add these — What are the requirements? What is the cost? What is the profit? How many people does it take? How many additional judges are required? Unless a club has hosted performance in the past, it has no clue what is required. Especially now that the general public can participate with mixed-breed dogs."
David Frei, of NBC Sports and the former longtime voice of the Westminster Kennel Club Dog Show, argues that the symposiums can address challenges the dog-show world faces, which must be seen from two perspectives.
Also an AKC judge, Frei, of Cannon Beach, Ore., says, "The first is to keep the sport alive and thriving as a hobby and a great activity to share with our beloved dogs. In this sense, we are always looking at the competition and the sportsmanship associated with it, as well as judging and education. Life's lessons can be well learned if we pay attention along the way. In the process, we should be promoting the purebred dog, in particular, along with responsible ownership and care of all dogs.
"This allows us to segue into advocating the role of the purebred dog in our world, not just the dog-show world, and remind people everywhere of the versatility of these magnificent creatures in our everyday life.
"And to loop it back together, what we do in the show ring, how we relate to the non-dog-show people attending dog shows, talking to people on the street, and by taking the best care of our own dogs provide testimony to what we believe are well within our capabilities for strong symposium dialogue."
Puyallup panelists, from left, AKC judges Shawn Nichols, Patty Keenan, and David Frei eye a questioner in the audience. Photo by Randy Roberts.
Canadian and AKC Judge Shawn Nichols, of Burnaby, B.C., a Puyallup panelist, while lamenting the meager turnout complimented Reeves' hands-on, nonstop efforts to draw a larger crowd. "This made me reflect that new people with less than five years in the sport don't realize the state and concerns the sport faces because where we have arrived is all they know. The next time you see one of these symposiums featured at a show you're attending, take the time to participate," he said afterward on a blog.
Gary Andersen, an AKC judge from Scottsdale, Ariz., and participant in Reeves' inaugural forum last November, recalls the camaraderie at shows in the '70s, where, following class competition, exhibitors would enjoy a potluck, discuss entries, pedigrees, and issues within the breed. "We would go to the group ring and watch competition. This was a good learning experience.
"Fast forward to today. People come and show. If they do not win, they leave, many times not even staying for Best of Breed. There are very few potlucks and little exchange of information. Few stay for groups, either, and by Best in Show, the place is empty. If you have a good breeding program and happen to be winning, watch out! You are the enemy!
"Friday Night Forum is a great idea . . . There were good questions asked, and each panelist commented on each question. It was scheduled to last an hour, and at 1½ hours Laura tried to stop. People wanted more. It was wonderful to see, as it put a human touch to our sport.
"It's a great way for the exhibitors to get to know and understand we judges are human and are approachable in a non-threatening situation. It is a superb format to disseminate information, i.e. new rules and regulations."
Another big fan of the engaging formula is Bryan Martin, Portland-based AKC executive field representative. "These personalize the sport in a fresh environment," he adds, "which adds up to a win-win for all involved. There certainly is no shortage of subjects that can be addressed."
And Reeves concludes, "The strength of our sport revolves around commitment, character, and conversation. We're offering all of these here."