Samantha Van Buren is no ordinary teenager. Like most kids her age, she goes to high school and hangs out with friends… but unlike others, she shows her dogs, participates in agility, and is an Instagram superstar.
Van Buren details her experiences with her dogs on the account @sunnyandjudy showing everything from incredible tricks to intense competition to the sleepiest of nap times. Currently, she has 26,000 followers and her reach is only growing. After all, who doesn't want to see a passionate young person and her dogs?!
And not only is she succeeding in the social media realm, but in the dog world too—her skills brought her to Westminster Kennel Club's 141st Dog Show this year. We had the opportunity to speak to Samantha Van Buren and learn a little bit more about how she works with her dogs and the passion she has behind sharing her story.
AKC: Tell us a little about yourself and your dogs.
Van Buren: I am a 17-year-old high school senior from St. Paul, Minn. Sunny is a 6 year old Chihuahua and Judy is an 3 year old Australian Terrier. Sunny is a bronze GCH CH and Judy is a GCH CH and has agility titles like OA, AXJ, and has her CGC (Canine Good Citizen). Judy knows over 100 tricks as well.
How did you get started in Junior Showmanship?
I got started in junior showmanship when in sixth grade I needed an end of the year project on a topic of my choice. I loved dogs, and I asked my teacher for ideas and she said maybe I could do [the project] on dog shows. After my research, I was hooked, and not soon after this Sunny joined our family. My teacher shows dogs and is now a good friend of ours and we see her at many dog shows. She came to watch me in juniors and [during] breed [judging] these days here at Westminster!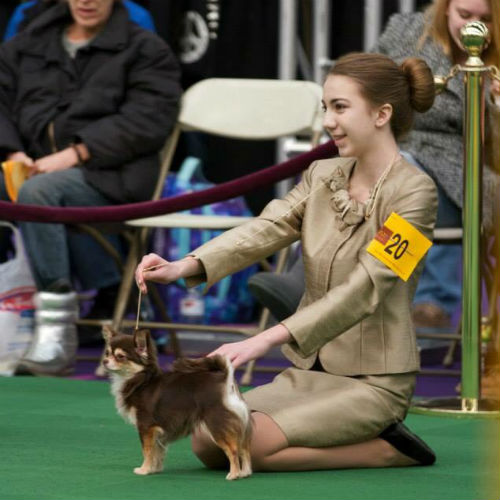 What have you learned from participating in Juniors?
Participating in Juniors and showing dogs has taught me patience, determination, and how to lose with grace and congratulate others. It's also taught me how to interact with adults versus always being with people my own age when I was younger. I feel mature compared to my friends at school.
How has participating in Juniors strengthened the bond between you and your dogs?
My dogs love going to shows. And we take a lot of time to prepare and practice for them, through that alone my dogs are very close and connected to me.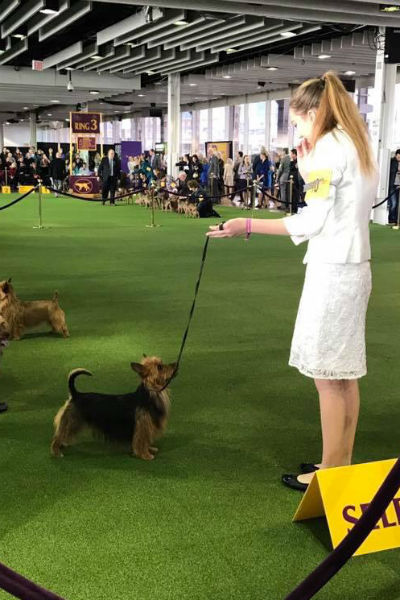 What made you decide to start an Instagram to share your dogs with the world?
I originally started their Instagram as a way for my dog show friends or friends who were interested to see our results and highlights through our dog show journey. And not have my personal account be about dogs in every post!
How has your Instagram motivated you to keep working and training your dogs?
Instagram has kept me motivated at training my dogs because number one, I always have to come up with new tricks or new photo/video ideas for our account. And secondly, I follow a lot of great dog trainers and seeing their skills makes me want to work harder and train my dogs even more.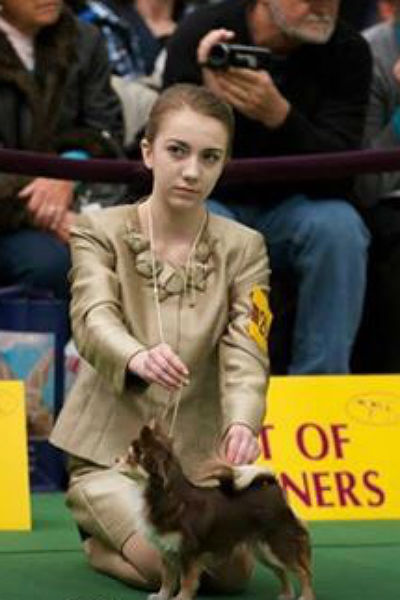 How have you motivated other handlers to participate in dog sports because of your Instagram?
I often get direct messages from young dog trainers saying how I inspired them and have made them want to do more with their dog, whether that be agility, trick training, getting involved with their local Kennel Club, etc. It makes me so happy to get other young people involved, we are the future of the sport!
Do you have a favorite picture or video that you've shared? Why is it your favorite?
My favorite video I've shared is the dog yoga video. A lot of time and training went into it, and it has reached so far and made so many people laugh! On top of that, it's inspired other people to train their dogs some of those tricks. It's also funny since I am not an athletic person and hardly exercise, yet here I have this extremely fit dog!
 
Is there a particular comment you've received on Instagram that stands out to you?
My favorite comments are the ones that say how my posts have inspired them and made them want to get involved in dog sports with their dog!
 
Incredible! Want to follow Samantha, Sunny, and Judy on Instagram? Check out their page, here.
And learn more about getting involved with your dog on our events page.
To see more on agility, check out the highlights from the AKC Championship below!
https://www.akc.org/wp-admin/admin-ajax.php
Get Your Free AKC eBook
Training with Treats
Training your dog simply requires an investment of time, patience and of course a reward. Download this e-book to learn strategies that will make your treat training more effective.