John took his Border Collie, Rasta, everywhere. Including that night when everything changed.
When Charlotte, North Carolina, police saw a car swerving, they sounded their sirens and pulled it over. At first it seemed like a drunk driver. They quickly realized the man needed medical attention.
The admitting staff at Novant Health Presbyterian Medical Center soon learned that John had Stage 4 lung cancer, a brain tumor, and dementia from the chemotherapy he'd been treated with. It explained his erratic driving. What the care team couldn't explain was why the patient kept repeating the word "Rasta." They realized that John must not have been alone in his car. The admitting nurse called the police station to find out. They told her that they had found a dog cowering in the back of the car, and he'd been taken to an area shelter. Rasta, the dog John had been calling for, was days away from being euthanized.
Jean Merrill, a nurse on the neuroscience floor of the hospital, sprang into action. "Everyone on our unit agreed that we couldn't let this dog die," she says. The first thing she did was to let John know Rasta was OK. "He worried that he'd never see Rasta again. He was so relieved, and thanked me." Jean next went to get the undoubtedly frightened dog. "Rasta was dying to get out of there. She whined, jumped, and came right over to me," Jean explains. "I couldn't wait to get her home. I had to do it."
Gary Nielson, Jean's husband, says he got a phone call from his determined wife. "Jean flat-out told me,
'We are taking that dog.'"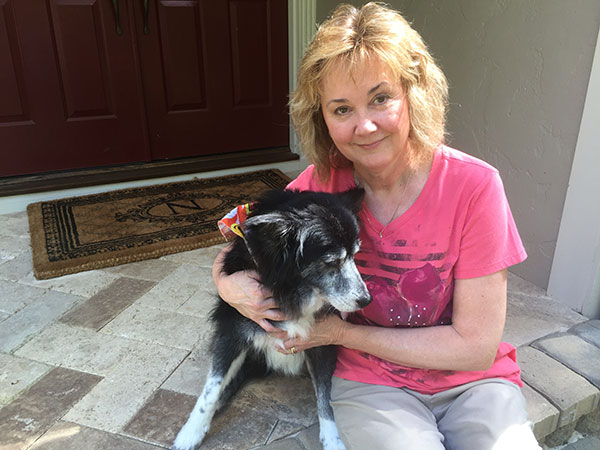 Rasta and Jean. Courtesy Novant Health
Jean knew that John needed to see Rasta, but it would be tricky to pull off. Hospital staff worried that reuniting him with the dog might be too much for him, so they waited until he was strong enough. When the time was right, the gravely ill man was finally able to see his faithful companion of nine years. "If I think about the reunion, I'll cry," Jean says. "When we brought her into the room, John looked at her, just said 'Rasta' and embraced her."
They left the patient alone with his dog for nearly two hours. Then hospital staff threw them a party, complete with brownies and cookies, to celebrate the reunion. John would spend another six weeks in the hospital, while Rasta acclimated to her new life with Jean and Gary. "John loved Rasta so much, we'd sneak her in to the hospital to see him," Jean admits.
Because of his terminal illness, John was moved to a nursing home once he was well enough to leave the hospital. The story could have ended there if not for the compassion and sensitivity of Rasta's new owners. They brought the dog for weekly visits, even celebrating Thanksgiving and Christmas there. On one of these visits, Jean asked John to tell her the story of how he got Rasta. And what a story it was.
John's wife and daughter had been killed in a car accident. Not long after, John came across a man beating a young puppy. He quickly intervened, and after a struggle he was able to wrestle the dog away. John brought her to an emergency vet clinic. Her shoulder was broken, but she would recover. (Thankfully, police tracked down and arrested Rasta's abuser.) At first, Rasta hid under John's sofa, believing that humans equaled pain. But with John's patience and kindness, she learned to trust. Rasta became John's only family, and the two had been inseparable ever since.
At the nursing home, John's worsening dementia caused erratic outbursts, which became too stressful for Rasta. Jean and Gary had to leave her at home, but continued to make their weekly visits. Not long after, John passed away. He was only 55.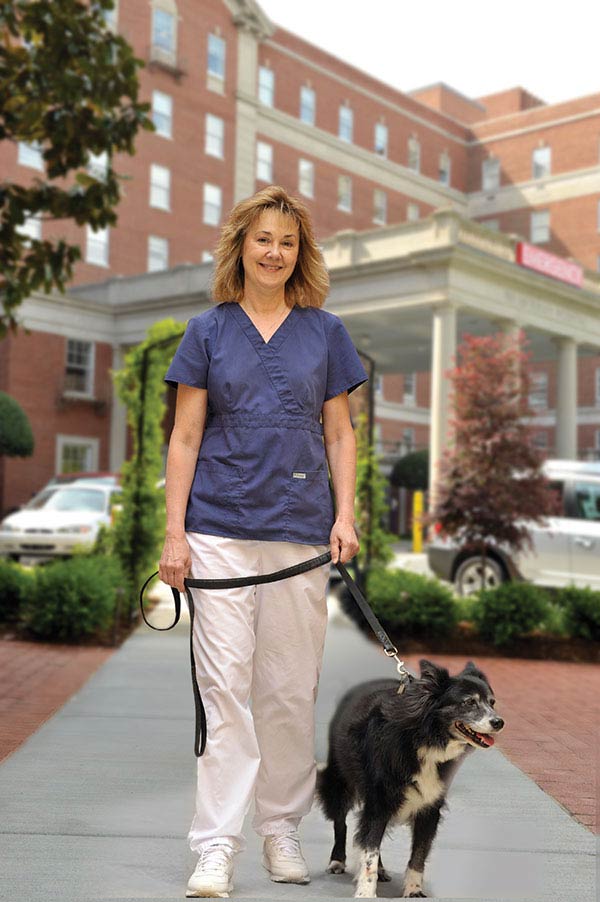 Rasta today
Rasta is now 14 or 15 years old (her exact age is unclear). "She's feeble, mostly deaf, has had three strokes, cataracts, and … very happy," Gary reports. "And she still goes to the Bow Wow Boutique for her bath, cut, and pedicure." Gary and Jean have other animals, including a feisty Dachshund. Says Gary, "she's an earth mama to them all. She's always checking in on them, and the cats fall asleep cuddled up next to her. She is the most gentle, loving dog we have ever had."
Rasta has gotten lucky twice in her life—first with John and now with Gary and Jean. But the couple has a different perspective. Says Gary: "We're the lucky ones."
Top photo: Courtesy Marijoyce Porcelli