Alexandra Melnick has spent all of 2015 searching and worrying—but never giving up hope. And as of this week, she's finally reunited able to relax. Melnick was reunited with her German Shepherd Dog, Kai, who has been missing since November. The former Marine acquired Kai as a puppy and trained him to assist her with difficulties she faces from PTSD and a traumatic brain injury she suffered in Afghanistan. Kai wakes her up from nightmares, soothes her anxiety, and helps with her insomnia, the San Diego Union-Tribune reports.
But the day after Thanksgiving, Kai went missing from Melnick's home. Melnick hired pet detectives, created a GoFundMe account to raise money for a reward, and set up a Facebook page, Bring Kai Home, which attracted more than 12,000 followers. One of those people gave her a tip that Kai may be in Texas, which was later confirmed.
With the support of law enforcement in Texas, Melnick was able to have Kai seized from the home and reunited with her. Then she had to attend a hearing to prove that Kai is legally her dog.
On September 9, she posted an update on the Facebook page saying that the judge has ruled that Kai can go home with her.
"The people who had him didn't initially know he was missing, stolen, or that I was looking. When they found out, they didn't want to give him up. In Texas, they have laws regarding this situation. While the Denton County dispatch, deputies, constables, ACOs and clerks were extremely patient, understanding, and worked on this more than I expected, they wanted to make sure I got him back legally and wouldn't have any issues down the line," she wrote, adding that Kai is showing fearfulness, has new scars, and is infested with fleas.
How he ended up in Texas is still unknown.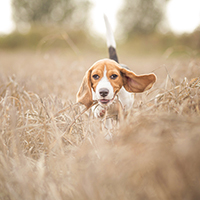 What to do if your pet goes missing?
If the unthinkable were to happen, are you prepared? Download this e-books to learn what steps to take if your dog goes missing.
https://www.akc.org/wp-admin/admin-ajax.php
Get Your Free AKC eBook
Tips for Responsible Dog Owners
This e-book is a great resource for anyone who's considering dog ownership or already owns a dog. Download for tips on how to be the best dog owner you can be.