Morris Animal Foundation's Golden Retriever Lifetime Study is observing 3,000 Golden Retrievers across the United States to learn more about canine disease and cancer. Golden Retrievers are one of the most popular breeds, making up 600,000 of the 80 million dogs in the U.S.
This study, which follows the dogs from an early age until death, aims to identify genetic, environmental, and nutritional risk factors for cancer and other major health problems in dogs, such as hypothyroidism, heart disease, and arthritis. Cancer is the leading cause of death in dogs older than two years, according to Morris Animal Foundation.
"The Golden Retriever Lifetime Study is a longitudinal, observational study, the first and largest ever attempted in veterinary medicine," said Sharon Albright, DVM CCRT. "Our primary focus is to identify risk factors for four common cancers — hemangioscarcoma, lymphoma, mast cell tumors, and osteosarcoma."
In order to be considered for the study, the Golden Retrievers had to be purebred with a three-generation pedigree, have owners 18 years or older living in the contiguous U.S. willing to participate in the study for the lifespan of their dog, and be healthy and under two years old at the time of application.
Participating dogs will take annual physical exams and clinical pathology tests with their veterinarian. The owners must microchip their dogs, take them in for examinations and sample collections (blood, urine, feces, hair, and toenail clippings), and complete questionnaires that evaluate environmental, nutritional, and lifestyle factors that are associated with cancer and other diseases.
In addition to health research, this study has already returned some interesting findings about the dogs' lifestyles. For example, 76 percent of these dogs share their homes with another animal, and only 21 percent slept in the bed during year 1 of the study, possibly due to house or crate training at their young age. 34 percent of owners supplement their dog's diet with fruit.
"Neutered males are most likely to get into trouble, being 1.5 times more likely to eat something foreign than intact males or spayed females," Albright said about the other information to come from the study. "Thus far we have 92 reports of foreign body ingestion — 3 percent of our cohort. Intact females seem to be least problematic, only half as likely to eat something foreign compared to the neutered males."
More information will be made available to the public as the study progresses, and affiliates aim to put it toward better prevention, diagnosis, and treatment of not only dogs' cancers and diseases, but the cancers and diseases in animals in general.
"We can see that there will be health risk or benefit that we can extrapolate from this study to other dog breeds or even to other animals," David Haworth, DVM, PhD, President/CEO of Morris Animal Foundation said in a press release. He believes that the study will lead to "new areas of scientific inquiry both in veterinary and in human medicine."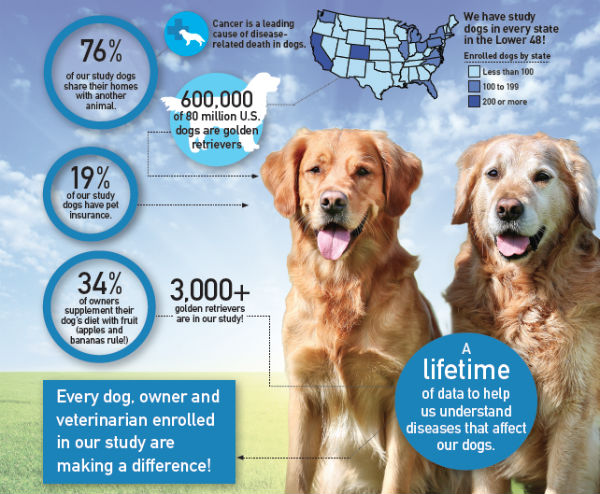 The study is sponsored by The Morris Family Foundation, The Blue Buffalo Foundation for Cancer Research, Petco, Zoetis and VCA Antech, Inc., the Golden Retriever Foundation, the Hadley and Marion Stuart Foundation, and Mars Veterinary.
To learn more about the study, visit the Canine Lifetime Health Project's website.
 

https://www.akc.org/wp-admin/admin-ajax.php
Get Your Free AKC eBook
What's he thinking?
Dogs exhibit all sorts of bewildering, funny, and sometimes worrisome, quirky behaviors. Ever wonder what he's thinking and where the behaviors come from? Download this e-book to find out.