By Marge Remolde, Publicity Chair, Delaware County Kennel Club
A recent Delaware County Kennel Club meeting was one for the memory books. First, we were fortunate to have Eddystone (suburban Philadelphia, Pennsylvania) Police Chief, Ed Mokeshefsky, present a K-9 First Aid Class. The class was detailed, interesting, informative and provided eye-opening tips to help us care for our canine best friends. The class ended with a question and answer session.
Club members and community guests were also surprised and thrilled to meet K-9 Officer NIKKO and his handler Officer Bill Elliot  (Eddystone Police Dept).    It is not often that the average citizen has the opportunity to meet, greet and be in the same room as a K-9 Officer.  NIKKO was the second hit of the evening not only for the club members, but also for the 15 community residents that who responded to the club's invitation to attend the class.
Before Officer NIKKO reported to duty mid-2015, the kennel club donated his bulletproof vest, K-9 first aid kit and K-9 oxygen mask. These were formally presented at the Eddystone Council Meeting attended by 100 people.
The Delaware County Kennel Club is proud that we have donated a total of 29 K-9 bulletproof vests to the K-9 Officers in Delaware County.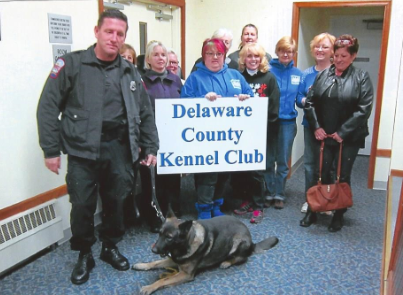 Eddystone Police Officer Bill Elliot and K-9 Nikko with club members after meeting