On the 10th anniversary of Hurricane Katrina wreaking havoc in the southeastern United States, Seattle Times journalist Ranny Green reflects on his time in Louisiana on assignment with Noah's Wish, an organization that helps animals affected by natural disasters. Read Ranny's diary of his trip below, which originally ran in The Seattle Times in 2005.
—
SLIDELL, LA. — Nothing can prepare you for what you're about to encounter in the trenches with Noah's Wish.
Last month as a Noah's volunteer stationed at a temporary animal-evacuation shelter here, I walked a bite-ravaged 6-month-old pit bull that probably had been used as a "bait dog" in dog fights. I bottle-fed 5-day-old kittens; coaxed an abandoned pit bull out of a garage and into a crate; helped rescue a frantic cat out of a box spring so it could make an airline flight; and bathed an allergy-ridden terrier that had lost much of its coat.
In the midst of all the human tragedy and enormous property loss, the pets were often among the forgotten victims of Hurricane Katrina. So that's why I and others volunteered with Noah's Wish, a national animal-rescue organization, to clean cages, reassure confused animals and try to unite them with their owners, while ending our days of mosquitoes, oppressive heat and humidity by sleeping on floors — most of the time.
"This is a high-stress environment," said Sheri Thompson, Noah's training manager, at the shelter where 300 to 475 dogs and 150 to 280 cats have been housed. "Because disaster conditions are challenging, you must be resilient and versatile. Plus, you can't be too sensitive or you'll be getting your feelings hurt continually. You have to keep telling yourself we're all here for the same reason."
More than a couple volunteers considered going home after a day. Two were hospitalized for dehydration and exhaustion following the 11-to 12-hour work days.
My days were a mixture of exhilaration and grief but the overall satisfaction of making a difference:
 
Thursday: After leaving 60-degree Seattle 10 hours ago, it's feeling like an open-air sauna — 95 degrees and humidity in the 90s. I'm hungry and want to learn the meal routine. While most city employees have been working six to seven days a week following Katrina, the city provides free catered meals to all — in a building several hundred feet from the kennel. The food is a welcome sight, but the air-conditioned dining hall is even more inviting.
But quickly, it's time to get to work. Because most dogs are highly stressed, the No. 1 demand is for walkers. There are so many animals, each walk must be brisk and short. By day's end, I walk 61 and help bathe another eight. Each five-to seven-minute outing includes a couple minutes of massage and petting, or in some cases jumping and romping. Most were someone's pet a couple weeks earlier. While the stress is reflected in the rigid body posture of some, others are upbeat tail-waggers. Most look broken-hearted — not understanding where their loved ones have gone.
Bathing in the plastic tubs under the searing sun seems to boost most dogs' spirit and confidence. An allergy-ridden little black-and-white terrier mix that was a picture of dejection earlier was transformed into a vibrant, upbeat lover after a sudsy and soothing cleansing. This picture was repeated over and over.
By 7:30, it's time to call it a day and head for a nearby buffet restaurant — one of few open following Katrina — for dinner and a nightly State of the Shelter update from director Terri Crisp.
The next stop is a furniture warehouse, where all of us sleep on a concrete floor in what appears to be a haven for mosquitoes. The temperature still hovers around 90 degrees outside and feels over 100 inside.
While all volunteers pay for their transportation to the site, Noah's arranges for meals, lodging and showers, the latter of which were at a nearby truck stop. But tonight, I'm too tired to consider it.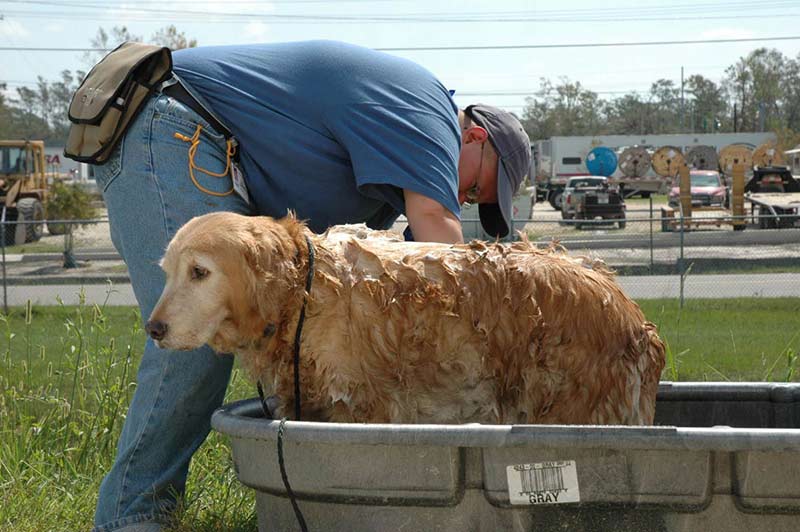 Friday: The kennel is quiet — with the exception of an occasional bark here or there. But when the 300-plus occupants spot volunteers approaching at 7:30 a.m. the noise soars to a rock-concert level.
I have my choice: big dogs, small/medium pooches or puppies. I choose small/medium. One charismatic little girl — a sheltie/corgi mix — captures my attention immediately. As I peer into her crate, a pixie face eyes back and a tail wags nonstop. How could you not fall in love? Despite everything she must have gone through, this is one happy dog. She became my first walking partner every day for the next week.
After walking a couple dozen pooches — which will be a morning routine for the 10-day stay — I move to the front desk to talk to those bringing in animals to surrender or foster, or to search for their lost pet. This is gut-wrenching and leaves me feeling helpless at times.
"I don't know what I'm going to do if I can't find Blackie," says a seventysomething woman. "He's all I have left." I opened two thick notebooks of stray listings, but she couldn't spot Blackie. I consoled her, gave her a hug and encouraged her to check back in a couple days. Animals are continuing to come in daily.
A couple hours later I join David Bergmark, a Slidell animal-control officer, on a neighborhood patrol for strays or leads to locked-up pets in homes whose owners have not returned after Katrina.
"Bring your camera," he said, "because you're not gonna believe what you'll see." He was right. The devastation is incredible. Block after block of residents are ripping everything out of their homes and stacking it in huge piles along the curb.
Their homes are uninhabitable. Several invite me in to see the damage and to point to the high-water marks on their walls, which often are at 4 to 5 feet. As we enter these neighborhoods, signs read: "Will gut your house, $3,000."
 
Saturday: Bergmark, Sharon Maag, a Noah's staffer, and I take a community-relations drive through neighborhoods handing out free pet food and supplies. Most thank us profusely — but they're very proud. "I'm OK," says one owner, "but I wasn't certain where Rip was gonna get his next meal. You made my day." We leave the shelter with a full pickup and return a couple hours later virtually empty.
The heat is affecting everyone — and the animals. After escorting three dogs along the path in 95 degrees and humidity in the 90s — all are panting profusely and longing for water — I suggest to Crisp she might want to consider dropping the afternoon walk. It's not doing the animals any good, it excites all of the others when one is led by their crate and produces more work for the kennel staff. She agrees. Everyone is pleased, including the dogs.
A quarter mile from the shelter, Noah's has a van parked at the streetside entry, with free pet food and supplies. Locals are stocking up regularly. "Where are you from, sir?" an older woman asks. When I reply, "Seattle," she wraps her arms around me and says, "Bless, you. I want to thank you and everyone else for coming to help us."
For a couple days, I've seen "Caution, Biter" "Very Aggressive" "Very Scared" warnings attached to several cages. Looking at the occupants, I tend to write these off to stress. Each day they reflect a bit more trust in their facial expression and body language.
Today, I cradle a beagle in my arms and gently place him on the floor. He gives me a glance, as if to say, "Let's go, my friend," and we're off down the trail. I spend several extra minutes placing him in my lap, massaging his head and back, and I receive a kiss for my efforts. I report the dog's improvement to the volunteer in charge of that area, and she removes the cautionary paperwork.
 
Sunday: A middle-age guy comes in looking for his black Labrador retriever, Gumbo. As he slowly peruses the two folders of strays, he exclaims, "I think that's him." A few moments later, we enter the kennel and when Gumbo hears his voice, the dog begins barking furiously from his crate a couple long rows away. When the two see each other tears stream down the owner's face.
"This is the happiest day of my life," he says, as the jubilant Gumbo furiously licks his tear-strewn cheeks. "You're going home, Gumbo. You're going home," he says, apologizing for crying. That prompts smiles, high fives and hugs among staffers and volunteers gathered nearby, some of whom appear near burnout.
 
Monday: It's a big-dog kinda day. After a couple hours of walking these supercharged characters, I accompany Bergmark to check out a couple of pit bulls being fed and watered by a neighbor after the owner failed to return home following the hurricane.
"Be careful, and see if they will come to us," Bergmark cautions. I manage to coax a black-and-white female out with food and quickly leash it. Her companion is a bit more challenging and requires Bergmark slip the noose at the end of his catch pole around its neck as it yelps and flips wildly about. Neither attempt to bite but are understandably scared. We inch them into crates and head back to the shelter where they are processed through intake.
Reports of stray cats and a loose Labrador retriever prompt an afternoon neighborhood run that produces no sightings. However, each trip offers another photo op to capture the incredible devastation from Katrina.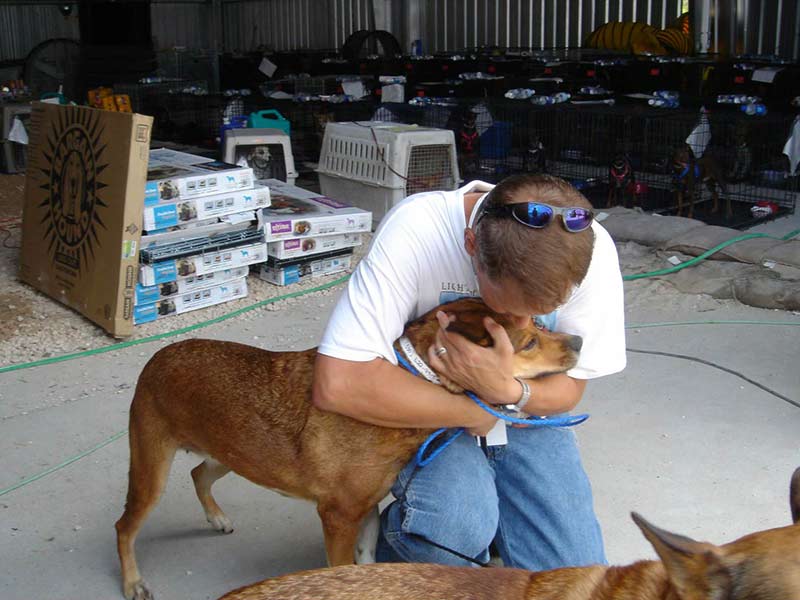 Tuesday: An 83-year-old man drives up to the supply outpost. "Sir, do you have any dog food I can buy?" he asks.
"Sure we have dog food, but you can't buy it. It's free," I tell him.
"No, I want to pay for it," he insists. He points to a Catahoula leopard dog named Eddie in the front seat of an '82 Ford pickup and says that the dog is "all that I have left. My home and all personal possessions are gone. I will do anything for him."
I load a couple of 40-pound bags of food into the back of the pickup. "You're an answer to my prayers," he smiles.
While on patrol, Bergmark receives a call about a duck in a nearby waterway that has been mired in deep mud for days. He and his boss, Damian Anti, quickly net it after strategizing and return it to the shelter to be cleaned, fed and housed.
The shelter houses reptiles and farm animals, too, the often forgotten creatures in disasters like this.
 
Wednesday: Whistle alerts from beyond the big-dog turf interrupt the morning routine. That's a signal one has escaped and all available individuals are expected to quickly fan out to help apprehend it. Turns out it's the frequent escape artist — a white German shepherd who's earning the name Houdini. Within 15 minutes the exhausted pooch is found and willingly led back to his crate.
A couple hours later, I spot a young Florida volunteer cradling a Chihuahua whose eyes are glazed and who appears lifeless. Veterinarians check its temperature and it reads normal. But it's reflecting all the signs of heat prostration, although the kennels are cooled with air conditioning.
We apply cold, wet towels to its head and within 15 minutes it perks up and responds with a sloppy kiss. But shortly after being returned to its crate, the symptoms recur. For the next hour, the two of us trade off caring for it in a shaded rest area.
By late afternoon, Crisp, the director, updates us on Hurricane Rita, which appears to be headed our way as a Category 3 storm. I make a couple trips with a Slidell city-water employee to a nearby storage yard to load his pickup with sandbags, which we use to weigh down the aluminum legs and overhead bars of all nearby storage tents.
 
Thursday: Crisp warns that many weary residents might be leaving town to avoid Rita's fury, meaning we should expect a run on foster animals this morning. She was right. By mid-day, lines are forming at intake as winds kick up and dark clouds approach. Is this the prelude to Rita or just a tease?
I've never been in a tornado or hurricane, but I'm getting a clear message from everyone's facial expressions we could be in Rita's path soon. My return plane reservations are for Saturday evening, but I'm being cautioned Baton Rouge airport might be closed and that I should try to reach the Dallas-Fort Worth International Airport (DFW) early Saturday if I want to stay ahead of the storm.
At dinner, Crisp asks for volunteers to sleep in the kennel Friday night to ensure the animals' safety. Hands come up from just about everyone.
It's time to examine my travel options. I have received permission from Crisp to take home the perky little sheltie/corgi I'm calling Bayou. She was found in more than a foot of water and muck and rescued by animal control when a nearby apartment manager called to say, "Come get her in 30 minutes or I'll shoot her." But how am I going to get her to Seattle?
Luckily, an angel named April (Laine), a Seattle volunteer, comes to my aid. She has a rental car and is hoping to adopt or foster a young yellow Labrador. We have the same scheduled flight out of DFW Saturday night but face two huge challenges: (1) She must return her rental car to Baton Rouge and find another for travel to the DFW airport or possibly home to Seattle; (2) American Airlines will not fly pets in the hold if the surface temperature is 85 degrees or higher — which has been the case daily for almost two weeks.
 
Friday: I pack everything in her rental car should we need to make a quick getaway. After being greeted at the shelter by steady wind and sheets of rain, I call a nearby AAA office to obtain maps and get a routing to DFW airport. I'm told to be there before 10 a.m. because it will be closing so personnel can evacuate.
Before we can remove the two dogs from the shelter we must promise to drive them to Seattle (approximately 2,700 miles) should we be unable to find air transportation with temperatures under the 85-degree pet-flying regulation. Tired but determined, we agree. Quickly, we obtain veterinary certificates noting both are updated on all immunizations and healthy to fly
I'm not feeling good leaving all my new volunteer cohorts, but I am scheduled to report back to work in Seattle Monday. This might be my last opportunity out before late Sunday.
In late afternoon we begrudgingly decide to leave. We get hugs and good wishes from everyone as heavy rain pounds down on us. Rain and wind would be our traveling companions the entire distance to Baton Rouge.
As April fills out paperwork at the airport, Hurricane Rita begins to flex her muscles, knocking out all power in the building. April and the rental-car agent complete the form by hand, and 30 minutes later we pack the new vehicle and set our sights on DFW, an eight-hour drive in normal conditions.
As we continue to traverse the head winds of Rita, there's hardly any traffic on Interstates 10 and 49 en route to Shreveport, at the northwest tip of Louisiana. We're attempting to drive away from the storm, but you wouldn't know it. Rain pours relentlessly for hours and winds between 65-75 mph buffet the car about. The dogs are remaining eerily quiet.
Upon approaching Shreveport, I notice a giant highway exit sign swaying loosely in the high gusts. Moments after passing, I look in the rearview mirror to see it catapulting to the freeway surface below. Whew! That was a close call. But finally, we catch a break. About a half hour later as we near Texas, the pavement is dry and the gusts are finally behind us.
 
Saturday: About 1 a.m. we let out the dogs out to relieve themselves, then search for a gas station with fuel and snacks. Fuel is in short supply because of the hurricanes, and we've already found some stations without it. Eventually, we score on both fronts and quickly re-enter Interstate 20 bound for Dallas and we hope an early flight out to Seattle.
At 3 a.m. American Airlines personnel are opening their counters. We explain our dilemma: two tired pet-rescue volunteers who have driven 11 hours through Rita's headwinds with two dogs, and who desperately want to get a flight out as soon as possible.
There are openings on a 7:40 a.m. flight for both of us, and luck is with us. The ground temperature has dropped to the mid-70s for the first time in nearly two weeks, and the dogs are good to go. American Airlines waived charges on both.
The dogs arrived at their new homes in the Seattle area safely and are adjusting. I found that Bayou (renamed Abbe), as I called my new friend, may never have been housebroken and has some health problems — heartworms, kennel cough and skin allergies. I'll never know what she's been through — her health leaves some ominous clues. I only know that she's mine, and I'm her future.
—
Originally published in The Seattle Times on Oct. 7, 2005.
Photos courtsey of Noah's Wish
 
Read Ranny's reflection on 10 years since Katrina