On the 10th anniversary of Hurricane Katrina wreaking havoc in the southeastern United States, Seattle Times journalist Ranny Green reflects on his time in Louisiana on assignment with Noah's Wish, an organization that helps animals affected by natural disasters.
—
It's been decade since my life took a dramatic change and the Gulf Coast endured an equally impactful hit.
While Hurricane Katrina left a devastating impact on the Louisiana, Mississippi, and Texas coastlines beginning Aug. 29, 2005, it altered the lives of many volunteers in an uplifting yet sobering manner.
It attracted tens of thousands of dollars in donations and countless volunteers nationwide to assist in animal rescue. Pets' lives were saved in homes quickly vacated by their fleeing owners and from the streets. The fortunate ones were reunited days and weeks later by rescue organizations.
I was embedded for 12 days with Noah's Wish in hot and humid Slidell, La., where a shelter was quickly established and held as many as 1,800 animals at one point. I was there to write stories for my newspaper, The Seattle Times, yet wanted to perform each of the tasks assigned to the hundreds of volunteers who poured on site from across the country.
The tasks ranged from walking and helping groom dogs, cleaning dog cages and crates, feeding dogs and cats, unloading semi-trailers of pet food to accompanying animal-control officers into uninhabited homes where frantic pets had been left behind. And to get the full picture, I was invited to sit in on the Noah's Wish executive planning meetings each morning and evening.
We arrived as strangers and left as friends. We slept in sleeping bags on the cement floor of a former furniture warehouse some nights and atop mattresses other nights in a motel that had been in the eye of the storm and flooded only days earlier. We showered at a nearby truck stop at appointed times. We defined the true meaning of communal living.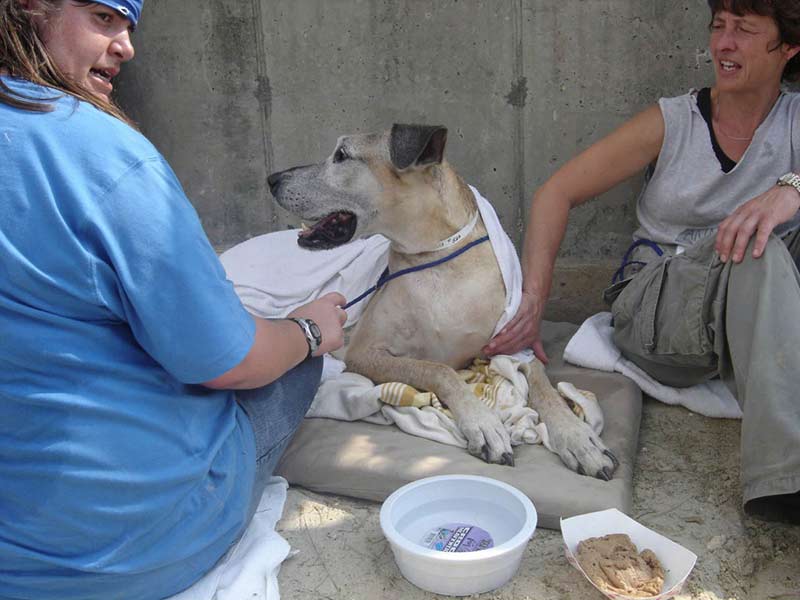 Not only did the volunteers travel from far and wide, but they represented just about every vocation imaginable. There were no egos here. If you were so inclined, it was best to check it at the door.
It's hard to believe a decade has passed since those three- to four-T-shirt days where personal values were re-enforced around every corner.
Vivid memories linger. Rambunctious and bite-marked pit-bull puppies once used as bait dogs for fighting rings quartered in one corner of the shelter; water marks 10 to 12 feet up on the walls in homes I entered with an animal-control officer looking for a surviving pet; the giant snakes that wrapped around my shoulder while a reptile expert stood alongside assuring me everything was fine; and then there was Abbe's bark that drew me to her corner each morning I entered the jam-packed shelter.
Abbe was a small corgi-sheltie mix I walked daily and somehow won her way into my heart, earning a trip home to Tacoma – only to die suddenly two years later on a cold November morning of a heart attack. At home, she underwent heartworm treatments designed to hopefully prevent her cause of death. She did enjoy two love-filled years with us, however.
One of the most heartwarming legacies of Katrina were the new friendships forged, which led to the formation of an 11-member group, Dignidad Para Los Perros (Dignity for the Dogs). We traveled to San Jose del Cabo, Mexico, the following year to donate supplies and help round up dogs in the barrios and transport them to a nearby humane society for sterilization, bathing, and occasionally euthanization (for the sick ones who might have otherwise been dispatched to the streets to starve). All spayed and neutered pets were returned to their owners hours later or the next morning.
Later in the week, we participated in a pet adoption fair at the Cabo San Lucas Costco, where several hundred dollars was raised for the humane society.
The group included veterinarians, veterinary technicians, a groom, an animal behaviorist, a writer, and a terrific mix of versatile volunteers. Collectively, we gave new meaning to that oxymoron working vacation.
Add to that several of us brought dogs back to our home areas in the U.S. for adoption.
Like all the other Slidell volunteers, I am still bear the emotional scars of those 12 days in trenches with passionate responders boasting similar priorities. While it seems like only yesterday, the deeply-etched memories and lessons will remain a positive fabric of my character the remainder of my life.
—
Photos courtesey of Noah's Wish
Read Ranny's original diary article that originally ran in The Seattle Times in 2005
https://www.akc.org/wp-admin/admin-ajax.php
Get Your Free AKC eBook
Tips for Responsible Dog Owners
This e-book is a great resource for anyone who's considering dog ownership or already owns a dog. Download for tips on how to be the best dog owner you can be.