When their perky, 18-pound Cavalier King Charles Spaniel, J.B. (James Bond), enters the Westminster Kennel Club Dog Show breed ring at 12:30 p.m. Monday, owners Lynnette and Randy Bragg's focus will be in two directions.
Yes, that's right!
Their attention, of course, will be directed on this special young champion, but their eyes will be on the sky, too. On this same day 17 years ago (and on a Monday, too), their son, Matthew, then 17, was killed in a car accident in their hometown, Springfield, Georgia. Their personal losses did not end there. Another son, Scott, died in his sleep at age 36, in 2010.
Win or lose at Westminster, J.B.'s appearance represents a celebration of life for the couple. They have struggled every day with their losses, trying to put fun and meaning back into their lives.
"It's going to be purely emotional," envisions Lynnette Bragg. "God allows us glimpses of heaven from time to time, and this will be a direct line for me. I know Matthew is beaming down on us. So this day is not a coincidence!"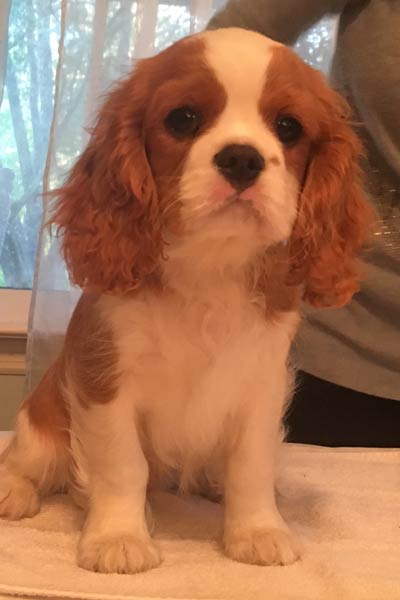 At 8 weeks of age, J.B. (Ch. Diamonds are Forever) had that "I can do it all" look. J.B. was bred by Bragg and Hollis Land, of Thomson, Georgia, and is owned by Bragg.
The 14-month-old J.B., who gained his championship at six months (actually, within three weekends and mostly owner-handled), will be gaited by Mackenzie Jones, of Anderson, South Carolina. He will compete Monday alongside 31 other Cavaliers.
"Our two boys were strongly devoted to each other," says Lynnette Bragg, "and J.B.'s showing on the big stage reflects that. But this is a story of how Cavaliers allowed us to cope with their deaths and heal." And in the process, they have shared the breed with others in need, too.
Bragg characterizes J.B. as an "I can do it all" Cavalier. Not only does he shine in the ring; he's a superstar in Georgia nursing facilities, and with children and adults with disabilities.
J.B. is the fourth Bragg Cavalier to compete at Westminster; their bitch, Coco Chanel, received an Award of Merit in 2016.
GCHS Huntland Coco Chanel wins an Award of Merit at the 2016 Westminster Kennel Club Dog Show. Her handler is Dennis Brown. The dog is co-owned by Bragg and Land and was bred by Hollis and Carol Land.
The Blenheim-coated J.B. will be shown chiefly in the Southeast this year. However, his calendar is also set for major events: the American Cavalier King Charles Spaniel Club National Specialty in St. Charles, Illinois, in April, along with The National Dog Show Presented by Purina in Philadelphia in November, and the AKC National Championship Presented by Royal Canin in Orlando, Florida, in December.
But the well-traveled J.B.'s life is busy outside the ring, too. Bragg's advocacy and work commitments require driving about a thousand miles weekly with her buddy nestled alongside in the front seat.
But when the show schedule dictates, J. B. stays with his handler about four hours away. "When he's gone, it leaves an emptiness," Bragg confesses. "I can't wait for him to get home."
Bragg has handled her Cavaliers through the years but concedes she has handicapped them in the process. "I tend to get nervous and rather clumsy. In other words, I don't show my dogs to their full potential. In major shows, it's best to leave J.B. in the hands of a professional."
When asked to cite the dog's chief attributes, Bragg replies, "Flat, strong, beautiful head; melting eyes; fluid movement and sound structure; good rear end. We have been told multiple times that he is a one-in-a-thousand package."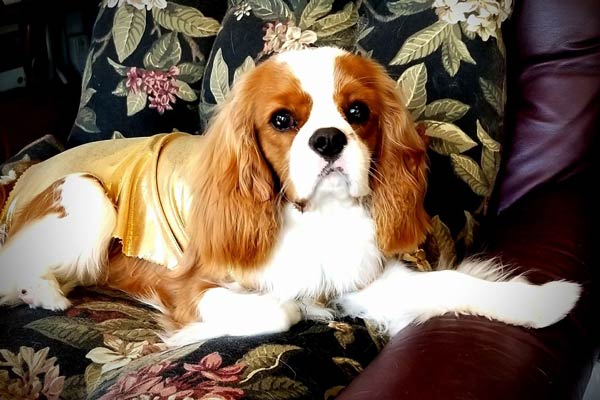 With a colorful backdrop, 14-month-old J.B. finds time to relax on the sofa.
Cavaliers entered the couple's life in 2010. After seeing the toll depression was taking on his daughter, Homer Wells suggested she find a breed she could handle. "I planned to get a Lab," she recalls, "but my Dad suggested the Cavalier, which has a big dog personality in a little dog package."
It wasn't long before she became convinced that Dad was right. Quickly, she started a breeder search, but that produced frustration aplenty, as no one would return her calls. Finally, one responded, and the breeder had a ruby male available, too! "I had no idea of the colors, but I knew ruby was the rarest. I went the next week and picked up Toby. He rode home in my lap, and the rest is history."
Showing Toby was the furthest thing from her mind. He was solely destined to be a companion and healing dog that would help ward off suicidal demons. After her son, Scott, who lived with the challenges of autism, died unexpectedly in his sleep in 2010, Bragg, needed another emotional outlet. She decided to begin showing Toby.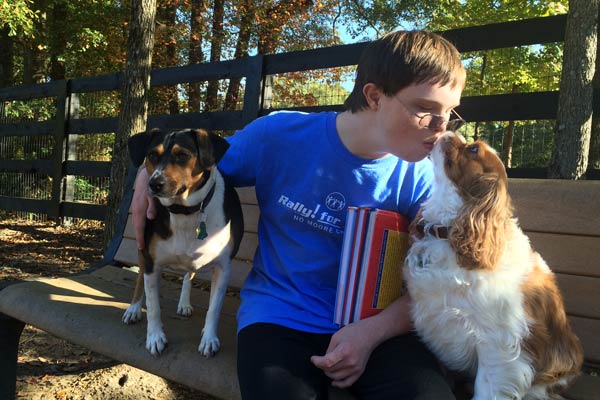 Jacob Moore and his family were the first to receive a Cavalier from the Braggs. He has autism and Down syndrome and is a leukemia survivor as well. His two Cavaliers have helped the family cope with many challenges in recent years.
"He has the personality that reaches into the soul," smiles Bragg, "He is extremely sensitive to our feelings and will rub against Randy or me, and look into our eyes when he sees the need. He seems to say, 'I feel your pain' and 'Give me your pain.' "
Toby, 8, is the patriarch, so to speak, of the Bragg Cavaliers Clan. They have 10 dogs, and live on a 25-acre layout with a fenced backyard, and a pet door providing easy access to go in and out.
The Braggs' commitment to Cavaliers runs deep. She is a registered nurse, and has worked with families in need since 1974. The couple has donated more than 14 Cavaliers to select people in recent years. "We not only look at the person with the disability, but also the family," she explains. "The siblings are often the ones that are left out, and need the love of a Cavalier more than anyone else in the family.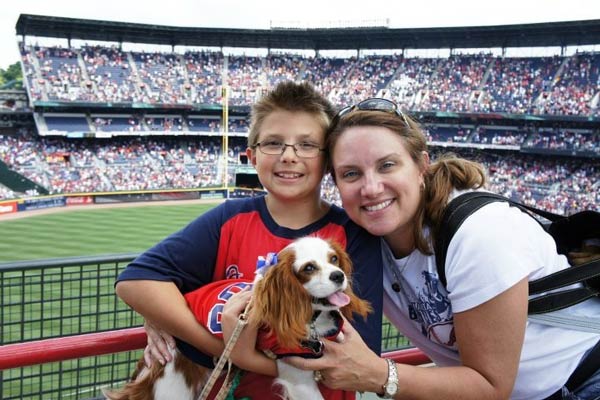 Jared and Heidi Moore, along with Lady Liberty (Libby), enjoy a day out at a Bark in the Park Atlanta Braves game. Lady Liberty was born on 9-11-11.
"The dog can sit down beside a person with autism who is experiencing a meltdown, put his head in that person's lap, and simply look at them. This allows the individual to calm down. The breed is sturdy enough that it can withstand someone who may not be soft in petting it. In other words, Cavaliers look at the person's heart and know no harm will come their way."
There is no formal application process for a Bragg Cavalier. "We are deeply involved with each family before we place a dog," she explains, "and have a solid feel for every match-up. We have not had a problem yet."
Other recipients include individuals recovering from cancer, some with dementia, and elderly in need of companionship. One of their former Cavaliers lives with the Public Policy Director for the Georgia Council on Developmental Disabilities, who describes the dog, Rowan, as "a sponge getting the stress out of my head every evening." Bragg is the past chair of that council, and serves as chair of the Georgia Developmental Disability Advisory Council.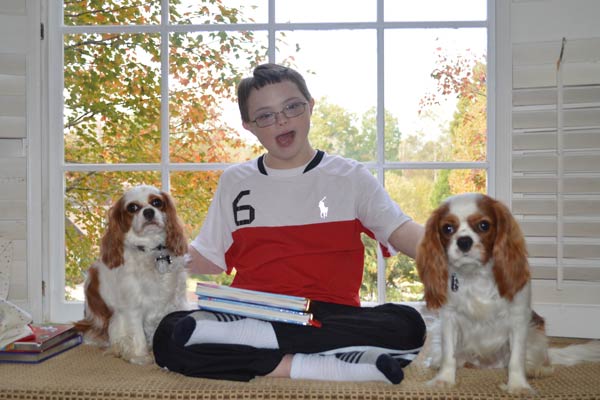 Lady Liberty (Libby) and Lance help their companion, Jacob Moore, read his beloved books. The calming Cavaliers enable a person with autism to settle down and better cope during difficult situations.
Bragg is the owner and president of B&B Care Services, the brainchild of Matthew Bragg. B&B contracts with the state of Georgia to provide services to around 400 families who have a loved one living with a developmental disability. These family support services allow the disabled individual to continue living at home, and to participate in the community. B&B also works with the Medicaid-funded Money Follows the Person, which helps reintegrate 350 nursing-home residents back into the community when they are ready.
The B&B logo depicts Matthew pushing Scott in his wheelchair. Matthew saw the agency, says Bragg, "as one that would provide financial security for Scott to live a lifestyle to which he was accustomed, and also allow other families the opportunity to live in their own homes."
B&B has opened doors and established friendships through which Bragg Cavaliers have been placed in homes for those desperately in need of paws-on therapy. "Matthew and Scott are beaming today, seeing how those dogs are bringing smiles and satisfaction to so many," concludes Bragg.
https://www.akc.org/wp-admin/admin-ajax.php
Get Your Free AKC eBook
Does Your Dog Have What it Takes to be a Therapy Dog?
My dog is great with people, I want her to be a therapy dog. Where do I start? If you have asked this question then this e-book is for you. Download to learn more about Animal Assisted Therapy and how to get started.