Photo courtesy of Pet Harbor.
One of the most frightening and heartbreaking experiences a dog owner can have is losing their dog. You never expect it to happen, but when your dog slips out the front door and goes running, your worst nightmare becomes a reality. It's all the more devastating when you lose your dog in an already difficult time, like during a natural disaster.
In the aftermath of Hurricane Harvey, hundreds of dogs have been displaced and are missing from their homes and their owners. In the chaos of the storm, and despite the best preparation, sometimes the worst happens. And therefore, we're thankful to all the volunteers who have been working tirelessly to find and care for lost pets.
Shelters around the country have been taking in pets (dogs and others alike) that have been found in Texas after the storm. Many of these pets are listed on Pet Harbor, with their pictures, information, and where you can find them.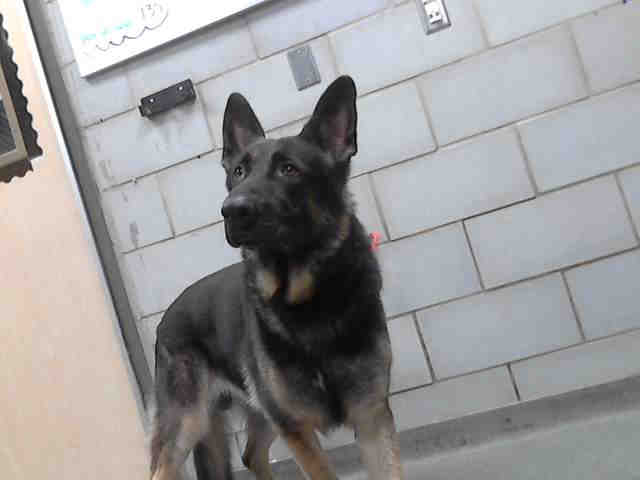 This German Shepherd, for example, was found and now is residing at Dallas Animal Services. He is black/tan and tan and the staff thinks he's about 4 years old. He's been at the shelter since Sept. 7. Pet Harbor lists the contact information for Dallas Animal Services so that anyone who recognizes this dog can let the shelter know.
You can see more dogs and other animals like this pup who have been lost during Harvey on Pet Harbor's site.
If you or someone you know has lost their dog in the aftermath of the Hurricane, there are a few important things you can do.
You can contact local shelters and let them know that your dog is missing. During this time, there will be a lot of displaced pets, so remember to be patient and provide as much information about your dog as you can (breed, hair/coat length and color (don't forget special markings), size, age, and ear type (pointed, long, short, droopy).
If your pet is registered with AKC Reunite, you can call the Reuniters Helpline at 800-252-7894 to let them know your pet is lost and to enable an operator to confirm that your contact information is up-to-date. Also, visit the website to create a "Lost Pet Alert" (learn how to activate this service here).
You can utilize social media. Post a photo of your dog with your contact information and share it in relevant groups created to identify and locate lost pets.
Be persistent and don't give up hope. Losing your dog is devastating and even more difficult during a natural disaster. Keep doing everything you can to look for your dog and we hope that he will get home to you soon.
For more tips on finding your lost dog, check out our tips here.
And for additional information on Hurricane Harvey and Hurricane Irma, please refer to "What Dog Owners Should Know to Prepare for Hurricane Irma" and "Everything Dog Lovers Need to Know About Hurricane Harvey."
Tips for Responsible Dog Owners
This e-book is a great resource for anyone who's considering dog ownership or already owns a dog. Download for tips on how to be the best dog owner you can be.