A couple was so frustrated with their Labrador Retriever eating things he shouldn't that they shelled out almost $38,000 on a new dog-proof kitchen.
The dog, named Rollo, had learned how to open cabinets and the refrigerator, the Daily Mail reported, and had even used a trampoline to get apples off of the apple tree on the property and had thrown himself into a gate to break into the greenhouse and eat the tomatoes.
This habit isn't only bad for his weight and his owners' wallets; it's also dangerous. Although apples and tomatoes are safe for dogs to eat, the stems and leaves (and seeds in the apples) are toxic. Also, Rollo has gotten into rat poison and other dangerous items, requiring veterinary intervention. According to the Daily Mail, Rollo had been relinquished by three previous owners because of his persistent binging.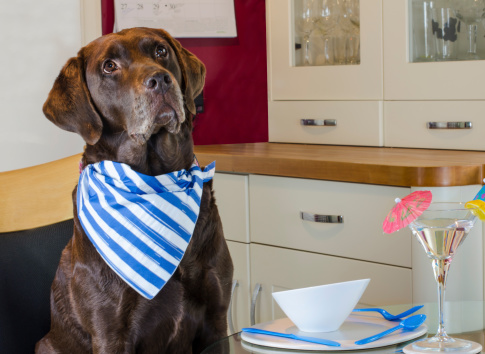 "Most dogs are opportunists and will go to many lengths to seek out food," says Penny Leigh, director of AKC's GoodDog! Helpline. For mild cases of counter-surfing or food stealing, she advises the following:
"Never leave food on a counter for a dog to find. Once they find a big food "prize" within reach on the counter or table, this can set them up for a lifetime of getting on the counter to find another enticing goody."
"Second, supervision and containment are both very important. When your dog is loose in the house, keep an eye on what he is doing so you can stop him from getting into mischief and block access with a baby gate. Training him to stay in a crate will also be very beneficial. This keeps your dog and your house safe when you cannot supervise. Leave a goody with your dog in his crate (like a hard hollow rubber toy stuffed with peanut butter), and he will be content until you get home." (Read more tips on preventing counter-surfing in dogs here.)
Cases as severe as Rollo's, though, may be a sign of obsessive-compulsive behavior, which usually require intervention from a veterinary behaviorist and possibly medication.
Rollo's owners, Sue Kirk and Stewart Maher, took a different route to solve the problem: They put in a whole new kitchen, including cabinets and a new fridge with dog-proofed handles, all to the tune of about $38,000.
But Kirk has no regrets. She says:
"He's worth every penny."

https://www.akc.org/wp-admin/admin-ajax.php
Subscribe to Family Dog
AKC FAMILY DOG MAGAZINE
This article was originally published in AKC Family Dog magazine. Subscribe today ($12.95 for 6 issues, including digital edition) to get expert tips on training, behavior, health, nutrition, and grooming, and read incredible stories of dogs and their people.