Last week was a hard one for police K9s and their handlers. Two canine cops were killed by gunfire, including Jethro, who worked with police in Canton, Ohio, and was shot on Saturday, January 9, while apprehending a burglary suspect. He later died from his injuries. Two days later, K9 Krijger, a four-year-old Belgian Malinois with the Norfolk Police Department, was shot and killed during a domestic violence call.
When television personality Anderson Cooper, a known dog lover, learned of Krijger's death and of the related fundraising efforts by a former Navy SEAL, he decided to help.
We are at a loss for words. Following the passing of K-9 Krijger earlier this week, CNN's Anderson Cooper has donated enough money to get a vest for every K9 at the Norfolk PD. Truly amazing.

Posted by Hampton Police on Thursday, January 14, 2016
Jimmy Hatch, a former SEAL who served in Iraq as a K9 handler, runs the nonprofit Spike's K9 Fund, which advocates for working dogs. As part of his organization, he launched the K9 Krijger Ballistic Vest Campaign, an effort to raise funds to purchase stab- and bullet-proof vests for police dogs. Anderson, who previously interviewed Hatch about his war experience, donated to Hatch's campaign the entire fee he received for an upcoming speech. The dollar amount, which was not publicized, allowed Hatch to purchase vests for the entire Norfolk Police Department's K9 unit with enough left over for nearby departments.
"Anderson is a really genuine, very good person," says Hatch. "He's a dog lover for sure."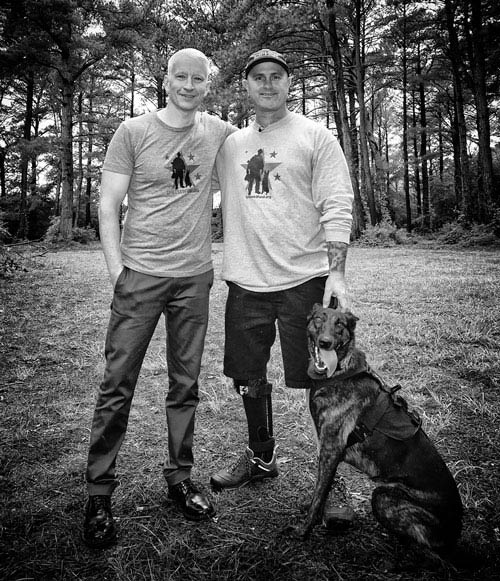 Hatch, who knew K9 Krijger and his handler personally, can relate to losing a K9 partner. While serving in Iraq as a handler, his dog apprehended a man who was involved in suicide bombing and IED construction. "He ran out and was trying to hide, so after firing some warning shots and following protocol, I sent Spike out," Hatch recalls. Spike captured the suspect but was pinned down. Hatch fired shots. One of his bullets went through the suspect and killed Spike.
It wasn't until 2014 that Hatch realized how he could channel his lingering grief and guilt into helping other working dogs. He helped raise funds for a dog who needed a medical procedure completed and was surprised at the response. Now, through his nonprofit, he raises money to purchase and distribute safety equipment for working dogs. He gets the vests from an organization called K9 Storm. "I used their equipment in combat and trust it," Hatch says.
Each vest costs $2,200, and through the K9 Krijger Ballistic Vest Campaign, individuals or organizations can buy and sponsor a vest for a dog. If requested, the sponsored vest can be dedicated to a person or dog. Individual donations are also accepted. Hatch also hopes to one day implement a kennel run for retired police and military dogs who aren't suited to living with a family or are transitioning out of a life of service.
By concentrating on Spike's K9 Fund and the K9 Krijger Ballistic Vest Campaign, Hatch is realizing the surprising effects it's having on him personally. "It's helping me heal," he says. "I owe it to more than one K9 who has saved me, and I hope I can in turn save a few of them or help them have a better life."
 

https://www.akc.org/wp-admin/admin-ajax.php
Get Your Free AKC eBook
Canine Good Citizen (CGC)
This program is recognized as the gold standard for dog behavior. In CGC, dogs who pass the 10 step CGC test can earn a certificate and/or the official AKC CGC title.