The odds were stacked against Tamara Lazarus and her Scottish Terrier, Honey, of becoming a standout agility team.
Both overcame serious medical disorders years ago and have progressed to the point they qualified for the third annual Masters Agility Championship at Westminster last month.
At the age of 4, Lazarus, of Stamford, Connecticut, contracted amegakaryocytic thrombocytopenia, necessitating a bone-marrow transplant, followed by radiation and chemotherapy procedures. Amegakaryocytic thrombocytopenia is a blood disorder involving a deficiency of blood platelets required for normal blood clotting.
At age 11 she was diagnosed with thyroid cancer, but it turned out to be benign. She no longer undergoes treatment but revisits her endocrinologist every six months who monitors her condition.
"They are just making sure that my thyroid is functioning correctly, since the cancer was a side effect of the earlier chemotherapy and radiation," Lazarus says.
Honey was born with epitheliogenesis imperfecta, a congenital absence of the skin that is sometimes fatal. The ailment, also called aplasia cutis, leaves the newly born with ulcers or areas that lack any skin covering, according to the Merck Veterinary Manual. The condition can be fatal if it involves large portions of the skin. Small defects, like Honey's, can be surgically corrected. Tamara's father, Dr. Gary Lazarus, a Stamford veterinarian, sewed Honey's skin together and monitored the puppy's condition closely.
However, the best medicine for both Honey and Tamara has been agility, a sport in which Lazarus has been involved since age 12.
Now 21, she attends LIM College, a private specialized undergraduate and graduate school focused on fashion and located in Manhattan.
"I fell in the love with agility with a very challenging breed [Scottish Terrier]," Lazarus says. "It is known for its stubbornness and independence. It has a mind of its own, and if it doesn't want to do something, it simply refuses to do it."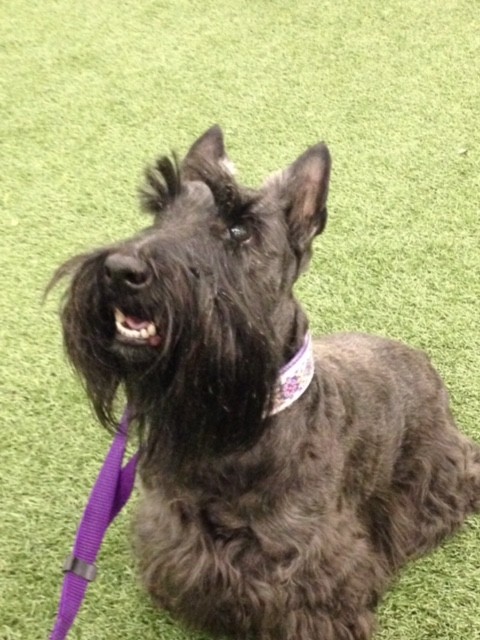 That profile fits Honey perfectly. Initially, she was nervous and didn't want to do anything but eat her treat on the table, her owner laughs.
Pre-Honey, Lazarus owned other Scotties. Her first was J.R. (aka Just Right), a three-legged dog who had been brought into her father's veterinary hospital by the breeder, seeking to determine if he could live a "normal life."
"When my dad saw him, he fell in love with J.R. and wanted to take him," Lazarus recalls. "After speaking with the breeder, my dad, mom, sister, and I went over to her house to see J.R. Since I had been sick, I wanted a dog and my dad promised that when I got out of the hospital and the doctors OKed it, I could get one.
"From the start, I identified with J.R. because we both had medical issues that we were born with and were working to overcome. But we never let them stop us from doing what we wanted to do."
J.R. became Tamara's (age 6) first dog, and her love affair with Scotties has never waned.
Combining school with agility requires organization and tight time management, Lazarus says.
"I do all of my homework and studying during the week, freeing me up for agility on the weekend," she explains. Every Friday, Lazarus, Honey, and Sassy (her other agility Scottie) go to Masters Handling class to focus on skills and fix the areas that need fine-tuning.
But when a bit more training and a break in homework is needed, she heads to the basement at home with both dogs, where she has a mix of agility equipment.
"It makes for a nice break from studies and good exercise for the dogs," she adds.
Lazarus is at home from Wednesday evenings through Monday mornings, and in her school dormitory Monday to Wednesday. Honey is never left alone at home – she is with two other related Scotties and Lazarus's mother, Mandy.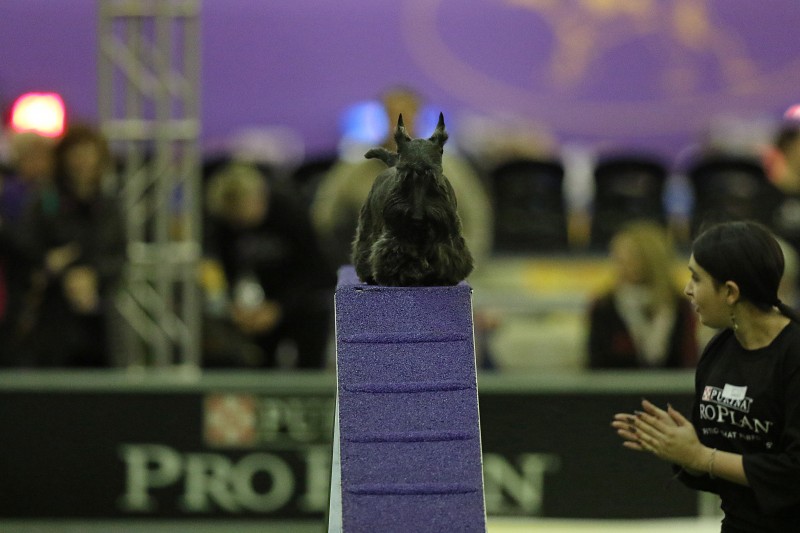 Agility has been a confidence-provider for the owner-handler.
"I used to be so nervous about people judging me on how I spoke and presented that I never wanted to do it. When it came to agility, I was equally nervous going in front of the judge and the audience, but I quickly realized that I was never alone, since I had my best friend by my side the whole time.
"Because it is a team sport, I rely on Honey as much as she relies on me. Having something there to support me and not judge me is the best feeling in the world. I also recognized that qualifying Honey in agility was a lot harder than speaking in public. With that in mind, I decided that if I can qualify Honey I can do anything."
The Westminster experience was fulfilling for Lazarus.
"I hope to do it again," she says. "Honey and I were nervous on the first run, but by the second time around, we were both confident. Honey qualified the first run, but knocked down a bar on the second, which eliminated her from moving on. But it was a great experience. I am so proud of her for overcoming her fear of loud noises and big crowds. If she can do it on that stage, she can do it anywhere. And so can I."
Header Image: Honey and Tamara Lazarus show off their winnings at Montgomery County All Terrier Agility Show in Palmya, Pennsylvania. Photo by Marine Melucci