For weeks the excitement built up for 70-year-old Randy Schepper returning to his natural turf – the dog-show arena – before attending the Seattle Kennel Club Dog Show in mid-March.
One of the Pacific Northwest's most-loved – and premier – dog handlers, Schepper has been hospitalized and recovering from a devastating auto accident in early September that claimed the life of his wife, Julie, and left him in a wheelchair most likely for the remainder of his life.
His coming-out party certainly didn't disappoint. In fact, it turned into a giant celebration with his "other family" that has provided him with a huge psychological and financial boost since September.
There were hugs, kisses, and dozens of "welcome-back" greetings for the several hours he wheeled around the giant CenturyLink Field Event Center.
"I admit it, I was teary-eyed," says Schepper, who arose at 3:45 a.m. to ready himself for the trip from Bellingham, Washington, approximately 90 miles north of Seattle. "The amount of care I require is often depressing because I am such an independent person, I have had to compromise my standards and slow my pace. Most days are OK; some days are not so much. We [the Schepper family] were on the road in the 'Golden Retriever' [the family van] by 7:15 with a targeted arrival around 9."
Word spread on social media days before that Team Schepper would be attending the event, one of fewer than a half dozen dog shows nationally still conducted in a major metropolitan venue. Shortly after he entered the building, Schepper was surrounded by handlers, exhibitors, and judges.
Sporting a luminous yellow hat so family members wouldn't lose sight of him in the wheelchair amidst the big crowd, he wasted no time heading for the rings he had penciled in on the judging schedule to visit. Group competition began at 2:30 p.m. but an hour later his tired body was telling him that was enough.
"The day totally lived up to my expectations," he says. "I had it circled on my calendar for weeks and it gave me something to condition myself for and look forward to psychologically." Tears were shed, hugs were plentiful, and memories were shared.
This represented a homecoming of sorts. In 1969, Schepper attended his first dog show – the Seattle Kennel Club event – at a different site.
"Like everyone else, I watched and decided 'I could do that.' Well, 47 years later I went to my first dog show again. Even though I can't do it now, I wouldn't trade my 40 years with my dog family for anything."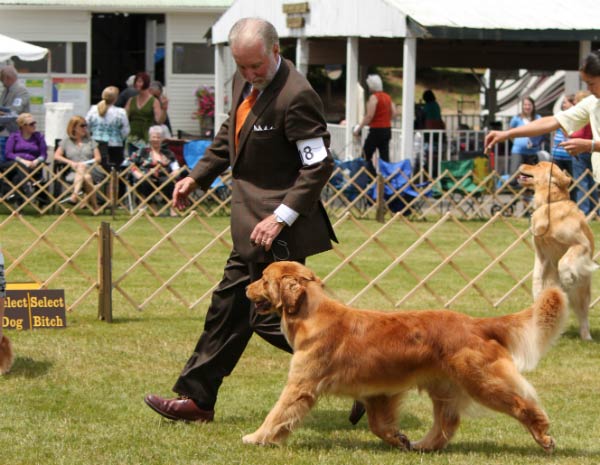 As expected, the trip to and from Seattle, a full day with well-wishers and family, took its toll on the paraplegic.
"I slept in until almost 10 the next morning and awoke to a severe case of remorse, jealousy, and anger about my condition. Hours later, I began to pull it together and know there was a plan. But I sure wish I knew what it was. The reaction and love of everyone was overwhelming. My family was there to console me and we worked through it."
Schepper's involvement over four decades includes judging National Sweepstakes for Golden Retrievers and German Wirehaired Pointers, numerous Top 20 events finishes in both breeds, approximately 50 Bests-in-Show and many specialty Best of Breeds.
"I think the dog world has been good to me," he says, "because I have always respected the dogs, the people, my fellow competitors, and the judges."
While Schepper resides in a skilled nursing facility in Bellingham – and will likely remain there for several months – he has a kennel, SmokeTree Goldens, in a Seattle suburb, which is operated by friends. One of them, Rich Larricq, handles his dogs in the conformation ring. In fact, Schepper watched intently as Larricq gaited two of them at the Seattle show.
Life for the Schepper family changed dramatically – and instantly – on an early September evening on a lightly traveled country road near Enumclaw, Washington, when Schepper missed seeing a stop sign and collided with another vehicle, killing his wife, Julie, and an individual in the other vehicle.
"This is a giant burden I will carry forever," he says. "We all have our personal beliefs that allow us to cope and overcome, but my faith has been my saving grace."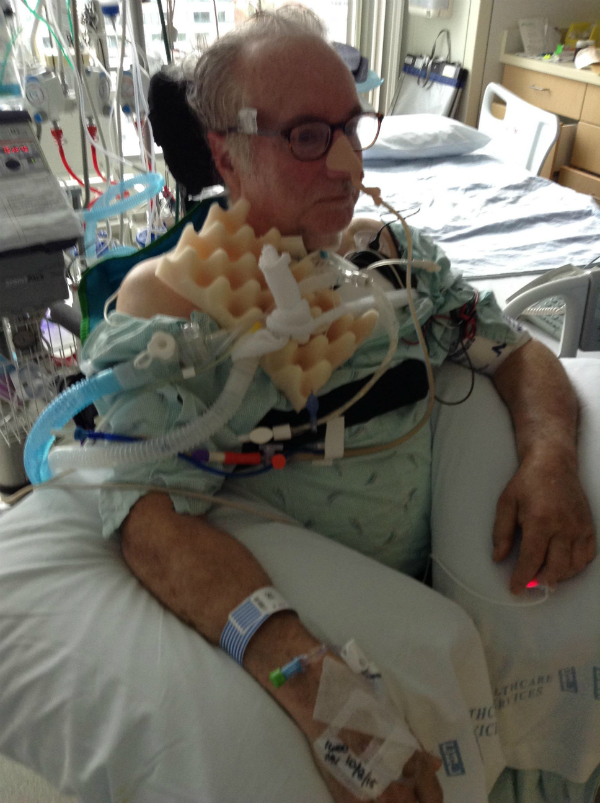 Schepper was airlifted to Harborview Medical Center in Seattle with multiple injuries. The accident left him with a severed spinal injury, the removal of sections of the stomach and spleen, and a fractured left ankle.
His first two weeks in the hospital were a blur. "But every time I woke up my children [daughter Jenny, from Bellingham, and son Chris, from New York] were there. I had many dreams about listening to music and when the song ended I would die. Luckily, the song never ended."
During the early treatment, he was basically kept alive by ventilators, IVs, and feeding tubes, and was eventually transferred from Harborview to the University of Washington Medical Center for two months.
The pragmatic, yet driven, Schepper says the chief challenge at that point was to take what he was left with and develop it to its maximum potential.
"The blessing of the incomplete severing of my spine was that it allowed me to maintain use of my right arm," he explains. "Most people with my injury have no use of either hand. I am right-handed, so this makes life much easier."
Each milestone in the recovery process triggered a celebration – with family and friends. For months, everyone had to read his lips because a tracheotomy device did not allow speech. "Some of my family became very good at lip reading," he smiles.
Eventually, he was able to sit up, and at that point the medical staff encased his chest with a plastic shell that he wore for several months until it was determined the spine had stabilized.
"It was very uncomfortable – but necessary," he remembers. Rehab was basically an 8-5 job for Schepper – 8 a.m.-9 a.m. was physical therapy; 9 a.m.-10 a.m., occupational therapy; 10 a.m.-11 a.m., speech therapy; 11 a.m. – noon, respiratory therapy; lunch; then a repeat of the morning drill until 5 p.m.
After he was able to breathe and eat on his own, Schepper was shuttled to assisted care, where his upper-body strength was the prime focus. He has no feeling from below his neck to the bottom of his feet. He says the odds of him ever walking again or being out of a wheelchair are slim.
Every six weeks, his family makes the Bellingham-to-Seattle trip so he can see a rehabilitation specialist at the University of Washington Medical Center. His next visit will involve a redo of a test conducted shortly after his accident aimed at reading the conductivity of nerves.
While he was hospitalized, Schepper received an outpouring of flowers, cards, and gifts, but eventually financial help was needed, too. In late November, a longtime friend, Terri Sagmoen, launched a GoFundMe account. "For weeks, family and friends nationwide wanted to know what they could do to help," Sagmoen recalls, "and the message was to sit tight – they would get their opportunity."
Once Schepper was relocated to Bellingham, near family, GoFundMe was the perfect project for everyone to contribute in a meaningful way. Within five weeks, close to $70,000 was raised ($57,000 in GoFundMe and another $10,000-plus in separate donations) by 600 individuals to purchase a 2014 Toyota Sienna van that is appropriately dubbed "The Golden Retriever." It is equipped with a custom BraunAbility wheelchair package.
At the 2015 Golden Retriever Club of America National Specialty, the winner of the 50/50 raffle, Cathy Meddaugh, yelled, "I am getting something for Randy." She went on to pay for a much-needed feature on his wheelchair that enables it to move vertically so friends can speak eye-to-eye with him. The item was not covered by Medicare, yet to Schepper, it is a "wonderful self-esteem feature."
"How can one not work hard on his recovery when so many people have given such support and love?" he asks tearfully.
In a Facebook message following the late December arrival of "The Golden Retriever," Schepper said, "This touches my heart. Just know that each and every one of you have made my new life one of hope and happiness. …It is a blessing beyond my wildest dreams." Graphics are being designed for the side of the van that will leave no doubt this is "The Golden Retriever."
So life goes on for Schepper, albeit slowly, with growing interactions with family and friends. Sagmoen, her husband, Rick, and Dee Dee Stevens, another longtime Schepper friend, make a monthly trip from Seattle to Bellingham for the Bellingham Brewery/Beer Tour, where Schepper shows off some of his favorite watering holes.
Movies, community theater drama, lunches with dog-owning friends, church, Valentine's Day lunch with the grandkids, family dinner every Monday, and a Westminster Kennel Club Dog Show viewing party have been on his agenda the past two months.
For Schepper's children, Jenny Herndon-Schepper and Chris Schepper, and their families, the challenges have been plentiful since September.
"Throughout this ongoing healing process there are hurdles that he has needed to conquer on his own and others with which he's needed our help and support," Herndon-Schepper explains. "We try to balance the two by asking questions and communicating needs. We have all learned to be honest about our feelings, working together to share the hard days and celebrate each of the little triumphs."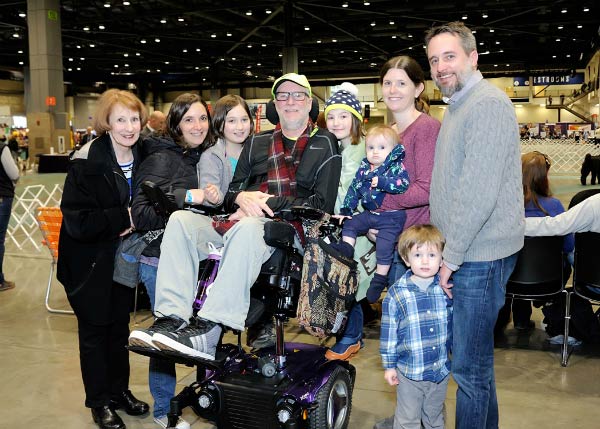 For Chris Schepper, the Seattle Kennel Club Dog Show after-effects was gut-wrenching. "He's been one of the most respected handlers in the business. He's my Dad, my first hero, and to see his vocation and passion taken away is difficult. I am hopeful that he'll be able to find a way to stay involved in dogs and put his experience to use in some capacity that he will find satisfying."
Family ties will continue to be strengthened going forward. Plans call for an apartment to be built adjoining Herndon-Schepper's home, where professional home care will be provided for the recuperating patient. "That is my new inspiration."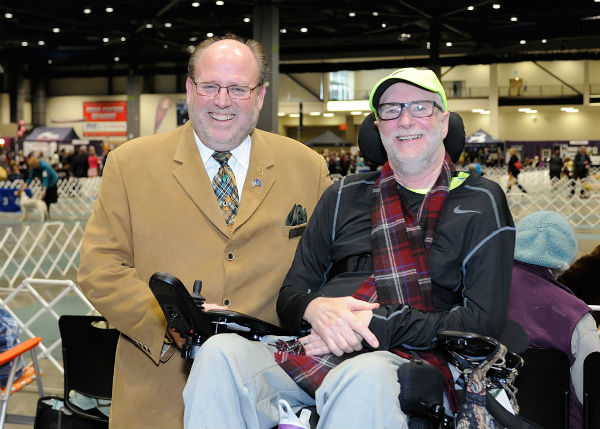 Prior to the accident, Schepper was beginning his American Kennel Club judging application. "My big fear judging in a wheelchair is frightening puppies," he says. "I dearly love the puppies and would be upset if I injured a delicate puppy personality."
More realistic, are teaching handling seminars and motivational speaking.
Somehow, you get the feeling that both are within reach for this inspirational guy whose spirited journey and sobering realism have ranged from rivers of tears to mountains of triumph the past six months.
Header photo: Jerry and Lois Photography.