Cleo and Gwen Blake practice at Family Dog Training Center in Kent, Wash., a Seattle suburb. "Practice doesn't make perfect, perfect practice makes perfect," says Blake. "And we need plenty of that." Photo courtesy Kathy Lang.
For Gwen Blake, it's back to basics every time she steps into the obedience and rally rings with her 75-pound Rottweiler Cleopatra (Cleo).
The 56-year-old owner-operator of Donida Farm Equestrian Center in Auburn, Wash., has competed worldwide for decades in premier equine events. She is now under the tutelage of Kathy Lang, at Family Dog Training Center in Kent, Wash., on what she hopes to be a parallel journey in American Kennel Club dog sports.
After months of training, she and 2-year-old Cleopatra took their first step in that direction in early January by earning their Beginner Novice A obedience title at the Gig Harbor Kennel Club Dog Show in Puyallup, Wash., part of the Western Washington Cluster.
"It's a rewarding start," the longtime U.S. Equestrian Team member said. "It's like a new extended family," she explains. "Our Family Dog Training Center students are all there to support each other as we learn on the go. Quickly, I discovered I was not alone at the trials. I began to feel like I was in the comfort of a horse show."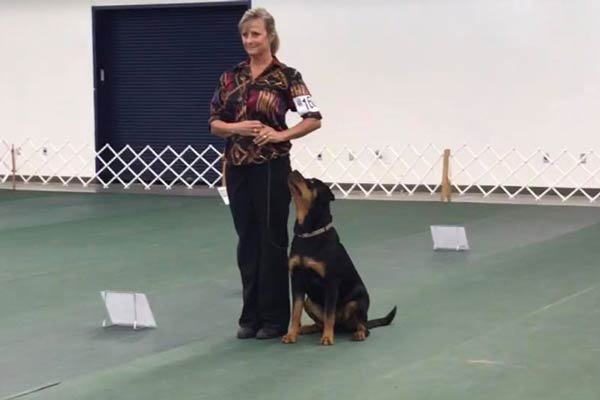 Blake and Cleo's second obedience trial came at the Western Washington Cluster in Puyallup in mid-January. There she earned her last leg needed for a Beginner Novice A title.
A World-Class Equestrian
Blake has competed for 25 years at the international level, including numerous Grand Prix wins. Her credentials also include serving as the South American coach in the 2003 Pan American Games. As an instructor, she has coached amateur and professional students and their horses to regional and national championships.
Blake's love affair with horses began at an early age in Issaquah, Wash., a Seattle suburb. "When I was about 9, my childhood best friend had horses. I began riding the bus after school to her house daily, and we rode. My parents (Ida and Don Morin) knew nothing about horses."
After a few years, the Morins realized their daughter's equine passion was not going away.
"One day, they said we were going for a drive to help a friend locate some fence post material. Ugh, how boring, I thought, but I went. When we arrived, I was excited to see there was a small barn, which might possibly have horses inside. I quickly ran inside. At the first stall to the right, I paused, and my parents uttered the words I had ached for seemingly forever and thought I would never hear, 'He is yours!' Here I was, 12-years-old, with my own horse, the gift of a lifetime.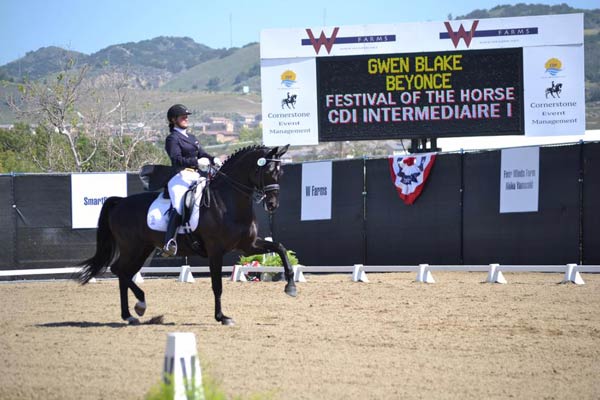 Beyoncé and Blake compete in the 2016 Thunderbird CDI, in San Juan Capistrano, Calif., which was horse's debut in international dressage competition. The pair ended the season being awarded Foreign Rider of the Year.
"I was overwhelmed with emotion and tears of joy and will never forget that moment. My dream had come true. Now on to my next dream to make the U.S. Equestrian Team, which would be a long, hard journey."
Dogs Along for the Ride
While Blake had her horse, there were always dogs in her life, too. Her father loved to hunt, so there were German Shorthaired Pointers and Golden Retrievers, and with them he competed in field trials in the Pacific Northwest. She tagged along and found herself taking home "bits and pieces of knowledge" about dog training.
Years later, the family moved to an 80-acre former dairy farm near Auburn, Wash., where Blake had a German Shepherd Dog. This eventually became Donida Farm, home of her equestrian business today.
As her riding improved, Blake's dreams required a higher-quality horse. This prompted a trip to Europe to find that special animal. She returned home with a 5-year-old Swedish Warmblood stallion, which in five years became the highest-ranking U.S. horse for the Seoul Olympic Games and the Pan American Games in Havana.
While competing with her horse throughout the U.S. and Europe, her interest in dogs never waned. "With all the travel, I needed a dog that was a bit more portable," she recalls. "I had a Jack Russell Terrier that went everywhere with me until cancer took her life. I went four months without a dog and hated every minute of it."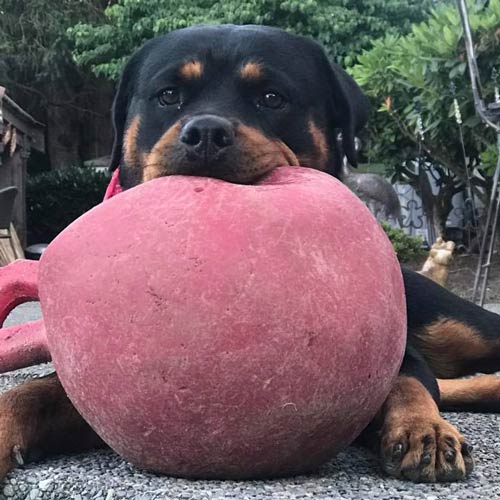 Cleo is a big goofy girl when she is not having to be "on-stage." Here she is sharing Beyoncé's horse ball toys.
Ironically, she woke up one morning to find a part-Rottweiler stray at her doorstep. Loving the look of this dog and understanding the power it possessed, she searched for dog training classes. "Gaining some control over its size, strength, and attitude was similar to establishing control over the 1,200-pound stallion I competed on." For six months, Blake bonded with the dog. But sadly, when a house cleaner let him out, he was struck by a car and died.
While competing in Europe, Blake bought a French Bulldog that became her constant companion for 13 years, traveling with her and the horses via land and air, before succumbing to cancer.
A Partner Named Cleopatra
So after having a variety of breeds of dogs, what made Blake decide on a Rottweiler?
After making the U.S. Equestrian Team, her competition schedule began to shift to chiefly U.S. events, and her focus centered on establishing the training center and business. "Traveling on the road rather than in the air has a tendency to put me in some frightening situations," she says. "So I searched for a respectable Rottweiler breeder and found Sara Bird at Von Sarco Rottweilers in Scappoose, Ore., where I purchased 8-week-old Cleopatra, and she has answered all my needs.
"Like my high-spirited horses that possess the strength, power, and courage to be an Olympic athlete, I was drawn to the same qualities in a dog. Not for everyone, but I knew it was for me. I could handle the ups and downs with both horses and dogs, since each short moment of success [in training] gets linked to the next."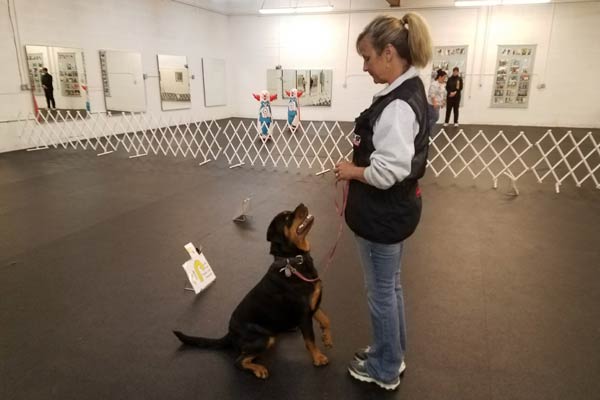 The 2-year-old Rottweiler undergoes her weekly fine-tuning regimen at the Washington training facility. Consistent work keeps Cleo's mind occupied, says her owner-handler. Photo courtesy Kathy Lang.
Two dynamics – trust and a keen sense of awareness – are key in dressage and dog sports, emphasizes Blake. "Both require a handler to commit to making the animal successful by training it to make the right choices. It is all about corrections and rewards. My job is to make the animal successful, which requires enabling it to understand step-by-step or stride-by-stride."
When it came to Cleopatra, Blake was quick to recognize that she needed help in redirecting the young dog's thoughts and actions. Enter dog trainer Lang. "Like with horses, not everything is easy and clear," Blake explains. "And when things don't go the right way, you search for answers from a respectable trainer."
With nimble teamwork and disciplined control, Blake is seeing positive results. Cleo has earned a Canine Good Citizen title and is progressing rapidly in Novice Rally and Novice Obedience.
"My current reward," Blake concludes, "is not so much an equestrian medal, but the adrenaline rush I get back from the journey of the training, whether it's a dog or a horse. When they give back and show us their efforts, it warms the heart and soul."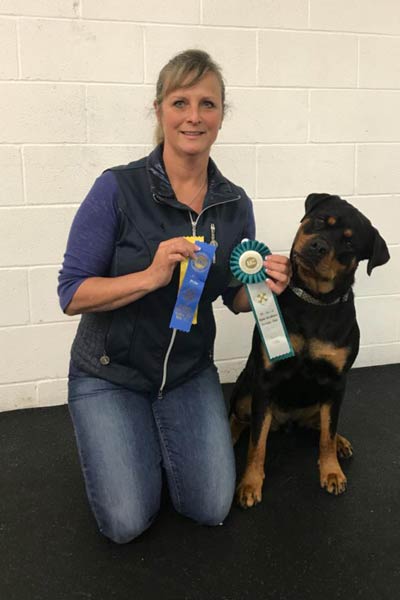 The Washington State Obedience Training Club trial at Family Dog Training Center in late November, the pair's first competition, proved to be a rough start, resulting in two non-qualifying scores. Later in the trials, the pair earned a Novice Rally A title with a perfect 100 score.