When you get a dog, you have a friend for life. And part of being a good friend, and a responsible dog owner, is doing activities and bonding with your dog.
There are many ways to do this. You can go for walks, hang out at the dog park, or if you're looking for a great activity that allows you to connect with your dog and join a community, you should try AKC Conformation.
Conformation, the official name for "dog shows," is much more complicated than just walking your dog around in a ring. It involves training, preparation, and dog-handler teamwork.
At the recent Tuxedo Park Kennel Club dog show, AKC had the opportunity to talk to a couple who is relatively new to the show world, and they were able to provide some insight on breaking into the Conformation world.
Linda and Ray Delfing and their Great Dane, Ch. Pililani's Turquoise Treasure (affectionately known as "Turq") have only been showing for about a year. They had been asked to show with some of their previous Great Danes, but it was after their kids had grown up and moved out that they decided to go for it.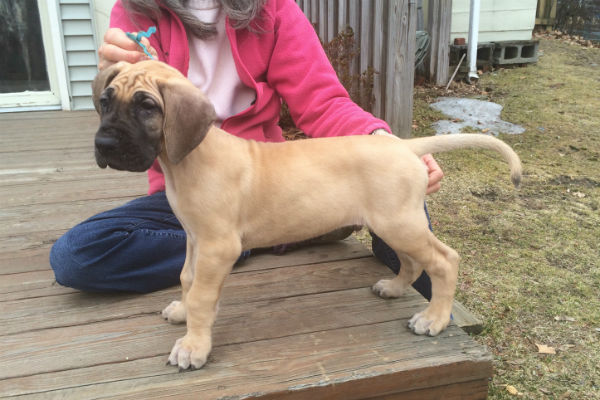 After trying junior and professional handlers, and not having much luck, their breeder convinced them to try owner-handling (which means Ray leads Turq in the ring), and the result was extremely successful. They finished (completed title requirements) Turq before he was 18 months. Now, he has his Championship, as well as one Grand Champion point.
"It's been an experience," Linda said. "Meeting new people, [it's] a whole different aspect of life."
"People ask us if our dog is neutered," she continued. (Spayed or neutered dogs are not eligible to compete in conformation classes at a dog show.) "Which is very funny because I probably would have asked the same question a year ago."
There is certainly a learning curve, but the Delfings feel that the show-community has been nothing but supportive. Despite facing off against each other in the show ring, their competitors have given them tips and have been very polite and welcoming.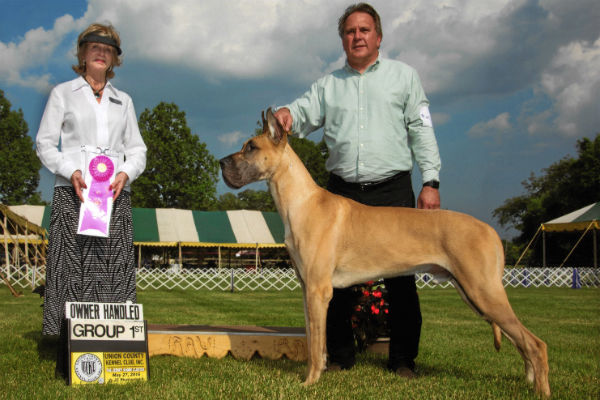 "It was heartwarming to be accepted in the community. Everybody has been extremely supportive, extremely helpful," Linda said.
Not only do the Delfings enjoy the support of the Conformation community, they also expressed how showing has changed their relationship with their dog.
They told us how their kids have been "replaced" by Turq. His pictures now grace the mantle. "What have you [kids] done for me lately," Ray joked. "He's winning."
But all kidding aside, the Delfings truly have felt a deeper bond with Turq from their experience with showing, especially being owner-handlers. "Bonding has been, by far, enjoying our dog more. You're sharing this time and experience with them," Linda said.
So if you're looking for an opportunity to better bond with your dog, why not give Conformation a try? The Delfings are certainly a great example of the rewards it can provide for both you and your canine best friend.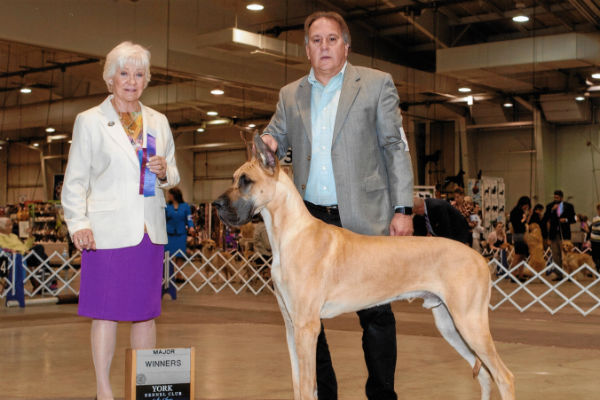 To get started, attend a dog show (if you haven't already)! This way you can get an understanding of what goes on at a show and talk to some other handlers about their experience. Check out the AKC events calendar to find a show near you.
And don't be shy! Reach out to your local kennel club or anyone you know involved in Conformation. For more advice to help you get started, check out our tips, here. If you don't think Conformation is for you, there is a whole world of other dog events you can try: agility, rally, obedience, tracking, herding, and more.
Find an activity that encourages your dog to fulfill his breed's purpose. Let that Beagle get his nose on the ground! Teach your Border Collie to round up a herd of sheep! Just like there's a dog for everyone, there's an activity for everyone and every dog.
If you get involved, you'll enjoy yourself and your dog will too. Your relationship will only grow stronger, we guarantee it.
Header photo courtesy of Ray and Linda Delfing
https://www.akc.org/wp-admin/admin-ajax.php
Get Your Free AKC eBook
Tips for Responsible Dog Owners
This e-book is a great resource for anyone who's considering dog ownership or already owns a dog. Download for tips on how to be the best dog owner you can be.