Technology plays a part in almost everything we do today, from communication to shopping, even our health and fitness. So it's no surprise that technology has found its way into pet care. Smartphones, smart watches, smart homes . . . why not smart dog feeders, trackers, toys, and more? According to the American Pet Products Association, Americans spent more than an estimated $66.75 billion in 2017 on their pets, including necessities like food and vet care. Of that amount, we spent an estimated $14.93 billion on supplies, which include "pet tech." So, what kind of technology is out there?
Pet Trackers
LINK AKC Internet-Connected Collar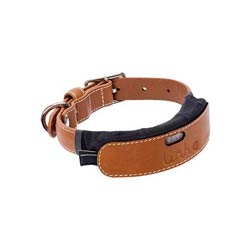 This is like a locator and Fitbit for your dog in one product. The collar works with a smartphone app and has a GPS locator, activity monitor, and many more features, including storage of vet records, ambient temperature alerts, a log of various walks or hikes, and keeps a record of everything short of what your dog is thinking at the moment. Along with the product, you'll need to sign up for the monthly service plan.
This GPS tracker not only lets you locate your dog should he get loose, it also will send you text or email alerts if your dog wanders beyond the home zone. An interactive map directs you quickly to your dog. As with other tracking devices, it requires a monthly service plan.
This lightweight wireless device attaches to your dog's collar to let you know where your dog is and what he's been up to. You can program a "home zone" and be notified if your dog wanders out of the area. And once Houdini has made his escape, just press "locate" to trace exactly where he is. Like a Fitbit, it also monitors his activity.
Food and Water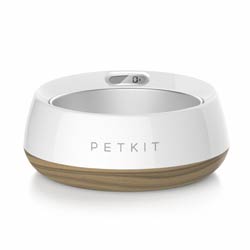 Sized for even the largest dog, this feeding bowl accurately weighs the amount of food in your dog's dish to help you make sure he maintains a health weight. Used with the app, it will even suggest his recommended food intake. It runs on two AAA batteries, and the inner bowl can be cleaned in the dishwasher.
Despite our best intentions, we can't always be home at doggie dinnertime. The SmartFeeder, used with an app, let's you feed your dog right from your smartphone. It even measures out the appropriate amount of food to prevent overeating.
Store up to 18 cups of food and program the feeder for up to 4 distribution times. You choose the portion size, which is a great feature for canine overeaters. You can even record a voice message for your dog to let him know it's dinner time. A little more low-tech than high-tech, the feeder runs on batteries or plugs into a wall outlet.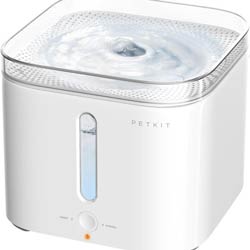 Make sure your dog has clean, fresh water, even when you're not home, with this automatic water purifier and dispenser. It automatically adjusts the volume of water after a triple purifying system screens out heavy metal ions, impurities, and chlorine. Take it with you on the road, too, to provide your dog with a constant supply of fresh water.
And Even More High-Tech Gadgets for Dogs
Furbo Dog Camera and Treat Tosser
Wondering what your dog is up to all day? Or do you just need to make sure he's safe and sound? This Wi-Fi device lets you live stream your dog's activities, alerts you when your dog is barking, has two-way "chat" so you can talk to him, and, best of all for your dog, can be programmed to toss him a treat. It's the next-best thing to being there.
Some of the world's best ideas originate on Kickstarter, like this interactive dog toy, which is more of an entertainment device than a mere toy. With an app and intelligent software, GoBone plays with your dog when you can't. It even customizes itself based on your dog's play behavior.
Another take on the interactive camera/treat dispenser. Some dogs are fine when left alone, others can get lonely and anxious. If yours is the latter, the Treat Cam lets you talk to your dog, see what he's up to, and dispense treats to show him he's your good dog.
Petmate Calmz Anxiety Relief System for Dogs
Using technology, this vest and device deliver calming vibrations, sounds, and acupressure to de-stress the anxious dog. It's completely drug-free and comes in five sizes.
If you already have a GoPro camera, here's your chance to see the world through your dog's eyes. It has two mounting locations and a tether to safely secure your camera. And it's padded for your dog's comfort. This may become your newest addiction.
You could leave the TV or radio on all day to entertain your dog while you're gone or you could use this handy little Bluetooth speaker that comes preloaded with calming music. And should your dog prefer house music or the blues, you can use a second microSD memory card and load it with his favorite playlist.
Think of this as Fitbit for dogs. You can monitor your dog's activity, calories burned, sleep, and stress level and even pair it with your own health app, like Fitbit, Apple watch, HealthKit, and more. Now you can get and stay fit together.
You know about smart houses, how about a smart dog crate? This dog den has special motion-activated sensors to play soothing music, vibration-dampening feet to alleviate stress from loud noises such as thunder, an automatic fan for a constant fresh air flow, and battery backup that kicks in during power outages. As a bonus for you, it's made of attractive, furniture-grade wood.
Samsung Dog Dream House
And finally, would you, if you could, buy your dog a $30,000 dog house? Samsung made only one of these, but consider it proof of concept. This canine luxury palace has a treadmill, paw-controlled treat dispenser, and a hot tub, among other luxury items. It even has a Samsung Galaxy tablet. Samsung gave away the Dream House via a social media contest, and we don't expect it to come to market anytime soon. Although with the vast amount of money owners spend on their pets, one never knows.