The Canaan Dog, also known as Kelev K'naani, descends from the Middle Eastern "pariah dog," feral canines that date back to pre-Biblical times existing in the Land of Canaan, where they first originated. The Israelis first used the dogs for guarding and tending cattle and sheep and since have used the Canaan Dog for guard duties, as mine detectors during wartime, as messengers, and as Red Cross helpers.
The Canaan Dog possesses extremely keen senses of hearing and smell, and he can detect approaching intruders from a considerable distance, becoming instantly alert. He is an intelligent, trainable breed whose tracking ability is excellent. He shows definite talent as a stock dog and is able to compete in herding events.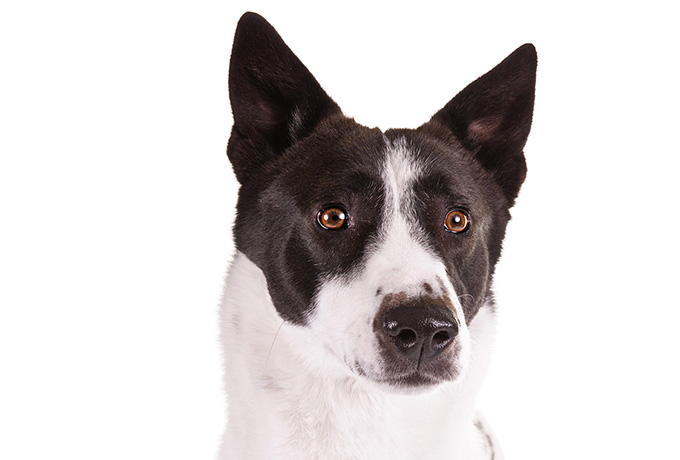 When raised with children and other pets, the Canaan Dog becomes a devoted family companion and natural watchdog. He is reserved and aloof with strangers but inquisitive, loyal, and loving with his family. Because of the strong "denning" instinct of their recent semi-wild past, the Canaan Dog is naturally clean and easily housebroken. He does not require an excessive amount of exercise.
The breed needs plenty of socialization, both with people and (especially) with other dogs. Like many herding breeds, Canaan Dogs can tend to have dog-aggression, especially toward members of the same sex. The best way to prevent this is to socialize your Canaan Dog with other dogs from puppyhood and into adulthood. Puppies and their owners should definitely attend puppy socialization or puppy kindergarten classes—and then, at the very least, a beginning obedience course.
For further information, the breed's national AKC parent club, the Canaan Dog Club of America, has excellent resources for prospective owners.
The Winningest Canaan Dog Ever
An outstanding Canaan Dog named Magnum broke every show record in the history of the breed. Owned by Pamela Rosman and Richard Vulliet, DVM, he was officially known as Silver Grand Champion Pleasant Hill Magnum of Samara, HC (August 17, 2004–April 29, 2015). His sire was Ch. Lahat Me Shaar Hagai, an Israeli import bred by Myrna Shibboleth, of Shaar Hagai Kennels. (An influential breeder of Canaan Dogs since the 1970s, Myrna and her dogs are currently facing displacement from the property in Israel where she has raised the breed for decades; an effort to help this situation is currently underway on GoFundMe.)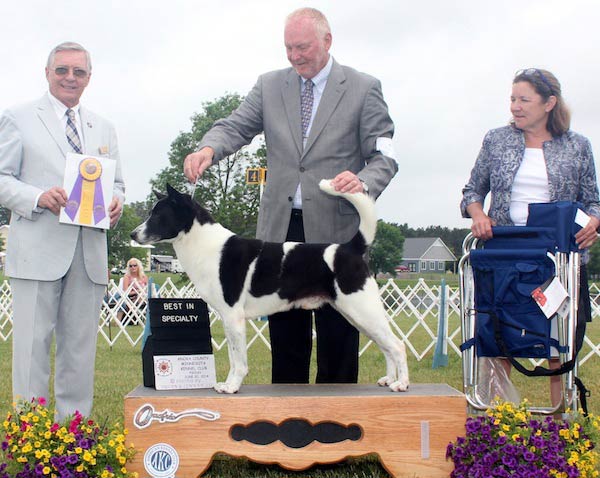 Following in the tradition of Max, Tootsie, Emmitt, Paws, Harry, Breeze, and other notable Canaan Dog show dogs, Magnum became very competitive in all-breed competition. On the West Coast, Magnum was frequently the only Canaan Dog at the dog show, and he served as an ambassador for the breed. For many judges, Magnum was the first Canaan Dog they have ever seen. Judges were impressed with his presentation, stateliness, and effortless motion.
Magnum won three all-breed Bests in Show, 32 Herding Group firsts, and over 200 Herding Group placements, and he ranked in the Top 20 Herding Dogs several times. He also was the first Canaan Dog to win a Reserve Best in Show. Magnum was awarded Best of Breed at the AKC/Eukanuba National Championship six times in a row (2009, 2010, 2011, 2012, 2013, and 2014) and the Westminster Kennel Club show five times in a row (2010, 2011, 2012, 2013, and 2014). He won Best of Breed four times at the Canaan Dog Club of America national specialty show.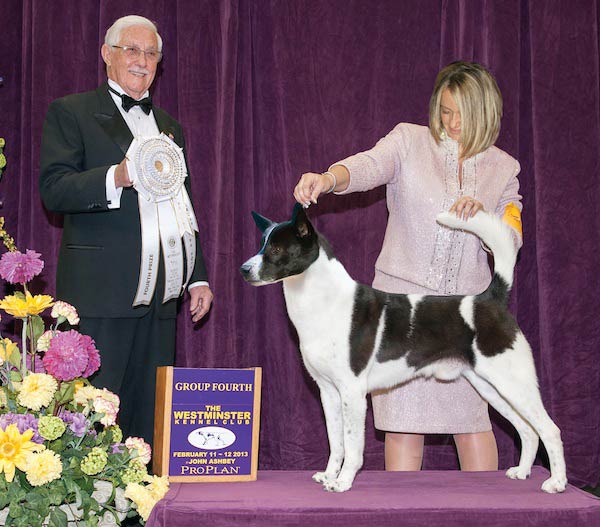 Magnum's Herding Group placement at the 2013 Westminster show capped his illustrious show career. It will be years before another Canaan Dog will achieve what Magnum has accomplished during his short time in the show ring.
Magnum was bred by Donna Dodson, of Pleasant Hill Kennels, who quickly recognized his potential in the show ring. According to Donna, he was the best dog ever produced from her line, the culmination of breeding over 73 litters of Canaan Dogs. He finished his AKC championship title from the puppy classes handled by Donna in the Midwest and was ranked number-three Canaan Dog in the country. Later he was shown by Charlie Zimmerman and Jimmy Moses on the East Coast. In 2006, he was the number-one Canaan Dog.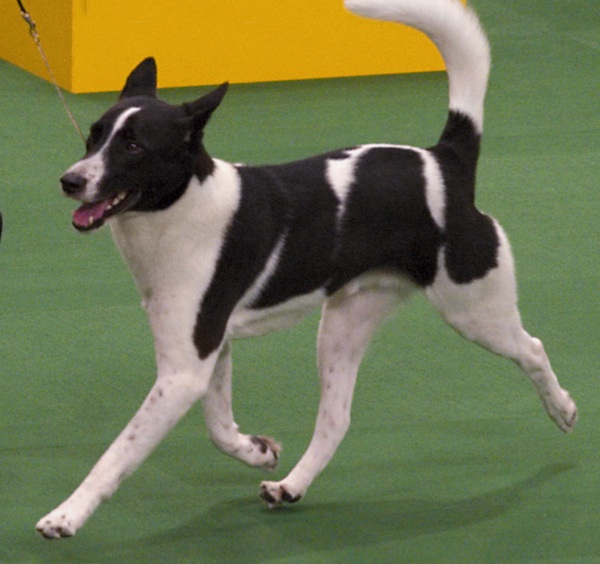 Magnum's home was in Davis, California, where he enjoyed the sunshine and sailing on San Francisco Bay with his owners. On the West Coast he was exhibited by Bruce and Tara Schultz. Over his career, Magnum earned group placements with seven different handlers.
What was most notable about Magnum was his personality. He was calm, unruffled, and the definition of "reactive-aloof," so characteristic of our breed. If everything was normal, he was cool and laid-back. However, let a UPS or FedEx truck anywhere near the neighborhood, and World War III broke loose.
According to Dr. Vulliet, Magnum was the true Californian—wearing sunglasses, riding in the Jaguar, and sipping Merlot. (He had problems sipping Perrier, because the bubbles tickled his nose.) As Westminster's David Frei commented about Magnum on national television, "What a life!"
In recognition of Magnum's achievements in the show ring and his role in actively increasing people's awareness of the joys of Canaan Dog ownership, he was honored with the Canaan Dog Club of America's "Dog of the Year" award in 2013.
Learn more about the breed in the Canaan Dog column in the January, April, July, and October issues of the AKC Gazette, the AKC's official publication of the sport of dogs. (To receive the latest Gazette by e-mail each month, subscribe here.)
Information and photos of Magnum courtesy the Canaan Dog Club of America
https://www.akc.org/wp-admin/admin-ajax.php
Get Your Free AKC eBook
Selecting a Puppy
How do you know what breed is right for your family? How do you find a reputable breeder? What questions should you ask a breeder? Download this e-book for guidance on these questions and other important factors to consider when looking for a puppy.