For years her Vizslas' successes in dog sports have produced many smiles and good vibes for Cathy Cline, of North Hollywood, Calif., but those memories don't compare to the unshakable happiness triggered by Friends and Vets Helping Pets (FVHP), the foundation she started in 2012.
Yes, there have been plenty of hand-wringing, frustrating moments, too, stemming from funding woes and the inability to answer the needs of many pet owners nationwide.
"Sometimes, the support we give is as important as the medical procedure," she smiles. "Having someone on the other end of the phone who understands the stress and pain the owner of a severely ill or injured pet is experiencing makes a world of difference."
The inception of Friends and Vets Helping Pets stemmed from Cline's first-hand experience with one of her Vizslas. "When I started out professionally and was not making much money, one of my dogs became very sick and needed a wide mix of diagnostic tests and, eventually, surgery. The overall cost exceeded $5,000. I had to put it on a credit card. It took me 10 years to pay off the debt."
The experience had a profound effect on Cline. Years later, when she managed to accrue some disposable income, she would hear of others undergoing the same gut-wrenching experience. At first, she would find out the particulars about their animal and the treating veterinarian and would anonymously offer to pay for the procedures.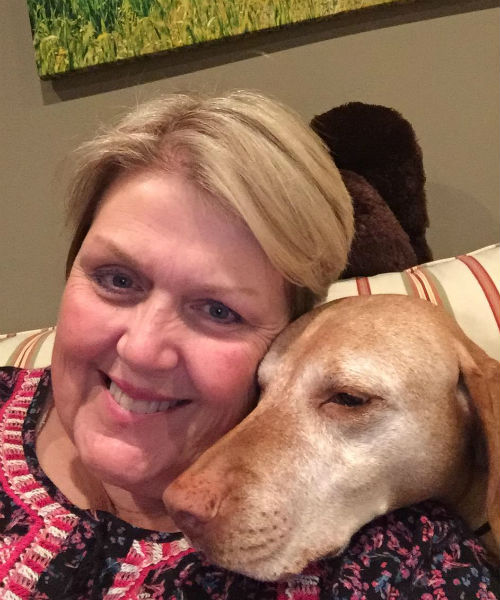 Cline and Marlo, her 9½-year-old Vizsla conformation and rally competitor, get some up-close-and-personal time at the owner's Southern California home.
And voila! In 2012, she hired a young attorney friend, Brooke Counts, to assist with the founding of Friends and Vets Helping Pets. Counts served as administrator of the nonprofit charity for two years before turning her full attention to writing mystery/romance novels. Counts segued to a board position, and Beth Willmott began to handle administration and fundraising.
"There are many charities to help homeless pets and to provide low-cost sterilizations," explains Cline, "but few to help pet owners whose animals have an unexpected illness or injury. These are good people who earn low incomes or are experiencing short-term financial challenges. Their pet is their comfort and joy. The heartbreak of feeling you have to choose between the life of your pet and taking care of yourself and your family, well, it should not exist. This is the heart and soul of FVHP."
Fundraising and minimizing operational overhead is the lifeblood of the agency that has done minimal advertising. "I have advertised at the Vizsla Nationals and through The Canine Chronicle and The ShowSight Magazine," Cline says.
Because breed clubs tend to focus and keep their donations for projects within the breed, Cline has received little financial assistance outside the Vizsla Club of Southern California (which shares raffle proceeds with FVHP) and the South Coast Vizsla Club, which supported FHVP with a raffle at the Vizsla Club of America national specialty in April in Del Mar, Calif.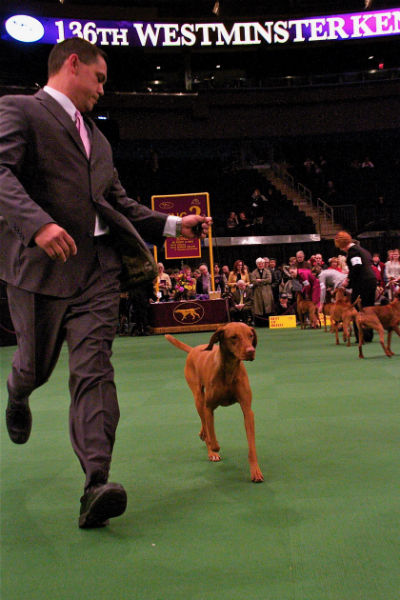 Marlo, a Vizsla, owned by Cline, struts her stuff with Cabral at the 2012 Westminster Kennel Club Dog Show, where she won an Award of Merit. Photo by Gary Miereanu.
Since its inception, the organization has received $587,781 in donations, with Cline donating $448,500. It has funded 268 procedures in 34 states, with 83 percent of those performed on dogs and 17 percent on cats.
The organization's website notes that grants are made to parties whose ability to pay is extremely limited and to "those of somewhat more substantial means, up to 200 percent of the federal poverty guidelines, who may only need a minor subsidy to meet the veterinary expenses."
A full listing of what is funded and the applicant process can be found on its website here. Each application (which must include both owner's and treating veterinarian's documentation) will receive a thorough review by the board, and the applicant will be notified via email of preliminary approval or denial.
The FVHP board includes three veterinarians—from Ohio, Kentucky, and California—who have helped support the foundation's work within the profession.
Cline is well connected within the AKC dog sports community, having been involved in it for 13 years and backing two Bloodhounds, an American Staffordshire Terrier, and a Dogue de Bordeaux in conformation, in addition to her Vizslas. At this point, she has five Vizslas and the Dogue de Bordeaux in various pursuits, including conformation, rally, agility, and obedience. Stephen Cabral, of Duarte, Calif., is her conformation handler and has recently put rally and obedience titles on some of the dogs, too. Tammy Romatko handles most of the agility assignments for Team Cline.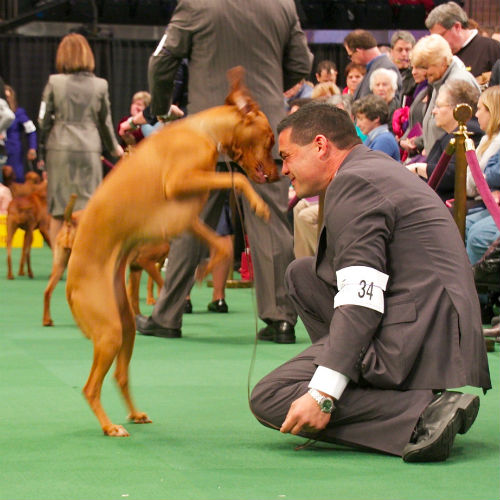 Marlo and Cabral enjoy a relaxing moment at the Westminster Kennel Club Dog Show in 2012. Photo by Gary Miereanu.
The ever-busy Cline retired last year after 25 years with a California-based technology company. She is giving thought to starting a new business, which, yes, is pet-related.
"When I was working, I found that there is nowhere to take a pet when it is recovering from an injury, illness, or simply in need of special care. There are many establishments that will take healthy pets, but not those with special needs. I would like to open a facility that addresses those needs. I have friends who don't take vacations because they have no one to watch their special-needs pets. Also, what do you do if you work and have an animal that is well enough to go home from a veterinary hospital following surgery or treatment for a medical ailment, but still needs meds or help during the day? Most employers aren't sympathetic to employees taking time off to take care of their dog."
Wondering what kind of cases FVHP has been involved in? Here are a couple of powerful examples:
Loki is a handsome, male German Shepherd Dog that was diagnosed with hip dysplasia as a 1-year-old. His owner, Jack Krizman, of Cleveland, is a retired sheriff's deputy who has suffered from post-traumatic stress disorder since 2004.
After conferring with the dog's veterinarian, Krizman, opted to address Loki's disorder conservatively until the young dog's condition deteriorated. A total hip replacement was performed in 2012, but more than one year later Loki began limping again. X-rays revealed the implant did not fit properly. In February 2014, Krizman applied to FVHP for assistance to cover costs of a second surgery, a femoral head ostectomy, where the head and neck of the femur were removed.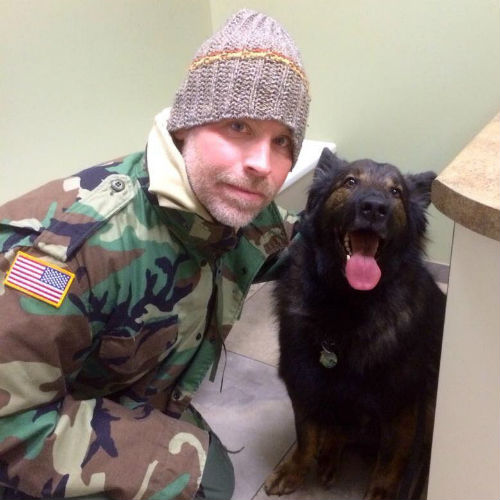 Jack Krizman, of Cleveland, and Loki, his young German Shepherd, enjoy some bonding time. Thanks to a Friends and Vets Helping Pets grant, Loki's leg was amputated and the dog is moving about nicely today.
One year later, Loki began limping again. He was evaluated by a general practitioner, as well as a specialist, who determined the leg was infected. At this point, there were two options: remove the hardware or amputate the leg. During the previous surgery, it was found the implements could not be removed, hence the amputation was performed, thanks to a FVHP grant."
"Loki has such a great heart," says Krizman, "that I could not bear to see my buddy suffering. The logistics of his situation were so difficult that I don't know what I would have done without the assistance of Friends and Vets Helping Pets. I am forever grateful to this organization."
And then there's Fiona's narrative:
Fiona (Fifi) was an energetic, 18-months-old (now 3 years old) female Labrador Retriever/Poodle/Golden Retriever mix that was diagnosed with congenital cataracts in both eyes, months after she was purchased by Jennafer and Jeremy Searfos and their 11-year-old daughter, Jackie, of Newark, Ohio. "Fiona is Jackie's best friend," says Jennafer Searfos. "They have an amazing bond and have competed together in 4H since Fiona was a puppy. We started to notice her becoming fearful of her surroundings, and she wasn't enjoying 4H activities like she used to."
A veterinary check-up revealed cataracts and her near blindness, but Jackie refused to let her best friend suffer. Jackie began making and selling dog toys (with some help from her Dad) to defray the surgery costs, earning $3,000. But that fell short of the surgery costs. The family was initially approved for a FVHP grant in 2015, but could not afford their financial portion of the procedure at the time. They sought and were approved for a grant in 2016, this time meeting its obligation, and the surgery was completed. And now Fiona can see.
"The recovery has been long and hard," says Searfos, "but this has been a rewarding experience for all of us. Fifi is back to her happy self and enjoying life more than ever. And the bond between Fifi and Jackie has only grown."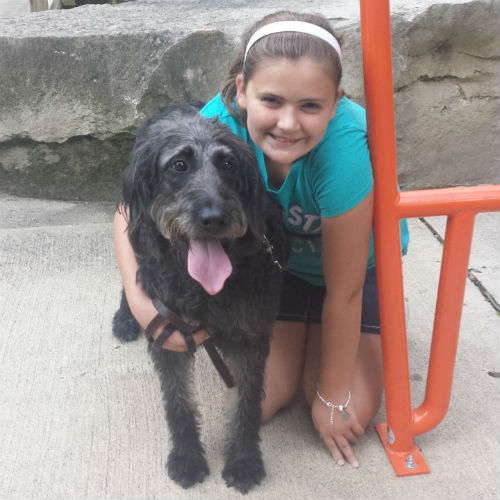 Jackie Searfos, of Newark, Ohio, and Fifi, a Labrador Retriever/Poodle/Golden Retriever mix, compete in a variety of area 4H events. As a puppy, Fifi was diagnosed with cataracts and was nearly blind. A FVHP grant enabled her to undergo surgery and correct the problem. The dog recovered quickly and the pair quickly returned to competition.
Upon returning to 4H competition, the young pair has accumulated numerous competition awards. This journey's impact has been even more pronounced on Jackie. Because of the experience, she wants to become a veterinary ophthalmologist. Dr. Anne Gemensky Metzler, an Ohio State University Veterinary Medical Center ophthalmologist, has invited her to come to the facility and shadow her on a day's proceedings, including cataract surgery. Jackie, now 12, is anxiously awaiting that day.
Funding will be FVHP's chief challenge going forward, Cline acknowledges. Currently, it can only help 20 percent of the requests it receives. "It is heartbreaking to tell a family that we do not have the funds to help," the founder says, "but my commitment is to continue to try."