Have you ever known somebody who chose their pet over their partner when the relationship was on the line? It seems like the plot of a romantic comedy, but a new study shows that most of us would do the same. In fact, 80 percent of people would consider it a deal breaker if their romantic partner didn't like their pet. And that's only one of the many fascinating facts the survey revealed.
The enlightening study of 2,000 dog owners in the United States was conducted by OnePoll on behalf of Link AKC. Link AKC has created a smart collar for dogs which allows owners to check in on their pets when they aren't physically with them, and monitor things like activity level and location. Link AKC not only wanted to gauge interest in their collar, but also to explore how deeply we connect and interact with our pets.
It's no surprise the survey showed that dogs benefit us physically. More than two-thirds of the people polled credited their dog with helping them exercise more regularly. Walking the dog is likely a big part of that, as 62 percent of people said their dog gets them out of the house for a walk at least twice a day. And 68 percent have noticed improvements to their health thanks to all that extra activity.
Our mental and emotional health is benefitting too. Eighty-two percent of the people surveyed noticed an improvement in those areas of their life due to their canine companion. 60 percent of responders feel that their dog often takes care of them in one way or another. For example, four out of ten people said their dog helped them cope with the loss of a loved one.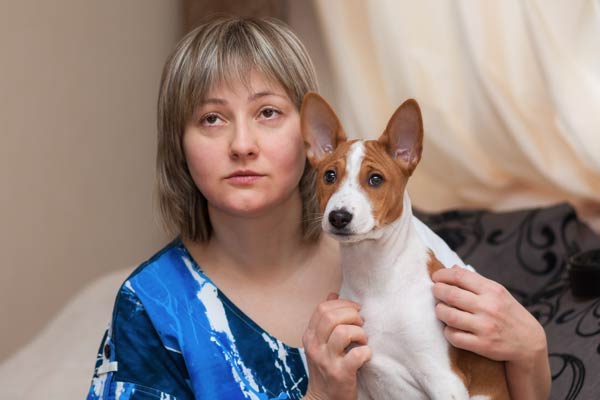 Dogs bring us joy and enhance our lives. Over half the survey takers said they felt extremely happy when they got home and saw their pet. Nothing beats the greeting of a wagging tail. In addition, the majority of people surveyed (88 percent) believe their dog has made them a better person. Dogs can also be a great stress buster. Single respondents said their dog helped them get through an average 4.83 stressful events per week. Dogs also increase a sense of security, with nine out of ten people saying having their dog nearby made them feel safer.
Dogs provide a special kind of friendship. Fifty-five percent of the people polled rated unconditional love from their pet as the biggest benefit of dog ownership. Constant companionship was the next most valuable advantage. Eighty-one percent of the responders talked to their dog as they would talk to a human friend, and, likely because dogs are such great listeners, 73 percent say they tell things to their dog that they wouldn't dare tell anybody else. One in five people credit their dog with helping them through a difficult breakup, and single survey responders were twice as likely to talk about relationship problems with their pet.
With all these amazing benefits to dog ownership, it's no wonder 78 percent of responders said they make life decisions based on their dog. In fact, three-quarters don't like to be away from their furry friend at all. Just over half of the people surveyed admitted they sometimes skipped social events to hang out with their dog. A dog's friendship provides so much to our emotional, mental, and physical well-being; it's no wonder you should never say to a dog owner, "It's me or the dog."