Dogs are den animals and having a crate for them in your home gives them a cozy spot of their own when they need to get away from it all. Crates are also a helpful aid when potty training your dog, to keep him safe when you can't supervise him, to sleep in at night, and to go to when the world is chaotic or scary. That's why choosing the right one for your pup is such an important decision.
When shopping for the best crate, look for one that will keep your pup comfortable, is the proper size, is sturdy enough for your dog's age and breed, and will blend into your decor. After all, you'll want to place it in an area where you and your family hang out, so your dog can be near you. Follow these steps to choosing a crate that your dog will learn to adore cuddling up in.
Pick a Dog Crate That's the Correct Size
One important feature of a dog crate is its size. Your dog needs enough room to sit, stand, and lie down comfortably within the crate. While you want a roomy crate, you don't want one that's too large. This could encourage your dog to eliminate within the crate because he can sit away from the mess.
For puppies, choose an expandable crate that's as large as the typical adult size of your dog's breed. These crates contain a divider that you can adjust to expand the space inside as your puppy grows.
How to Measure for the Right Size Crate:
With your pup standing, measure him from the top of the head to the bottom of the feet to determine height.
Measure your pup from the tip of the nose to the tip of the tail to determine length.
Add three-to-four inches to each measurement to compute the height and length of the dog crate you'll need.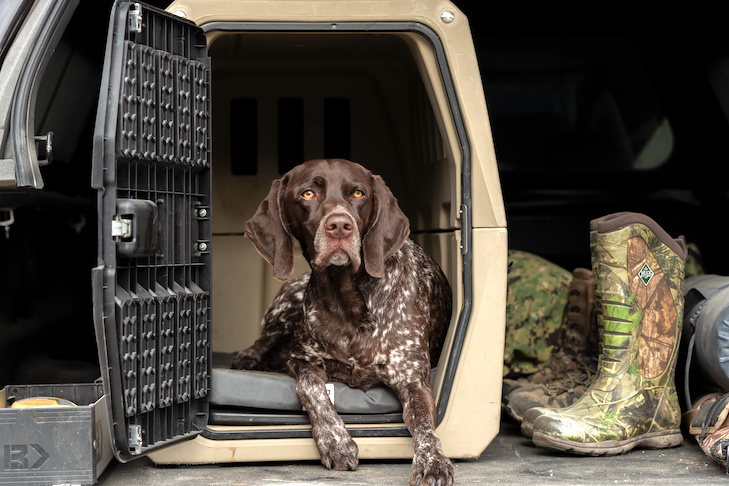 Choose the Type of Dog Crate
The type of crate you choose will depend on your budget, whether your dog is a chewer, and what you want to use the crate for. You'll also want to choose a crate that is secure enough to prevent an escape, and one that's easy to assemble and take apart.
Make Sure the Dog Crate is Comfortable
All dog crates require proper ventilation holes or mesh fabric on the sides for your dog to breathe properly. For dogs who don't regularly chew on fabric items, add a cozy, machine-washable bed within the crate to make it inviting. Many crates come with coordinating beds that you can remove and wash.
Crates are an important part of potty training for dogs and provide dogs with a safe space to retreat to during the day and night. That's why it's so important to crate train your dog and choose a crate that will last for years to come, enriching your dog's environment.
Related article: How to Clean a Dog Bed
https://www.akc.org/wp-admin/admin-ajax.php
Get Your Free AKC eBook
How to Crate Train Your Dog
Are you thinking about crate training your puppy but aren't sure how to get started? Don't worry, we have you covered! Download the AKC create training e-book to get started.