The Bernese Mountain Dog has a long history as an "all-around" dog, having been developed in the midlands region of Switzerland as a multi-purpose farm dog devoted to his owner and family. Today's Berners continue that heritage in star fashion—they excel as multi-talented workers and eager-to-please companions.
The breed's national parent club, the Bernese Mountain Dog Club of America (BMDCA), offers programs to introduce owners of Berners to many of the sports and activities they and their dogs can enjoy together. The club also offers Versatility Dog and Versatility Dog Excellent awards recognizing Berners with a wide range of accomplishments. The awards are aimed at encouraging Bernese breeders and owners to "preserve the Berner as an 'all around' dog with a long tradition as a multi-use farm dog as well as a beautiful show dog."
Thanks to breeders and owners preserving that "all around" quality, here are three beautiful Berners who are shining examples of the breed's versatility:
Nelly—In her element pulling a cart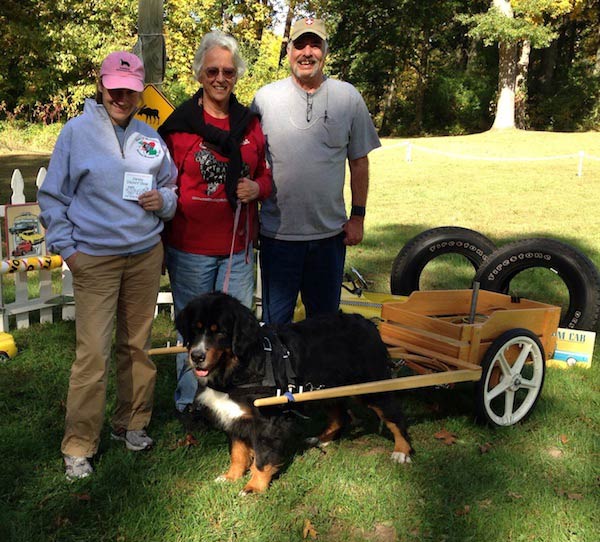 Nelly earning her Draft Dog title. Officially known as GCh. Shepherdspatch Nelly, CD, RA, NDD, DD, BNDD, she was presented with the Bernese Mountain Dog Club of America's Versatility Dog award in 2015. Photo: Mary Alice Eschweiler
Mary Alice Eschweiler, owner and breeder of 5-year-old Bernese Mountain Dog Nelly, has been in love with the breed and its abilities since childhood.
"I have had Bernese Mountain Dogs since 1959. As a girl I showed my first dog in conformation, and we never saw another dog in competition. So I trained her in obedience, and she earned her CD—and she was the first Bernese to earn an AKC title. I also trained her to pull a cart and a sled. She did it so naturally! That discovery that my dog and I can work together in multiple ways has been a wonderful gift.
"The breed is amazingly versatile because they simply want to please their owner/handler. Earning any title is simply proving through some sort of standardized testing that the dog is what we all brag it is.
Mary Alice finds that different activities focus on different aspects of the dog-handler relationship. "The BMDCA's Versatility title recognizes achievement in conformation, companion events, and drafting or carting ability. For me, each one of those represents a different relationship with the dog. In conformation, the focus is mostly on the physical aspects of the dog, with the best handlers working with the dog to emphasize its good qualities. In companion events, the focus is more on how well an owner has trained his or her dog to do a specific task. In drafting, we are being judged on our teamwork. Yes, I have trained the dog to do a task, but I also have to trust the dog to have a certain amount of inherent ability.
"That versatility is like being able to dance three different kinds of dances, like ballet, tap dance, and polka. What fun is that?
"It would be wonderful to see more top conformation dogs with versatility titles. Yes, my dogs enjoy going to a show, but they really love to work with their cart. They seem to understand that they have a sense of purpose.
"Nelly is my case in point. She has done her fair share of winning in the conformation ring, including an Award of Merit at our national specialty and several high honors at regional specialties. Yes, she earned her obedience and rally titles, but she found that a bit boring. She also loves to track. Put her in a cart, and she is in her element. She is a substantial girl at 105 pounds, well conditioned, and she loves pulling a load. In brace work, with two dogs pulling, she usually pulls more than her share. If we have ever failed a test, I can blame it on handler error. Draft tests require every element of the test to be passed, so they are never easy."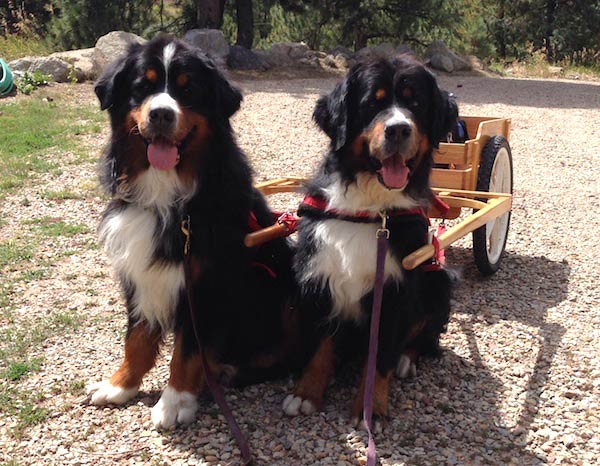 Nelly and her brace partner Willie, GCh. Blumoon's Steamboat Willie, CDX, RE, ANDD, MDD, BNDD, going after the elusive Brace Draft Dog title. Photo: Mary Alice Eschweiler
Gwen—A Berner who "loves the game of training"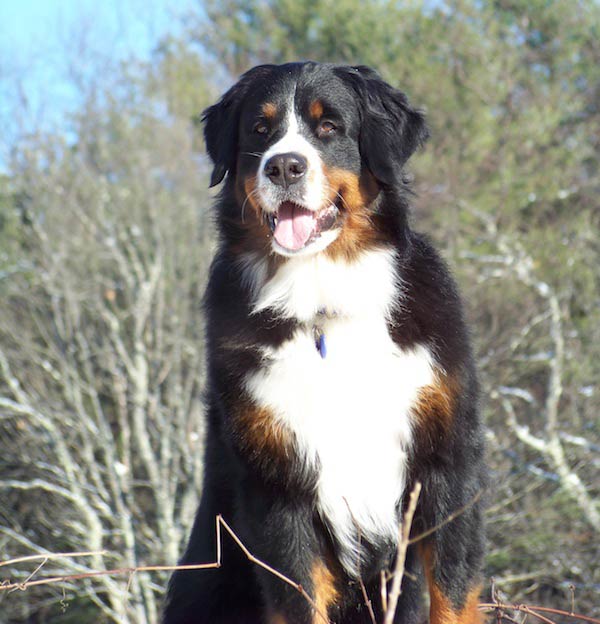 Gwen is one of five Berners presented with the BMDCA's Versatility Excellent award in 2015. Photo: Beth Atkinson
Four-year-old Berner Gwen already has a long string of titles after her registered name. She is officially GCh. Backcountry Pandemonium, VCD1, CDX, RA, TDX, AXP, OFP, BMDCA Versatility Dog Excellent, Working Dog Excellent, and Grand Master Draft Dog.
Gwen's owner, Beth Atkinson, describes what it was like raising Gwen and how she and her husband were able to nurture some of the dog's budding talents. "It takes a dog sound in both body and mind to succeed in multiple performance venues over the course of their life. As a young puppy, Gwen connected with people and showed a distinct will to please. We were overjoyed to have her join our family.
"As soon as we got her home, my husband and I started her early training in tracking, obedience, draft work, agility, and conformation. For an 8-week old puppy, that meant lots of fun and games, building a strong relationship where we became the center of her universe, and helping her 'learn how to learn.'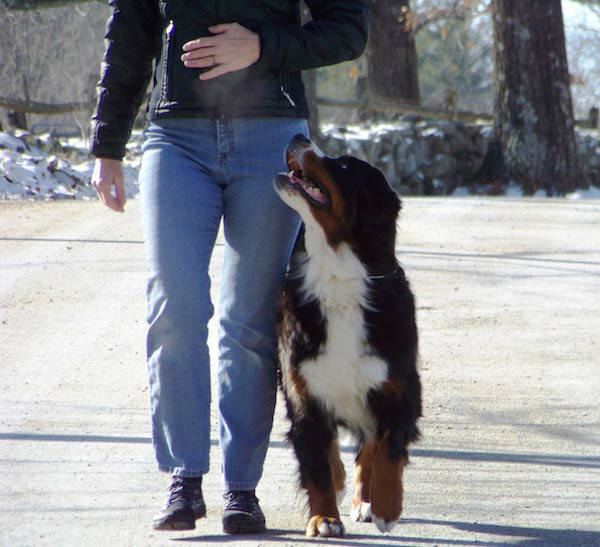 Gwen practices heeling with owner Beth Atkinson. Photo: Beth Atkinson
Beth figured out creative approaches—sometimes involving tasty incentives—to pique Gwen's interest in new activities. "She started tracking by following a food trail around the kitchen island. Her introduction to draft work was learning how to maneuver between the shafts of her cart to find the hidden cookies. Our early obedience work focused on targeting and body-awareness exercises, encouraging a non-retrieving breed to pick up and hold a wide assortment of things and building enthusiasm and drive. We constructed a few pieces of baby agility equipment, and in no time Gwen was happily 'surfing' on her wobble board and proudly hitting the contact on her tiny see-saw.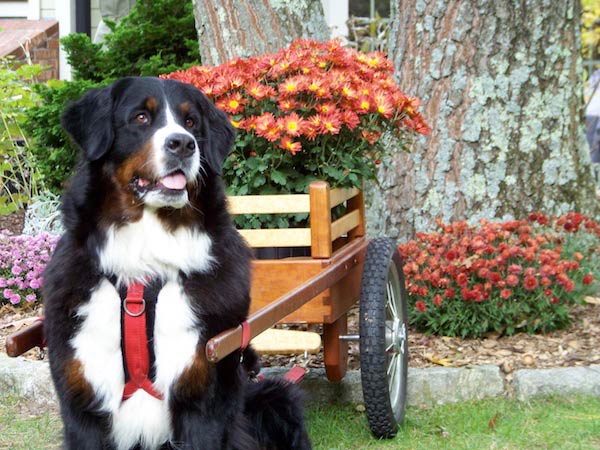 The use of some hidden treats helped Gwen learn how to work with her cart. Photo: Beth Atkinson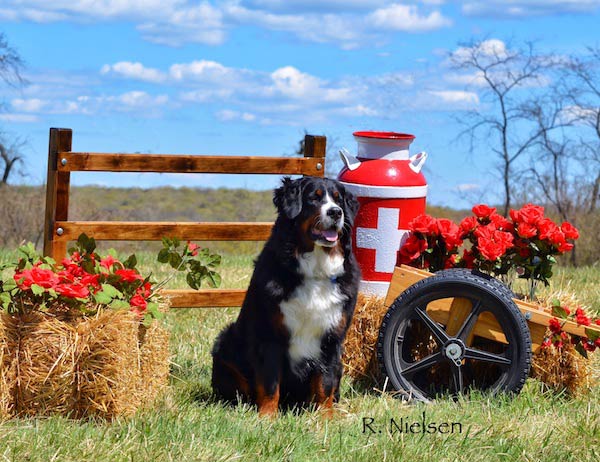 Gwen poses with a milk can, an homage to one of the breed's original jobs in helping with dairy deliveries. Photo: Ruth Nielsen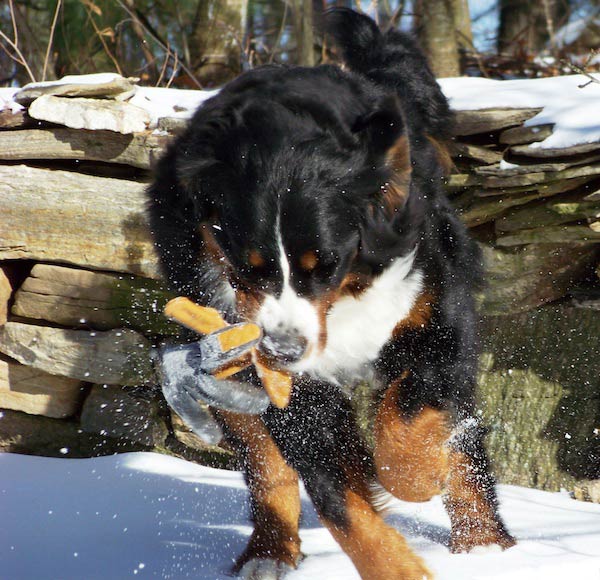 It can take lots of encouragement to teach a non-retrieving breed to pick up and hold things in her mouth—but Gwen clearly enjoys it now. Photo: Beth Atkinson
"With a solid set of foundation skills under her belt, and an attitude of joy and determination in everything that she does, Gwen has achieved wonderful things in four short years. We've certainly encountered our share of speed-bumps and hiccups along the way, but she is amazingly resilient and works through the rough patches. That's the hallmark of a great working dog. Gwen loves the game of training and trialing, and so do we."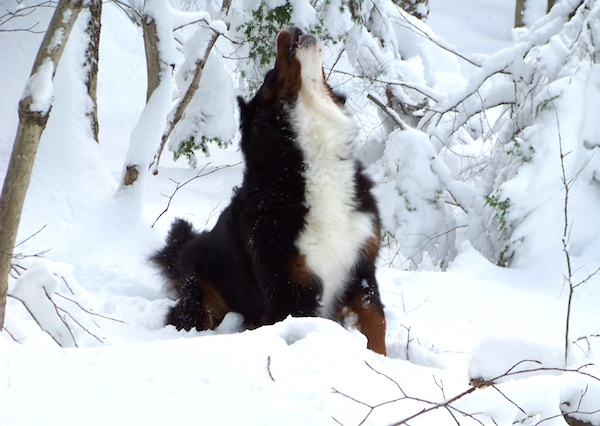 Gwen has "an attitude of joy and determination in everything she does." Photo: Beth Atkinson
Otis—All heart and happy attitude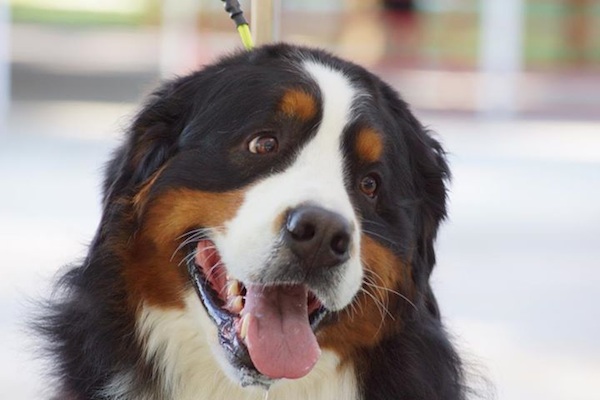 Otis was also presented with the BMDCA's Versatility Excellent award in 2015.
Otis, officially known as GCh. Jenneycreek's Power Play With Adesa, BN, CD, RE, AJP, AXP, CGC, was presented with the Bernese Mountain Dog Club of America's Versatility Excellent award in 2015.
Additional titles Otis has earned include the Bernese Mountain Dog Club of America's Draft Dog (DD) and Working Dog (WD) titles, the International Weight Pull Association Working Dog title (IWPA-WD), and the Canines and Humans United CHU Draft Dog Novice title (CHU-DDN). Otis was also awarded Bernese Mountain Dog Club of America Top Novice A Obedience for 2013.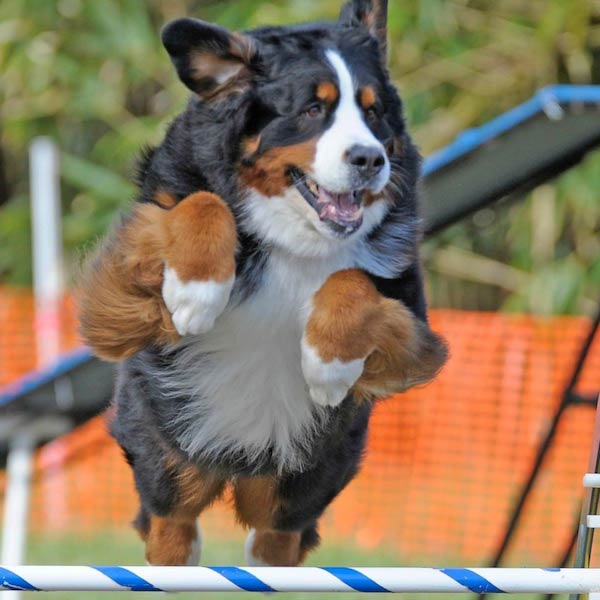 Otis shows his stuff in agility.
"Bernese Mountain Dogs are very versatile working dogs. They are large and powerful and may not be meant for everyone," says Otis's owner, Terrie Gregory.
"Otis has also performed in many other venues besides those he is titled in, including dog-powered scootering, dog scootering, sulky driving, bike-joring, and dog sledding. He has competed in dog sledding with my young grandchildren at the Kalkaska Winterfest and has been in many parades.
"His work ethic is made obvious by his accomplishments and his willingness and enthusiasm to work with anyone who knows the work."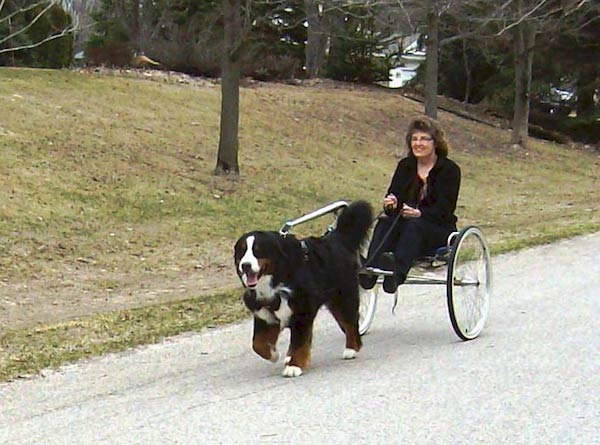 Otis pulls a sulky for owner Terrie Gregory.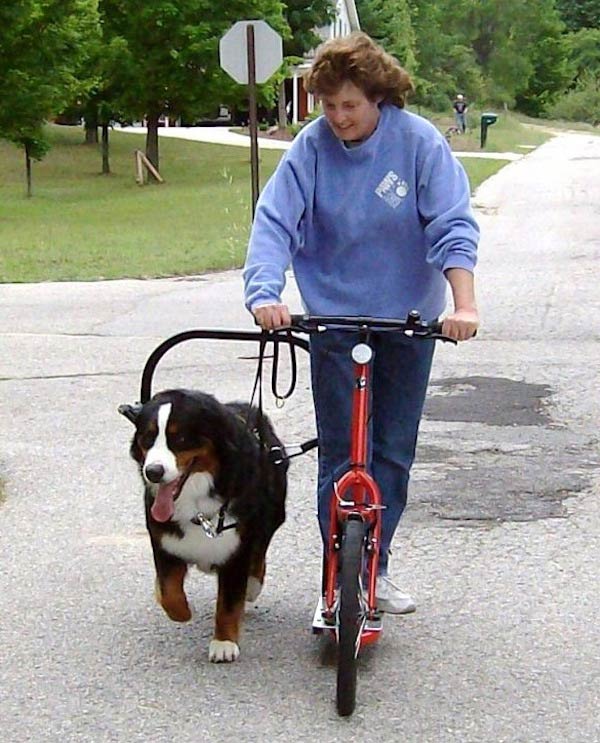 In "dog-powered scootering," the dog pulls from a harness that attaches alongside the scooter.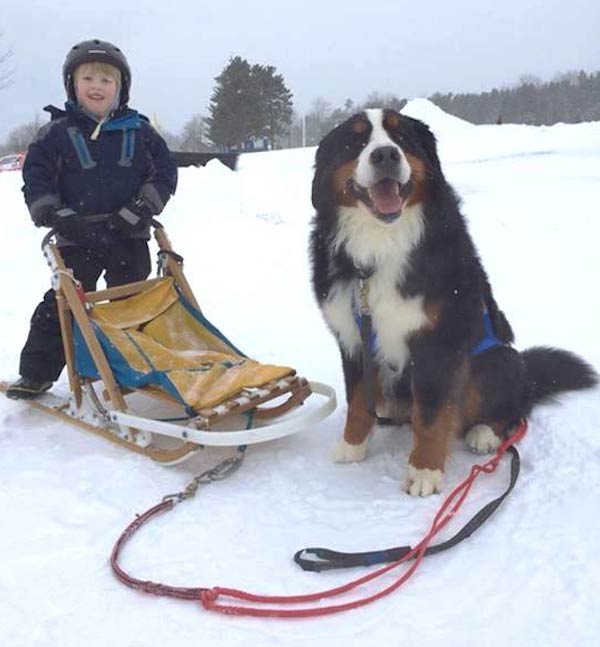 Otis enjoys sledding with a young companion.
Owner Terrie Gregory adds, "Otis has been awarded multiple group placements, even as a veteran! Also, he is one of the rare Berners who have completed all the breed's health clearances, and he is listed in the Berner-Garde Foundation health database as such."
Photos of Otis courtesy Terrie Gregory
Watch Otis in agility—as described by Dog Agility Videos, "Not only is Otis's body HUGE, so are his heart and happy attitude the entire time he is running this AKC course."
Want more Bernese Mountain Dogs? We've got you covered: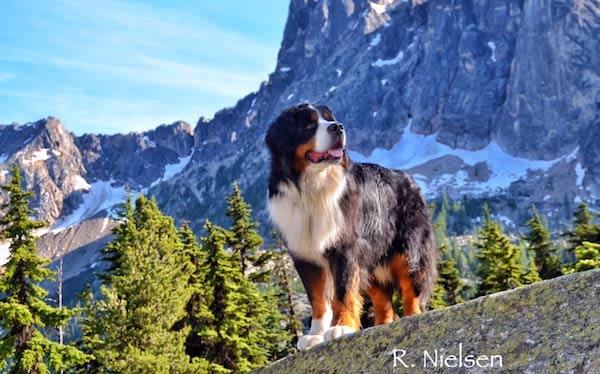 Photo: Ruth Nielsen, @mazamadog on Instagram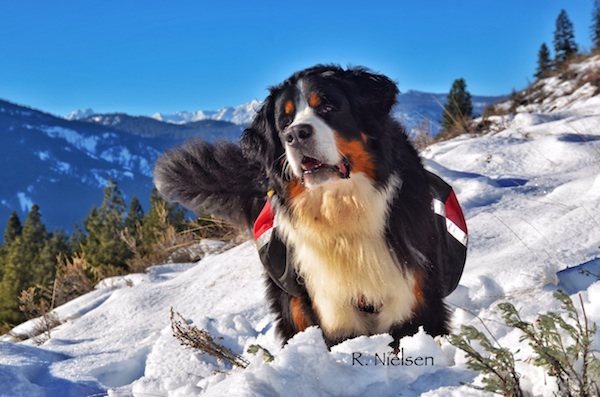 The breed's thick coat keeps him well protected from cold weather. Photo: Ruth Nielsen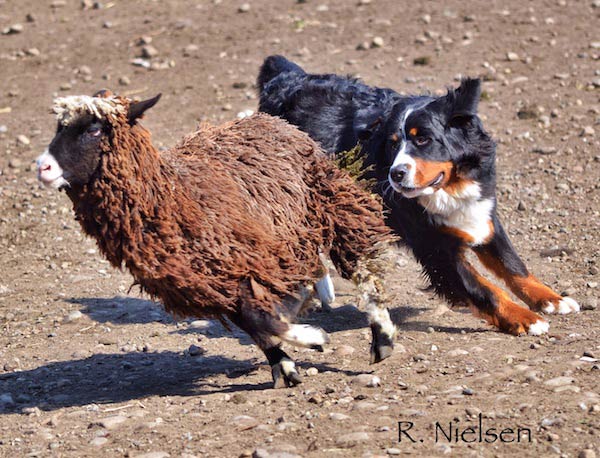 As a working farm dog, a Berner might have helped in moving livestock to pasture, to the barn for milking, or to market. Photo: Ruth Nielsen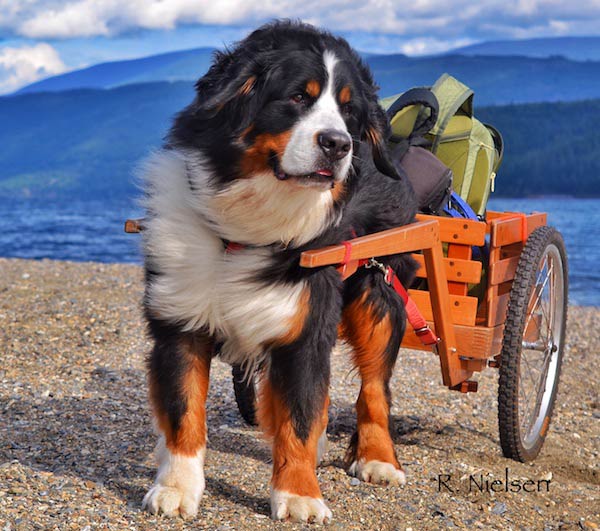 Pulling carts was another of the breed's original jobs. Photo: Ruth Nielsen
Thinking of adding a Bernese Mountain Dog to your family? For more information, check out the breed pages, and visit the Bernese Mountain Dog Club of America's website.
Photo at top of article: Bernese Mountain Dogs Sage (left) and Wrangler (right). Sage is officially GCh. Ravenridge Cinnabar Sage, ANDD, ABNDD, MDD, MBDD, DD (CKC) and is owned by Kathy Max. Wrangler, owned by Margaret Jezek, is Am./Can. Ch. Ebnet's Wild Wild West, ANDD, ABNDD, MDD, MBDD, DD (CKC), CD (AKC/CKC), CDX (CKC), RE (CKC/AKC), TD (AKC), CGC, and BMDCA Versatility Award, Working Dog Award, and Grand Master Draft Dog Award. The dogs were being handled by Kathy. Photo by Lisa K. Kaufman, @bern4you on Instagram.

https://www.akc.org/wp-admin/admin-ajax.php
Get Your Free AKC eBook
Selecting a Puppy
How do you know what breed is right for your family? How do you find a reputable breeder? What questions should you ask a breeder? Download this e-book for guidance on these questions and other important factors to consider when looking for a puppy.