In every breed there are one or more individual dogs who have made their mark on the breed's history not only through a successful show career, but also through the influence of outstanding breed type carrying on in that dog's descendants. These are in many cases dogs whom Anne Rogers Clark referred to as "templates" of the breed — dogs "whom you felt came closest to perfection with regard to all aspects of the breed standard, including temperament."
In the Bedlington Terrier, one of these remarkable dogs was Ch. Rock Ridge Night Rocket, owned by Mr. & Mrs. William A. Rockefeller and handled by Anthony Neary, manager of the Rockefellers' Rock Ridge kennels.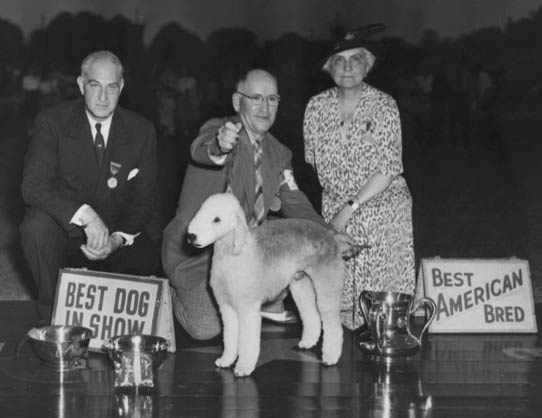 Morris and Essex Kennel Club dog show, 1947: Best American Bred and Best in Show goes to Bedlington Terrier Ch. Rock Ridge Night Rocket, shown with Best in Show judge Joseph Quirk, handler Anthony Neary, and Morris & Essex Kennel Club president Mrs. Geraldine Rockefeller Dodge. The silver cup standing in front of Mrs. Dodge is the Percy R. Rockefeller Trophy, which Night Rocket retired the following year by winning a second consecutive Morris and Essex BIS. (Photo by Percy Jones.)
The Nearys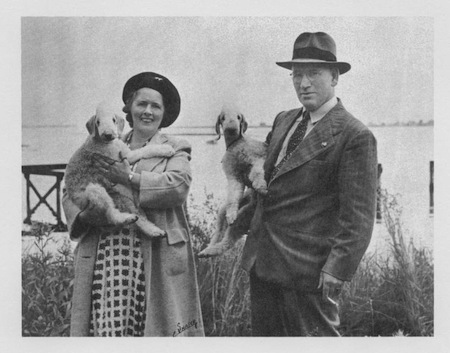 Anna and Anthony Neary with Ch. Rock Ridge Moving Belle and Ch. Rock Ridge Morning Dew. (This illustration appeared in the Bedlington Terrier Club of America Bulletin, Fall 1964; courtesy Bedlington Terrier Club of America.)
Long before Anthony Neary became manager of the Rockefellers' Rock Ridge kennels, he and his wife Anna were very involved with the Bedlington breed. From the book Bedlington Terrier, by Muriel P. Lee:
"Anthony and Anna Neary emigrated from England to the United States in 1929, bringing with them a pair of Bedlingtons called Exiled Laddie and Hasty Morn. Laddie became an American champion and sired six champions. The Nearys were strong supporters of the breed, supporting major Bedlington entries at the Eastern shows. In 1940 they entered the very prestigious Westminster Kennel Club show, and their dog was selected Best American-bred Terrier. William Rockefeller was at this show and later called the Nearys, offering Mr. Neary the position of kennel manager of his Rock Ridge kennels.
"The Rockefellers and the Nearys proved to be an unbeatable combination in the U.S. Numerous champions came out of this kennel for over three decades, up until Mr. Neary's retirement from kennel managing and handling.
"The outstanding dog from the Rock Ridge kennels was Ch. Rock Ridge Night Rocket, whelped in 1946. For the time, he had one of the top show careers of any dog of any breed. At little more than one year of age, he was Best in Show at the prestigious Morris & Essex Kennel Club show, the show held on the grounds of the estate of Mrs. Geraldine Dodge. The next February, he was Best in Show at Westminster Kennel Club, and, the following year, he again was Best in Show at the Morris & Essex show.
"He was used sparingly at stud, but in a short and limited career he sired 36 champions. To this day, he remains one of the greats among Bedlington Terriers."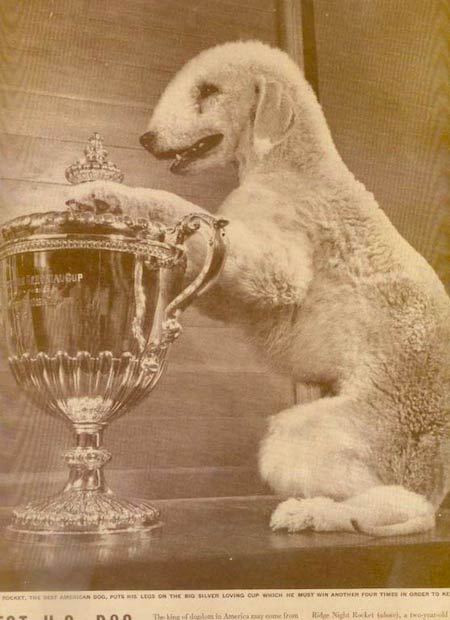 Ch. Rock Ridge Night Rocket, having won Best in Show at Westminster Kennel Club in 1948, with the James Mortimer Memorial Cup silver trophy for Best American-bred Dog in Show. This photo appeared full-page in the February 23, 1948 issue of Life magazine, with the following text below it:
"BEST U.S. Dog: A blue-coated Bedlington terrier becomes king of canine bluebloods
"The king of dogdom in America may come from any of 112 breeds, all blue-blooded families of the Westminster Kennel Club which held its annual show last week in New York's Madison Square Garden. A well-known breed usually wins but this year the thousands of dogs which pranced around the ring, some balking and barking, were nosed out for the first time by a breed called the Bedlington, a blue-coated terrier which looks as much like a lamb as a dog. The winner was Champion Rock Ridge Night Rocket (above), a two-year-old male owned by the William Rockefellers. Night Rocket won admiring glances from the judge for his mincing gait and his pear-shaped head which he held high. A hunting dog, the Bedlington, which supposedly descended a century ago from the fearless Dandie Dinmont terrier and the water-loving Otterhound, retrieves game from the coldest water without flinching. Unlike most shaggy dogs, which lose hair, the Bedlington's coat is nonshedding."
"Go thou and get a Bedlington terrier"
For the Bedlington Terrier Club of America's breed column in the 125th-anniversary issue of the AKC Gazette, in September 2009, columnist Laurie Friesen wrote:
"On May 28, 1932, at the prestigious Morris & Essex dog show, the Bedlington Terrier Club of America was formed. President-elect was Colonel M. Robert Guggenheim.
"The first entry of a Bedlington in the AKC stud book was in 1883, but it was not until 1937 that the BTCA gained full recognition with the American Kennel Club.
"The affectionate Bedlington Terrier is often described as having the 'head of a lamb and the heart of a lion.' His personality is soft and gentle, like his distinctive thick, linty coat — yet he is a fearless, dignified terrier, full of confidence and courage. He can best be described by BTCA founding member and legendary breeder-owner-handler Anna Neary, when she wrote:
Though he's not a dog with a chip on his shoulder,
Let this not fool others to think themselves bolder;
For no matter what they do, he can do better –
Own one and see, you will not be a fretter.
The sages all say, if life you wish merrier
Go thou and get a Bedlington Terrier.
"Through the continuing efforts of the AKC and the BTCA, the Bedlington Terrier will competitively endure in all arenas, as well as in our hearts."
https://www.akc.org/wp-admin/admin-ajax.php
Subscribe to Family Dog
AKC FAMILY DOG MAGAZINE
This article was originally published in AKC Family Dog magazine. Subscribe today ($12.95 for 6 issues, including digital edition) to get expert tips on training, behavior, health, nutrition, and grooming, and read incredible stories of dogs and their people.