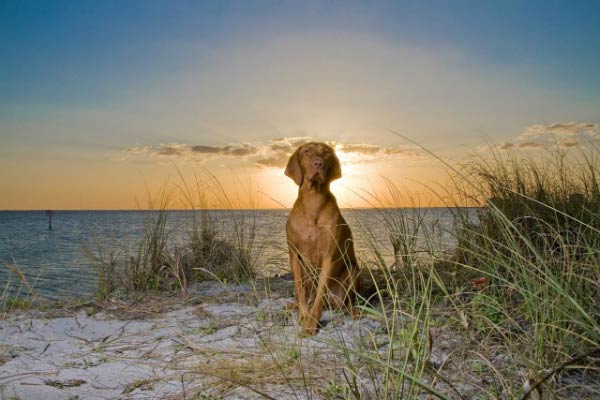 The Tampa, Florida, area has been getting more and more dog friendly over the last several years. Owners bring their four-legged friends almost everywhere. Here are seven fun things to do with your dog in the Tampa Bay area.
1. Go To The Park
Take a walk along the bay at Ballast Point Park, which has great views of downtown Tampa, or Lowry Park, which runs along the Hillsborough River. If you're looking for a dog park where your pooch can run off leash, your best choices are Logan Gate Dog Park, West Park Dog Park, Al Lopez Dog Park, or Gadsden Dog Park.
2. Go To The Beach
Tampa is nothing without Tampa Bay, and there are two great beaches in Tampa where dogs can run off leash and swim in the bay: Picnic Island Park Dog Beach, and Davis Island Dog Beach. Picnic Island is further from the center of the city, but it offers more space to run.
3. Go Out To Eat
The demand for dog-friendly restaurants has been increasing in Tampa, so you and your pooch have lots of great options, like Gaspar's Grotto, which makes a daily doggy special, and GrillSmith, which has dog biscuits for four-legged guests. The Brown Boxer Pub And Grille is another great option if you're near Madeira Beach, and Sweet Sage Cafe in North Redington Beach serves almost as many dog dishes as human dishes.
4. Get Ice Cream
Beat the heat with an ice cream cone. At Dairy Joy, every dog gets a free treat. Other popular ice cream shops for dog lovers are Bo's Ice Cream and Campbell's Dairyland, which is in the Tampa suburbs.
5. See Some History
Take a drive across the Tampa Bay and visit The Heritage Village — a mostly outdoor living history museum. The village has more than 31 historic structures, including houses, a school, a church, a firehouse, a railroad store, and a sponge warehouse. Some of the buildings date back to the 19th century.
6. Take A Cruise
While you're on the other side of the bay, check out the "Howl At The Moon" cruise offered by the Shell Key Shuttle, which runs out of St. Pete Beach. Dogs ride for free on this sunset cruise, and you can bring one dog per adult. The cruise is an hour and a half long, and takes you to see the barrier islands south of the city.
7. Go Shopping
The Hyde Park Village is the best place in Tampa for dog-friendly shopping. The village is made up of several shops and patio restaurants, many of which allow dogs. The Ellenton Premium Outlets are another good option.
https://www.akc.org/wp-admin/admin-ajax.php
Get Your Free AKC eBook
Tips for Responsible Dog Owners
This e-book is a great resource for anyone who's considering dog ownership or already owns a dog. Download for tips on how to be the best dog owner you can be.