The party never ends in the sizzling city of Miami—and four-legged friends are welcome to come and play! Here are seven great things to do with your dog in Miami.
1. Go To The Park
Walk amongst the palm trees in North Shore Open Space Park, or along the water in South Pointe Park. The former has an area where dogs can run off leash. If you want to visit the best dog parks in Miami, Amelia Earheart Bark Park, Greynolds Park, and Kennedy Park should also be on your list.
2. Take An Architecture Tour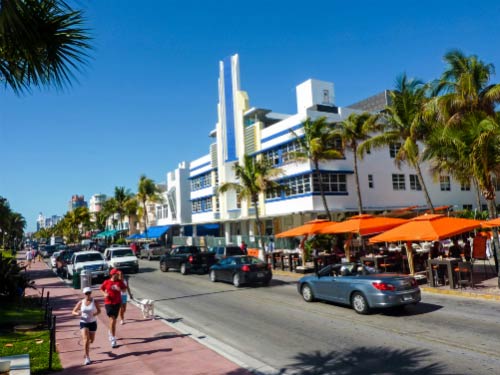 You and your dog can go on a walking tour of Miami Beach, exploring the different styles of architecture in the historical district, including Art Deco, Mediterranean Revival, and Miami Modern. Another interesting architectural site to explore is the Coral Castle—a stone building and sculpture garden, which took 30 years to be constructed by a single artist.
3. Rent A Boat
If your dog doesn't like to swim, perhaps she'd prefer a ride on the water. Rent a power boat at Club Nautico and spend a few hours on the ocean with the wind in your hair.
4. Go Out To Eat
Miami is a fantastic location for dog-friendly dining. Critics agree that the top choices are Michael's Genuine Food & Drink, which serves complimentary house-made dog biscuits, and LoKal Burgers & Beer, which has meatloaf and chicken and rice on its doggie menu. Lulu In The Grove and Ms. Cheezious (grilled cheese joint) are also worth checking out.
5. Relax At The Spa
Exhale Spa in downtown Miami provides services for humans and dogs. You can make an appointment for two massages: one for you, and one for your four-legged friend. Exhale Spa also offers "doga" sessions—a combination of yoga and relaxation treatment for you and your pooch.
6. Go To The Beach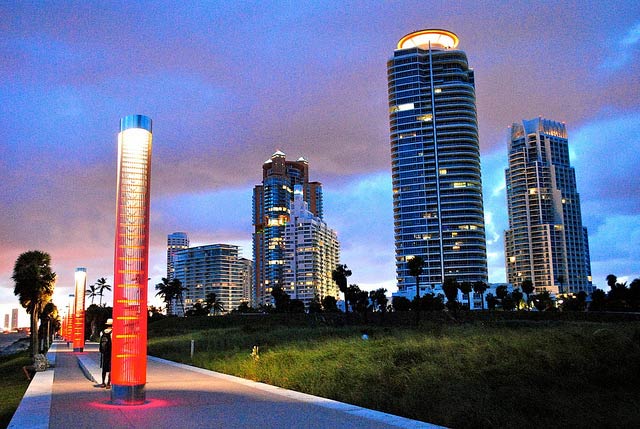 Without a doubt, the biggest attraction in Miami is the beach, and the best beach to go to if you have a dog is Hobie Beach. There's no admission fee, dogs are allowed at all hours, and they can run off leash. Take a dip with your pooch and play fetch on the sand. Stay until the sun goes down.
7. Go Shopping
Miami is one of the best cities in the country for dog-friendly shopping (probably because nobody wants dogs sitting out in the hot sun). Lincoln Road Mall is a great outdoor shopping area where many stores allow dogs inside. If you have more expensive tastes, Bal Harbour Shopping Center is also dog-friendly, and has more upscale shops.
https://www.akc.org/wp-admin/admin-ajax.php
Get Your Free AKC eBook
Tips for Responsible Dog Owners
This e-book is a great resource for anyone who's considering dog ownership or already owns a dog. Download for tips on how to be the best dog owner you can be.