If you're a hunter, you know what an asset the rugged Black and Tan Coonhound is in the field. If you've never hunted in your life, you know the breed as your best home companion, ready to sprawl on the sofa with you at a moment's notice. This all-American scenthound is truly a dog for all reasons, but are you the right human for him?
Do you hunt?
The Black and Tan Coonhound is, above all, a working dog. Like other scenthounds, he works a trail with his nose to the ground and can endure long hours in any weather or any terrain. As the name suggests, his primary prey is raccoon, but, with his bravery and power, he's equally adept at hunting big game, such as bear and mountain lion, as well as deer or, on the other end of the spectrum, squirrel. When he's treed his quarry, he lets the hunter (and everyone within earshot) know with his characteristic deep-voiced baying.
Are you more of a homebody?
You might think that such a rugged working dog would be too rambunctious for the house. Not so! At home, he's laid back, gentle, and easygoing. Black and Tan Coonhounds tend to get along with other pets and are very good with children. The only thing he may hunt for in the house is the most comfortable spot on the sofa. He expects to share all of the creature comforts of home with you.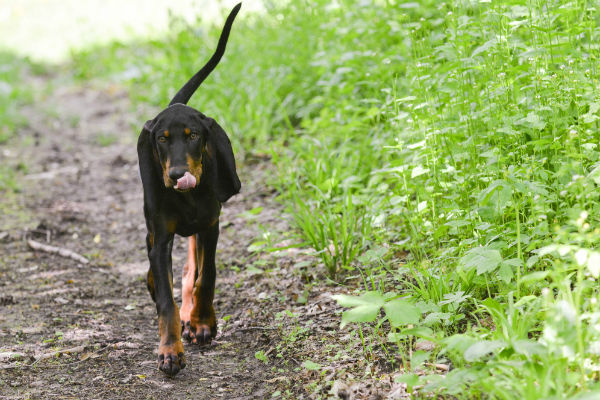 Do you have a fenced yard and a strong leash?
Although born to hunt, Black and Tan Coonhounds can be just as happy with moderate exercise. They're sociable dogs, eager to join the family in outdoor activities and daily walks. Keep in mind that your Black and Tan Coonhound is an avid scent hound that will take off at the first whiff of prey. He will always need to be on a leash or in a securely fenced area.
Are you a stickler for discipline?
On the other hand, a hound is a hound. The Black and Tan Coonhound will travel for miles in pursuit of his quarry, and, once he's on the trail, it's very difficult to get his attention. Being independent by nature, he may comply with your wishes, but don't expect perfect obedience.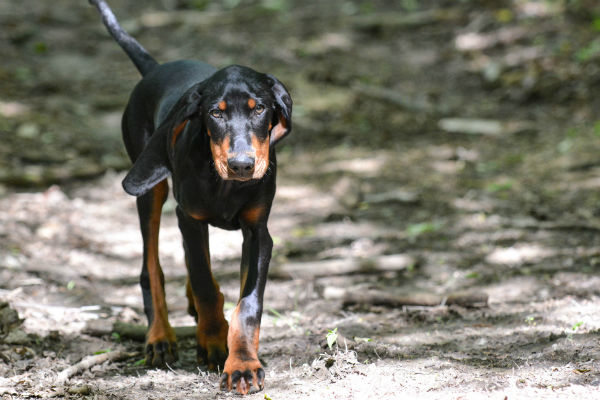 Are you a music lover?
He shares another trait with most hounds: loud, almost mournful baying. While it's music to the ears of fans of the breed, it may be too much for those not used to being serenaded. Your neighbors may not appreciate it much, either.
Would you like an easygoing, sociable, and playful companion?
Who wouldn't? The Black and Tan Coonhound is all of those things. He's also pure hound, with all of the traits (both lovable and not so lovable) of a working scenthound. If you fit the bill, he'll be your best buddy for adventures, hunting, and snoozing by the fire.
https://www.akc.org/wp-admin/admin-ajax.php
Get Your Free AKC eBook
Selecting a Puppy
How do you know what breed is right for your family? How do you find a reputable breeder? What questions should you ask a breeder? Download this e-book for guidance on these questions and other important factors to consider when looking for a puppy.